You're always looking for ways to boost your business, right? Let's explore local SEO.
It's a game-changer, making your brand the go-to choice for local customers. Imagine steady organic traffic, impressive lead generation, and top-notch online visibility. Sounds good, doesn't it?
Dive into this article and discover the potential of local SEO.
Ready to stand out in your local market? Let's get started.
Key Takeaways
Rankstar – A Valuable SEO Partner for Your Business
→ Ready to give your business the competitive edge it deserves?
Delve into our latest article on Rankstar! Discover the dynamic strategies to harness the full potential of local SEO and watch your business soar. Don't miss out—read the full article now and supercharge your business with the transformative power of local SEO!
We are also here to propel your brand to the summit of search rankings, ensuring its outstanding prominence in both Autocomplete Suggestions and Autosuggest Removal when in need.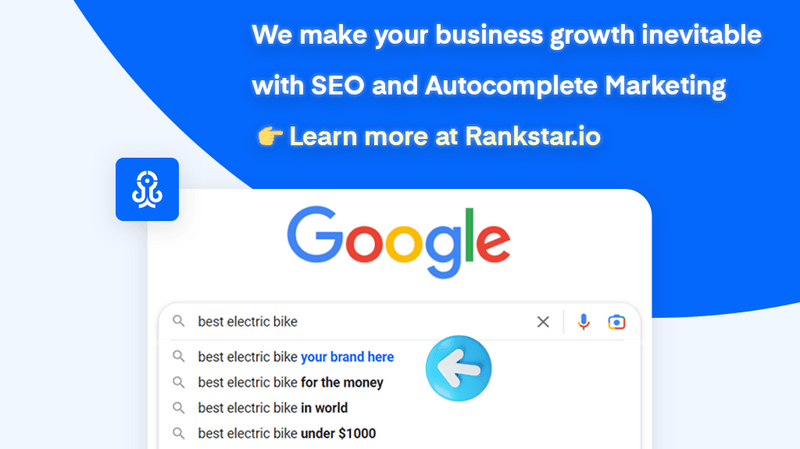 Understanding the Power of Local SEO for Business Growth
You're starting to grasp the immense potential of local SEO in accelerating your business growth, aren't you?
It's not just about getting your name out there; local SEO is about boosting online visibility specifically for those potential customers living in your area. It's a targeted strategy that drives organic traffic right to your doorstep, increasing footfall and sales.
With local SEO, your business can rank higher for relevant local searches, building brand awareness within your community. It's a powerful tool for lead generation, with data showing that local searches lead 50% of mobile users to visit stores within one day.
Key Elements of Effective Local SEO Strategy
In your quest for an effective local SEO strategy, understanding the core elements such as Google My Business optimization and local citations is crucial, and so is incorporating them into your overall marketing campaign.
You'll need to be keen on optimizing your Google My Business account, ensuring your business details are correct, and your brand is verifiable.
Also, don't underestimate the power of local citations. They're not just name-drops; they're key to boosting your local search ranking. When done right, they increase your online visibility, build credibility, and drive organic traffic to your site.
Moreover, be active in local online communities. Engage in conversations, provide valuable content, and foster a strong digital footprint.
The Role of Google My Business in Local SEO
Google My Business plays a pivotal role in your local SEO strategy. It acts as a powerhouse for enhancing online visibility and boosting customer engagement.
It's a free tool that lets you manage how your business appears on Google Search and Maps. By verifying and editing your business information, you can help customers find you and learn about your business.
Local SEO is crucial for attracting new customers and maintaining a robust online presence. When you optimize your Google My Business profile, you're not only increasing your chances of appearing in Google's Local 3-Pack, but also boosting your online credibility.
Accurate, up-to-date information coupled with responsive engagement helps build trust with potential customers. So, leverage Google My Business to tap into potential revenue and gain a competitive edge in your local market.
Additional Services to Boost Your Local SEO Efforts
Besides optimizing your Google My Business profile, there are five additional services that you can leverage to further boost your local SEO efforts. These are eCommerce SEO, franchise SEO, link building, business citation management, and online reputation management.
Here's a brief overview of each:
| Service | Benefit |
| --- | --- |
| eCommerce SEO | Enhances your online store's visibility and increases sales. |
| Franchise SEO | Helps multiple locations rank higher in search results. |
| Link Building | Boosts site authority and referral traffic. |
| Business Citation Management | Ensures accurate and consistent online business details. |
| Online Reputation Management | Monitors and improves your online image. |
Selecting the Right Local SEO Agency for Your Business
You're eager to boost your local SEO, but you'll need to select the right agency for your business, and that's where the challenge lies. Not all agencies are created equal. Look for one that's transparent about their pricing and has a track record of success.
Check if they offer comprehensive services, like Google My Business optimization, link building, and reputation management. You'll also want an agency with experience in your industry.
Thrive is a top-ranked agency that checks all these boxes. With their tailored approach, data-driven strategies, and commitment to client success, they've established themselves as leaders in local SEO.
The Impact of Local SEO on Your Business's Online Visibility
Every single improvement in local SEO can significantly increase your business's online visibility, and it's an essential tool for driving potential customers to your website. You're not just putting your business on the map; you're actively reaching out to your local community.
By optimizing your site with targeted keywords specific to your locality, you're increasing the chance of appearing in local searches. And it's not just about search engines; it's about your reputation in the community.
Here's a quick look at the impact of local SEO:
| Benefits | Impact |
| --- | --- |
| Increased Visibility | Your business becomes more noticeable in local searches |
| Higher Traffic | More potential customers are driven to your website |
| Enhanced Reputation | Your standing in the community improves |
Implementing Local SEO Techniques for Better Lead Generation
You'll find that implementing a number of local SEO techniques can't only improve your business's online visibility, but also significantly boost your lead generation efforts.
By optimizing your Google My Business profile, you're verifying your brand's existence and authenticity, boosting online credibility.
Building a strong presence on local social networks and creating expert, localized content can increase your reach within the community.
Data shows that businesses using local SEO services see a high conversion rate.
Thrive's local SEO services, ranked No. 1 among U.S. digital marketing agencies, can take this task off your shoulders, providing you with detailed analytics and proven solutions.
Leveraging Local SEO for Improved Brand Recognition
With a good number of strategic local SEO techniques, you can increase your brand's visibility and elevate its recognition in the local market. You're not just improving search rankings, but you're making your brand a household name within your community.
Google My Business (GMB) optimization plays a vital role in this. By providing accurate information and actively driving customer engagement, you're building a credible, trustworthy online reputation. Thrive's local SEO services can help you tap into this potential. They offer tailored services, including GMB SEO and Bing/Yahoo local optimization. Their data-driven approach ensures an error-free local presence.
Frequently Asked Questions
How Can I Measure the Success of My Local SEO Efforts?
To measure local SEO success, you'll track organic traffic, local search rankings, and conversions. Using Google Analytics, you'll see where traffic's coming from, which local keywords are effective, and how local visitors behave on your site.
What Specific Strategies Does Thrive Use to Optimize a Business's Google My Business Profile?
Thrive optimizes your Google My Business profile by providing accurate info, driving customer engagement, and boosting credibility. They manage locations, ensure up-to-date brand details, and optimize for Google Local 3 Pack visibility.
How Long Does It Typically Take to See Results From Local SEO Initiatives?
You'll typically start seeing results from local SEO initiatives within 3-6 months. However, it's a gradual process and the timeframe can vary based on your business, competition, and the strategies you've implemented.
How Does Local SEO Differ From Traditional SEO, and How Does This Impact My Business?
Local SEO differs from traditional SEO by focusing on your business's visibility in local searches. This impacts your business by boosting local awareness, driving foot traffic, and improving your online presence within the community.
Can I Manage My Local SEO Efforts on My Own or Is It More Beneficial to Hire a Professional Agency Like Thrive?
You can manage your local SEO, but it's beneficial to hire pros like Thrive. They've got the expertise to optimize your visibility, drive traffic, and boost your brand, giving you time to focus on business.
Conclusion
In a nutshell, harnessing the power of local SEO can significantly boost your business growth.
By optimizing your Google My Business account, fine-tuning your online presence, and working with the right agency, you can enhance your brand's visibility and generate more leads.
Don't overlook this valuable tool for local recognition.
Remember, it's not just about being online, it's about being found.
So, gear up and leverage local SEO to make your business shine brighter than ever.