You're looking to boost your business and you've heard GMB (Google My Business) SEO can help. You're spot on! It's key for your online presence and attracting customers.
This guide will show you how to optimize your GMB listing, using local SEO and Google reviews. You'll outshine your competitors and watch your visibility soar.
Ready to unleash your business's potential? Let's jump in and supercharge your business with GMB SEO!
Key Takeaways
GMB listings increase online presence and attract potential customers.
Ranking higher on Google Maps is crucial for business visibility and attracting leads.
Optimizing GMB listings through SEO techniques maximizes their benefits and adds value to business strategies.
Strategies such as filling in accurate company information, uploading high-quality photos, publishing posts regularly, and incorporating keywords can improve GMB rankings.
What you need to know about Rankstar
→ Rev up your business's online presence with Rankstar's powerful GMB SEO strategies.
Boost visibility, attract more customers, and watch your success skyrocket. Don't miss out, supercharge your business today!
We are also here to propel your brand to the summit of search rankings, ensuring its outstanding prominence in both  Autocomplete Suggestions and Autosuggest Removal when in need.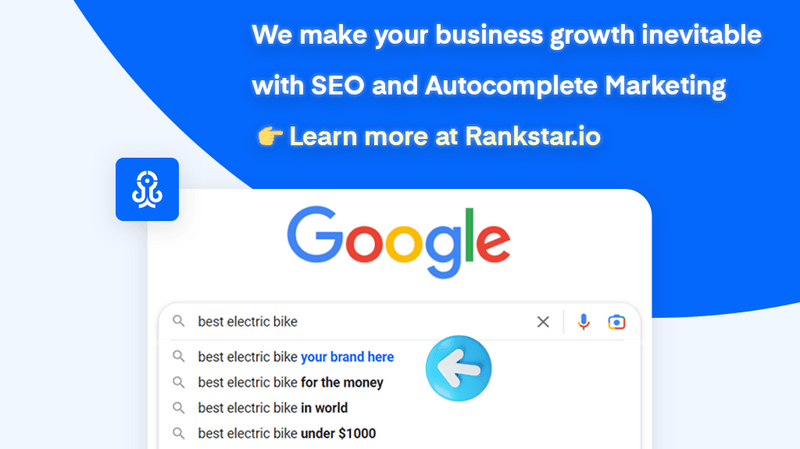 Understanding the Power of Google My Business
You'll quickly realize the power of Google My Business when you see how effectively it can boost your online presence and attract potential customers to your business.
This free tool is a game-changer, especially for small businesses. The key to unlocking its full potential is to optimize your listing. Make sure your business information is accurate and complete; it's a simple step, but it's crucial.
Include relevant keywords in your business description to improve your search engine ranking. Regularly update your listing with new photos and posts to keep it fresh and engaging.
Encourage customers to leave reviews and respond to them promptly. You'll find that a well-optimized Google My Business listing can significantly increase your visibility online, driving more traffic to your website and ultimately boosting your sales.
The Role of GMB in Search Engine Rankings
When it comes to search engine rankings, it's your Google My Business listing that can truly make a difference. GMB lets you control how your business appears on Google Search and Maps. You're in the driver's seat, and with accurate and comprehensive details about your business, you're more likely to attract potential customers.
Here are three critical pointers to optimize your GMB listing:
Complete and regularly update your business information – hours, contact details, and description.
Encourage and respond to reviews. Positive reviews boost your business's visibility and likelihood of being found by customers.
Use insights to understand how customers search for your business and where they come from.
Implementing Effective GMB SEO Techniques
Implementing effective strategies for optimizing your Google My Business listing is essential to enhance your online presence and attract more potential customers. The first step is to ensure all your business information is accurate and up-to-date. This includes your business name, address, telephone number, and domain name.
Next, make sure to regularly update your listing with fresh content. This could be a new post about a product or service, or even an update about your business hours.
Finally, remember to gather and respond to reviews. Positive reviews can significantly boost your visibility, while responding to negative ones shows you value customer feedback.
| Strategy | Benefit |
| --- | --- |
| Accurate Info | Enhances visibility |
| Regular Updates | Keeps customers engaged |
| Managing Reviews | Builds trust |
Essential Strategies for Elevating GMB Rankings
Elevating your rankings on Google Maps and the local search results isn't as difficult as it might seem, given the right strategies. You need to make sure your Google My Business (GMB) profile is optimized. Here's how:
Complete your business profile: Fill in all the details – business name, address, phone number, website, and hours of operation. Don't leave anything blank.
Add relevant categories and keywords: Choose the right business categories and incorporate relevant keywords into your business description. This helps Google understand your business and improves your visibility.
Regularly update your GMB profile: Post updates, add photos, and respond to reviews. Regular activity sends positive signals to Google, increasing your chances of ranking higher.
Advanced Tactics for GMB SEO Success
Advanced tactics can take your Google My Business optimization to the next level, helping you gain an edge over competitors.
You should consider embedding a Google map of your GMB listing on multiple webpages, including your primary website. This can enhance your visibility and boost your rankings.
Also, actively share your CID URL and engage with your GMB listings to increase profile activity.
Utilize tools like Money Robot and SEO Autopilot to gain backlinks and embeds.
Furthermore, create driving directions to your GMB from neighboring locations and backlink to these directions for improved ranking.
Frequently Asked Questions
What Are Some Common Mistakes Businesses Make When Setting up Their GMB Listing?
Common mistakes you might make when setting up your GMB listing include providing inaccurate info, inconsistency in NAP descriptions, ignoring customer reviews, and not utilizing all features like posts and photos to optimize visibility.
How Often Should I Update My GMB Listing to Maintain High Rankings?
You should update your GMB listing regularly. Aim for daily posts, frequent photo updates, and quick response to reviews. Consistency signals Google your business is active, helping maintain high rankings.
Can My Business Still Benefit From GMB SEO if We Don't Have a Physical Storefront?
Absolutely, your business can still benefit from GMB SEO without a physical storefront. It boosts your online presence, increases brand visibility, and drives web traffic, regardless of having a physical location. It's a worthwhile strategy.
How Does GMB SEO Interact With Other Forms of Digital Marketing Like Social Media or Email Marketing?
GMB SEO complements other digital marketing forms. It boosts your social media and email marketing by enhancing online visibility, driving traffic to your site, and increasing engagement with potential customers on local search results.
Are There Any Specific Industries or Types of Businesses That Benefit More From GMB Seo?
Absolutely! Local businesses, especially in the hospitality, retail, and healthcare sectors, benefit most from GMB SEO. It's ideal for any business that relies heavily on foot traffic or serves customers in a specific locale.
Conclusion
So, you've unlocked the secrets of GMB SEO. Now, it's time to put them into action.
Remember, consistency is key in maintaining your GMB ranking. Keep optimizing, keep analyzing, and keep innovating.
Don't just get on the map, dominate it. Stay ahead of the game with these tried and tested strategies, and watch your business skyrocket.
Now go, supercharge your business with GMB SEO and seize the digital marketplace!