You're always on the hunt for the next SEO game-changer. Enter Google's Passage Indexing. It's transforming how search rankings work, focusing on specific content passages, not just whole pages.
As an SEO strategist or content creator, you'll need to understand this shift. Get ready to dive deep into this revolution, understand its impact on your strategies, and learn how to optimize your content.
Let's unravel the mystery of Passage Indexing together.
Key Takeaways
Rankstar – A Valuable SEO Partner for Your Business
→ Ready to stay ahead of the search game?
Dive into our latest article on Rankstar and explore how Google's Passage Indexing is revolutionizing search rankings! Don't miss out on this game-changing insight – delve into the article now and unlock the secrets to optimizing your online presence!
We are also here to propel your brand to the summit of search rankings, ensuring its outstanding prominence in both Autocomplete Suggestions and Autosuggest Removal when in need.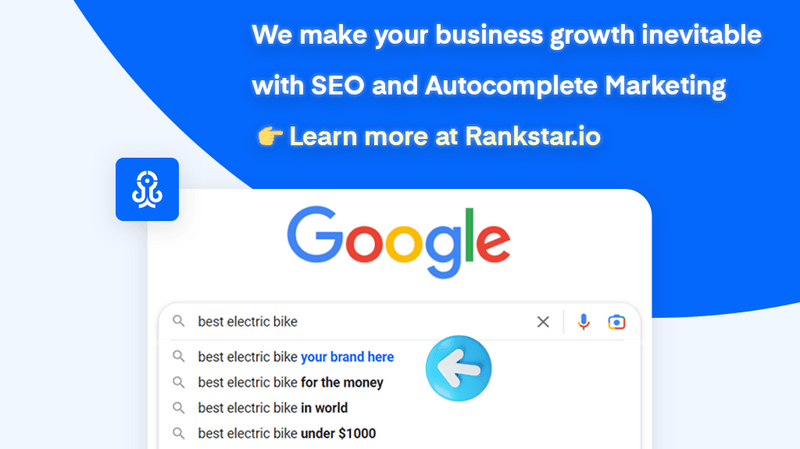 Understanding the Concept of Google's Passage Indexing
To understand the concept of passage indexing, you've got to grasp that it's an innovative feature by Google that pulls specific sections from web pages into search engine results. Instead of just analyzing a page as a whole, Google now dissects it into smaller passages, each treated as a potential match for a search query.
It's not about indexing; it's about ranking. Google's BERT technology and neural networking come into play here, understanding the context and relevancy of each passage. This isn't a replacement for your on-page SEO strategies but rather a complementary feature. So, optimizing your content, ensuring relevant headings, anchor texts, and an overall coherent narrative is still essential.
The Connection Between Passage Indexing and Featured Snippets
You're probably wondering about the connection between Google's passage indexing and featured snippets, and it's essential to understand that these two processes, while distinct, can both significantly influence your site's visibility on Google.
Featured snippets provide quick answers directly in SERPs, often without the user needing to click through to your site. Google's passage indexing, on the other hand, involves Google's algorithm assessing individual sections of your page for relevance to a search query. This means that even if your page isn't fully dedicated to a topic, a relevant passage could still rank highly.
Essentially, passage indexing complements featured snippets by allowing more precise, context-specific results. So, optimizing your content to take advantage of both systems can significantly enhance your SEO strategy.
The Inner Workings of Passage Indexing
Diving into the inner workings of Google's passage indexing, you'll find it's a fascinating process that significantly transforms how Google understands and ranks your content. Google's algorithm, equipped with BERT and Neural Networks, crawls your site's content, identifies relevant passages and scores them independently.
Here's a simplified rundown of this complex process:
Google bots crawl and index your entire page as usual.
The algorithm identifies 'passages' that could individually answer a searcher's query.
Each passage is evaluated and scored separately for relevance.
The passages are then ranked independently of the full page.
Finally, the most relevant passage is displayed in the search results.
Understanding this can help you optimize your content to get the most out of Google's passage indexing.
Distinguishing Passage Indexing From Algorithms Like Rankbrain
While you're navigating the world of SEO, it's crucial that you understand the difference between Google's passage indexing and RankBrain, as they both play distinct roles in determining your website's search rankings.
Passage indexing is Google's way of diving deeper into the content on your page, pulling out relevant sections and ranking them independently. It's a ranking change, not an indexing one, and it's powered by BERT and neural networks.
On the other side, RankBrain is a machine learning-based algorithm that focuses on interpreting search queries and delivering the most relevant results. It's a part of Google's Hummingbird algorithm and it learns from user behavior to refine its results over time.
The Impact of Passage Indexing on SEO
In light of Google's passage indexing, your approach to SEO might need a revamp to adapt to these game-changing alterations. This new feature, which allows Google to rank specific passages within a page independently, has the potential to significantly affect your site's visibility in search results.
Here's why you should care:
Content Relevance: Google's algorithm now has an enhanced ability to extract and rank relevant passages, making content relevance more crucial than ever.
Long-form Content Advantage: Dense, informative content stands a better chance of ranking.
Keyword Dilution: Overuse of keywords may now lead to dilution instead of better ranking.
User Intent: Understanding and addressing user intent in content becomes paramount.
On-page SEO: Meta tags, headings, and anchor text should be optimized for better indexing.
Adjust your SEO strategy with these points in mind to reap the benefits.
Exploring the Benefits of Passage Indexing
You've looked into how passage indexing impacts SEO, and now it's time to delve into its benefits, which can significantly enhance your site's performance.
Google's passage indexing revolutionizes your site's visibility, pulling specific sections from your pages into search engine results. By ranking passages independently, it improves content understanding, delivering the most relevant results to searchers.
The benefits extend beyond visibility. As Google uses BERT and neural nets to understand and rank passages, your content must be well-structured, clear, and comprehensive. This push towards improved quality can only boost your site's credibility and user experience.
Plus, if you've heavy long-form content, you're in luck. Passage indexing gives such pages a better chance of targeting more keywords, further amplifying your SEO success.
How Passage Indexing Transforms Search Rankings
Let's dive into how passage indexing, this revolutionary feature from Google, transforms your website's search rankings.
Essentially, passage indexing allows Google to rank specific sections of your page, not just the whole page itself. This means, if you have a long-form content page with multiple topics and subtopics, each section could potentially rank individually in the search results.
Here's how it breaks down:
Passage indexing focuses on understanding the relevancy of specific sections within your content.
It uses advanced AI algorithms to determine the context of each passage.
This feature can potentially increase your visibility in search results.
It's a ranking change, not an indexing change.
It's likely to impact 7% of search queries across all languages.
Case Studies: Success With Passage Indexing
Harnessing the power of Google's passage indexing, you'll now explore real-world case studies that demonstrate its impact on search rankings.
Consider the case of a popular travel blog that reported a 20% increase in organic traffic. Their long-form content, rich with detailed passages, was rewarded by Google's new ranking approach.
Another example is an e-commerce site selling vintage furniture. Despite not having lengthy articles, the detailed product descriptions and customer reviews became valuable passages for indexing. Their visibility for long-tail keywords significantly improved, boosting their organic traffic by 15%.
Remember, it's not about creating longer content, but more about detailed, high-quality passages within your content.
With a deep understanding of Google's passage indexing, you'll be able to optimize your SEO strategy and increase your site's visibility.
The Future of Passage Indexing in Google Search
Looking ahead to the future of passage indexing in Google Search, you'll see potential changes that could further revolutionize how content is ranked and discovered. This new methodology is advancing the SEO landscape by providing more accurate search results. Here's what you can anticipate:
Expansion of Passage Indexing: It's currently affecting 7% of search queries. This percentage may increase.
Improved Content Understanding: Passage indexing will refine its understanding of the context within content.
Enhanced User Experience: As Google better understands content, it will deliver more relevant results.
Changes in SEO Strategy: Content creators may need to focus more on long-form content.
Greater Emphasis on Quality: With passages getting individual attention, higher quality content will be key.
Adapting to these changes will be crucial in maintaining your SEO performance.
Tips to Optimize Content for Passage Indexing
You've got several strategies to implement and a handful of changes to make when optimizing your content for Google's passage indexing. Start by ensuring your content is clear, concise and answers user queries effectively. Don't bury important information within dense paragraphs. Instead, make it easy for Google's BERT and neural networks to understand and rank your content.
| Strategy | Description | Impact |
| --- | --- | --- |
| Keyword Optimization | Use relevant long-tail keywords | Increases content visibility |
| Structured Content | Use headings, bullet points, and short paragraphs | Enhances readability |
| Quality Content | Write in-depth, valuable content | Boosts user engagement |
| User Experience | Improve site speed, mobile-friendliness | Reduces bounce rate |
Frequently Asked Questions
What Was the Primary Reason Behind Google's Introduction of Passage Indexing?
Google introduced passage indexing primarily to improve search result relevancy. It's designed to understand content on a deeper level and highlight specific sections, enhancing the accuracy of results for complex, long-tail queries.
Can Passage Indexing Affect the Privacy of Content on a Website?
No, passage indexing doesn't affect your website's content privacy. It just helps Google understand and rank passages independently. Your content remains as secure as your site's privacy settings allow.
How Can One Track the Performance of Their Content With Passage Indexing?
You can track your content's performance with passage indexing by using Google Search Console. It'll show how often your pages appear in search results and the key phrases triggering passage indexing. Analyze and adjust accordingly.
Is There a Way to Opt Out of Passage Indexing for Certain Content or Pages?
No, you can't opt out of passage indexing. Google automatically applies it to understand page content better. It's not a separate index but a way Google reads and ranks specific content within your pages.
How Does Passage Indexing Interact With Other Google Search Features Like Voice Search or Image Search?
Passage indexing doesn't directly interact with voice or image search. However, it enhances Google's understanding of your content, which could indirectly benefit these search features by providing more accurate and relevant results.
Conclusion
In a nutshell, Google's Passage Indexing is a game-changer for SEO practices. It's set to revolutionize search rankings, favoring long-form, insightful content.
So, gear up to tweak your content strategy, focus on creating quality text that offers value, and watch your rankings soar.
Remember, Google's aim is to enhance user experience, and Passage Indexing is a major step in that direction.
This innovation is definitely one to watch in the world of SEO.