You're about to turbocharge your SEO strategy. Dive into the world of infographics – your secret weapon for boosting traffic, generating backlinks, and raising brand awareness.
This guide will walk you through creating, publishing, and promoting your website with captivating infographic SEO strategies, which will make your audience sit up and take notice.
So, let's get started, you're just steps away from transforming your marketing campaign into a success.
Key Takeaways
Infographics are visual representations that combine images, charts, graphs, and text to present complex information concisely.
Infographics are effective marketing tools that generate more backlinks and traffic than standard content.
Creating captivating infographics involves telling a unique and catchy story, incorporating statistical data, and using appropriate design elements.
Publishing and promoting infographics involves optimizing search engine visibility, sharing on social media, and collaborating with bloggers and influencers.
Rankstar – A Valuable SEO Partner for Your Business
→Ready to transform your website with captivating infographic SEO strategy?
Dive into our latest article on Rankstar! Explore how infographics can not only engage your audience but also enhance your SEO efforts. Don't miss out on this visual journey—read the full article now and unlock the power of infographics for your website's success!
We are also here to propel your brand to the summit of search rankings, ensuring its outstanding prominence in both Autocomplete Suggestions and Autosuggest Removal when in need.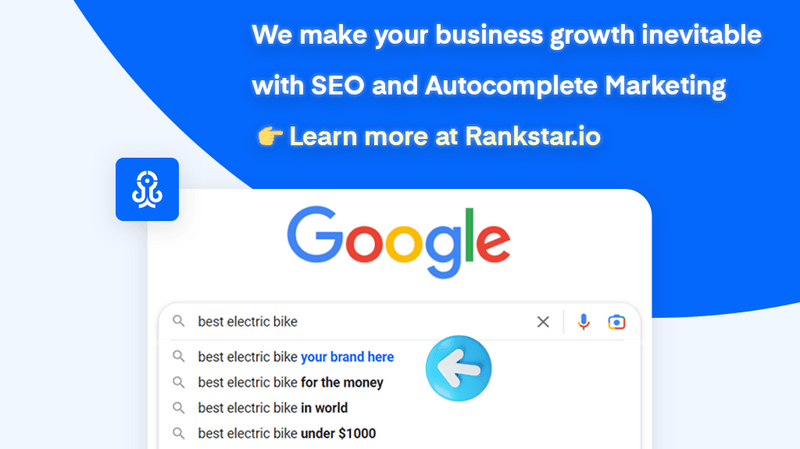 Understanding the Role of Infographic SEO
You're delving into the role of infographic SEO, and it's essential to understand that they're not just visually appealing but can significantly boost your site's visibility and user engagement.
Infographics, when done right, are SEO powerhouses. They're shareable, linkable, and can generate a ton of traffic. They help in building backlinks, a key SEO factor, as they're shared across the web.
They're engaging, making your audience more likely to stay on your page, reducing bounce rate. They also improve your social signals, as people love to share good infographics on social media.
Key Components of Effective Infographics
In creating impactful infographics, there's a need to understand that each component, whether it's the color scheme or data presentation, plays a crucial role in its effectiveness. You've got to make your visuals dazzle, but without overwhelming your audience. Use compelling data and make it easily digestible.
Your color scheme should align with your brand and the mood of the information you're conveying. Don't neglect the power of fonts and spacing; they can make or break readability.
Remember, your infographic must tell a story, so organize your data effectively. Keep your audience in mind at every stage, and make sure your design is responsive for all devices.
Lastly, don't forget to optimize it for infographic SEO, using relevant keywords in your title, description, and alt text. With these components in place, you'll craft infographics that not only captivate but convert.
Strategies for Designing Infographics That Attract Attention
There are five key strategies you'll need to design infographics that truly grab your audience's attention.
First, always start with the end in mind. What's the message you're trying to convey? Once you've identified this, you can craft a compelling storyline around it.
Next, focus on your design. A well-designed infographic isn't just aesthetically pleasing, it's also easy to understand and digest. Use colors and fonts strategically to highlight key information and guide your audience through the infographic.
Thirdly, don't forget about data. Back your message up with solid facts and figures. This not only lends credibility to your infographic, but it also makes it more engaging.
The Art of Crafting Infographics for Backlink Generation
By mastering the art of crafting infographics, you'll generate more backlinks which can significantly boost your website's SEO.
To start, pick hot, ever-changing, or controversial topics. Refresh old articles with infographics to grab attention. Interview influencers and use their insights in your visual content. Pay close attention to design elements like fonts, size, and amount of text. You're not just creating art, you're creating shareable, linkable content.
Make sure your infographic is the right size for easy sharing and name it correctly to optimize search visibility. Lastly, promote your infographic on your website, social media, and through influencers.
Steps for Successfully Publishing Your Infographics
You've crafted a compelling infographic, but now you need to nail down the publishing process, and it's not just about uploading it to your site, you also need to share it on social media and reach out to bloggers and influencers for maximum exposure. You're aiming to reach your audience effectively, and here's how you can do it:
Optimize your infographic for SEO: Include relevant keywords in the title and description.
Share on social media: Platforms like Facebook, Instagram, Twitter, or LinkedIn can give your infographic significant reach.
Reach out to influencers and bloggers: Their audiences can provide a significant boost in visibility.
Track your results: Use analytics to see how your infographic performs and adjust your strategy accordingly.
Techniques for Promoting Your Infographics for Maximum SEO Impact
While it's vital to create engaging infographics, it's equally important that you're employing the right techniques to promote them for maximum SEO impact. Infographic SEO boosts your visibility online, driving more traffic to your site. So, you've got to optimize your infographic content smartly.
Here are some techniques to help you out:
| Technique | Why It's Crucial |
| --- | --- |
| Keyword Optimization | It helps you rank higher in search results |
| Social Media Sharing | It increases exposure and drives traffic |
| Backlink Generation | It improves your website's SEO rank |
| Engaging Content | It keeps the audience interested and motivates sharing |
| Regular Updates | It keeps your content fresh and relevant |
Frequently Asked Questions
What Are Some Common Mistakes to Avoid When Applying Infographic SEO strategies?
Avoid overcrowding your infographic with too much text or data. Don't use confusing or poor quality visuals. Ensure your infographic's topic is relevant and interesting. Don't forget to optimize it for SEO and share it widely.
How Can Metrics Be Used to Measure an Infographic SEO Success?
You can measure an infographic SEO success through metrics like backlinks generated, traffic increase, social shares, and user engagement. Analyzing these can show if it's boosting your site's visibility and attracting your target audience.
Are There Any Specific Industries or Sectors Where Infographics Are Particularly Beneficial for SEO?
Yes, infographics are particularly beneficial for industries with complex data or processes. They're a hit in tech, finance, healthcare, and education sectors as they simplify information, attract backlinks, and boost SEO effectively.
How Can Infographics Be Effectively Incorporated Into a Broader Digital Marketing Strategy?
You can incorporate infographics into your digital marketing strategy by creating engaging visuals that tell a story. Use them in blog posts, social media, and email campaigns to increase engagement, shares, and backlinks.
Can Infographics Be Optimized for Mobile Platforms and How Does This Affect SEO?
Yes, you can optimize infographics for mobile platforms. This improves SEO as mobile-friendly content ranks higher on search engines. Use responsive design and ensure it's easily viewable on smaller screens to enhance user experience.
Conclusion
So, you're now equipped to create, publish, and promote engaging infographics that supercharge your infographic SEO strategy.
Remember, it's all about presenting data in an exciting, digestible way that resonates with your audience.
Get creative, generate those backlinks, and watch your traffic soar.
Ready to transform your website with infographic SEO? Let's make your marketing campaign a success.