In today's digitized landscape, LinkedIn and SlideShare emerge as powerful platforms for professional growth and business visibility.
This article illuminates how these two platforms can be combined to maximize search engine optimization, enhance online visibility, and drive traffic.
It discusses optimal strategies for profile and presentation optimization, substantiated by compelling statistics.
By the end, you'll grasp how to leverage LinkedIn and SlideShare effectively, bolstering your professional standing and online presence.
Key Takeaways
SlideShare and LinkedIn have large user bases, with 60 million monthly visitors on SlideShare and over 300 million members on LinkedIn.
Optimizing presentations and profiles on both platforms can increase visibility and credibility for professionals.
Embedding SlideShare presentations into LinkedIn profiles can drive traffic to both platforms and increase followers on SlideShare.
Rankstar – A Valuable SEO Partner for Your Business
→ Ready to supercharge your site's SEO with LinkedIn and SlideShare?
Explore the full article on RankStar to discover the secrets of unlocking the true power of these platforms. Elevate your online presence, connect with a professional network, and drive organic traffic to your site. Don't miss out on this opportunity to take your SEO to the next level!
We are also here to propel your brand to the summit of search rankings, ensuring its outstanding prominence in both Autocomplete Suggestions and Autosuggest Removal when in need.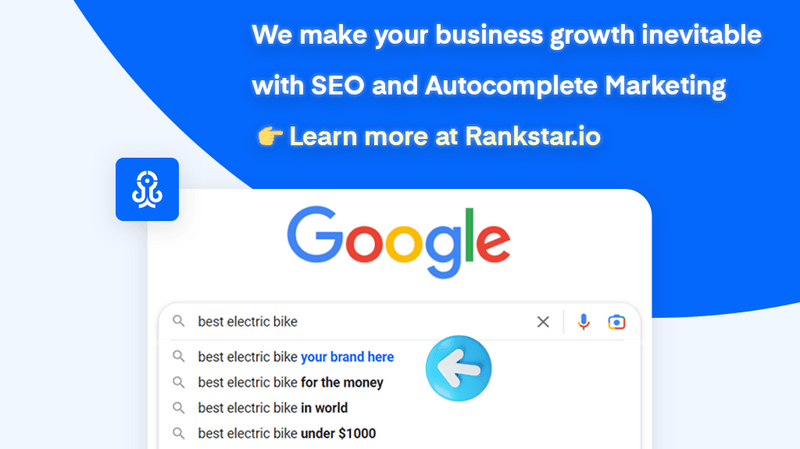 Mastering SlideShare SEO Tactics
In the realm of SlideShare SEO tactics, it's paramount to understand that the platform garners 60 million monthly visitors and hosts 15 million uploads, thus offering a vast landscape for keyword optimization and increased visibility. With Google indexing SlideShare notes and transcripts, the opportunity for keyword implementation is tremendous.
The site's internal search function further enhances visibility. Additionally, Google often presents SlideShare pages in response to related queries, creating another avenue to reach your target audience. Therefore, creating visually appealing presentations with strategically placed keywords can significantly boost your SlideShare SEO.
It's a powerful tool in the digital marketer's arsenal, seamlessly merging information-rich content with an established, high-traffic platform for optimal visibility and engagement.
Leveraging LinkedIn for SEO
Building on the momentum of mastering SlideShare SEO tactics, the focus now shifts to the strategic use of LinkedIn for SEO, a platform boasting over 300 million members ripe for engagement.
LinkedIn's potential for SEO lies in its richly detailed profiles, filled with industry keywords, which increase visibility and professionalism.
Moreover, embedding SlideShare presentations within your LinkedIn profile not only enhances credibility but also creates backlinks, strengthening your SEO strategy.
The synergy between SlideShare and LinkedIn increases traffic to your profile, expands your network, and improves profile ranking.
Combining these powerful platforms optimizes your online presence, maximizes visibility, and boosts SEO results.
This strategic integration is a game changer for professionals seeking to make a profound impact in the digital space.
Harnessing SlideShare and LinkedIn Synergy
Harnessing the synergy between LinkedIn and SlideShare can significantly elevate your digital presence, creating an impactful and professional online persona. These two platforms, when utilized together, can maximize your reach and enhance your image as a thought leader in your industry.
| SlideShare-LinedIn Synergy | Benefits |
| --- | --- |
| Embed SlideShare in LinkedIn | Increases visibility and credibility |
| Live links in presentations | Establishes credible backlinks |
| Traffic from SlideShare | Improves LinkedIn profile ranking |
| Increased network expansion | Leads to more business opportunities |
| Cross-platform follower growth | Boosts overall digital presence |
Benefits of Integrating LinkedIn and SlideShare
Exploring the benefits of integrating LinkedIn and SlideShare further, it becomes evident that this strategic alignment offers numerous advantages for professionals seeking to enhance their digital presence.
Improved Visibility: By combining SlideShare's significant monthly traffic with LinkedIn's expansive network, professionals can significantly amplify their reach.
Enhanced Credibility: Presentations embedded from SlideShare into LinkedIn profiles can demonstrate expertise, thereby boosting professional credibility.
SEO Impact: Both platforms are indexed by Google, meaning well-optimized profiles and presentations can improve search engine visibility.
Engagement Opportunities: Presentations on LinkedIn can engage viewers, who can then be directed to SlideShare for further interaction.
General Facts and Impressive Statistics
In light of the numerous advantages offered by the integration of LinkedIn and SlideShare, it is crucial to consider some key facts and impressive statistics that underline the power of these platforms.
With a staggering 60 million monthly visitors and 15 million uploads, SlideShare's reach is extensive. Notably, Google indexes notes and transcripts on SlideShare, providing an SEO advantage.
Furthermore, LinkedIn boasts over 300 million members, offering a vast network of professionals across all industries. It's worth noting that LinkedIn's profiles can be skillfully optimized with industry keywords to increase visibility and professionalism.
The merger of these platforms presents a powerful SEO impact, unlocking untapped potential for professionals striving to maximize their online presence.
Frequently Asked Questions
What Are Some Common Mistakes to Avoid When Optimizing Slideshare for Seo?"
Common mistakes to avoid when optimizing SlideShare for SEO include neglecting keyword placement, failing to utilize visually appealing presentations, and overlooking the importance of well-crafted notes and transcripts for Google indexing.
How Can One Measure the Success of Their SEO Tactics on Linkedin?"
The success of SEO tactics on LinkedIn can be measured through various metrics including profile views, search appearances, connection requests, and engagement on posts. Additionally, Google ranking of your LinkedIn profile can also indicate SEO effectiveness.
What Are the Specific Steps to Embed a Slideshare Presentation Into a Linkedin Profile?"
To embed a SlideShare presentation into a LinkedIn profile, go to your SlideShare presentation, click 'Share', copy the 'Embed' code, then paste it into your LinkedIn profile's 'Add Media' section under 'Experience'.
Are There Any Potential Downsides or Risks to Integrating Linkedin and Slideshare?"
Potential downsides of integrating LinkedIn and SlideShare could include overloading your audience with information or diluting your professional brand if the presentations are not high quality, relevant, and consistently aligned with your professional image.
Do Linkedin and Slideshare Offer Any Specific Features or Tools to Aid in SEO Optimization?"
Yes, LinkedIn and SlideShare offer SEO optimization tools. LinkedIn's profile optimization and keyword usage enhance visibility. SlideShare's presentations, indexed by Google, boost SEO through keyword optimization. Their synergy also creates a powerful SEO impact.
Conclusion
In conclusion, LinkedIn and SlideShare offer significant opportunities for enhancing online visibility and professional credibility.
Mastering SEO tactics and harnessing the synergy of these platforms can result in increased traffic and improved professional ranking.
The integration of these platforms provides significant benefits, as illustrated by their impressive user statistics.
Understanding and leveraging the potential of LinkedIn and SlideShare is, therefore, a strategic imperative for professionals and businesses in today's digital environment.