You're in the digital world, fighting to stand out. It's tough, isn't it? But don't fret, Local SEO strategies are your secret weapon.
It's not just a buzzword, it's an essential tool to boost your visibility and outshine your competition. Let's dive in and learn how to harness this powerful tool effectively.
With over 75% of consumers using Google for local info, mastering Local SEO isn't just important, it's necessary.
Ready? Let's get started.
Key Takeaways
Local SEO is important for businesses to optimize their online presence and increase visibility for local traffic and brand awareness.
Google dominates the search engine market for local searches, and over 75% of consumers in the US, France, Germany, and the UK use Google for local business information.
The number of local searches is growing, with significant increases in searches like 'shopping near me' and 'store open near me'.
Implementing local SEO strategies involves conducting local keyword research, optimizing Google Business Profile, getting NAP citations, encouraging online reviews, refining on-page SEO, building backlinks, and monitoring local listings using tools like Google Search Console and Semrush's Listing Management and Position Tracking tools.
Rankstar – A Valuable SEO Partner for Your Business
→ Ready to conquer your local market and turbocharge your business?
Dive into the world of Local SEO strategies in our latest article on Rankstar! Discover the strategies and tactics to dominate your local competition and unlock unparalleled growth. Don't miss out on this essential SEO insight – explore the article now and make your business the local superstar it deserves to be!
We are also here to propel your brand to the summit of search rankings, ensuring its outstanding prominence in both Autocomplete Suggestions and Autosuggest Removal when in need.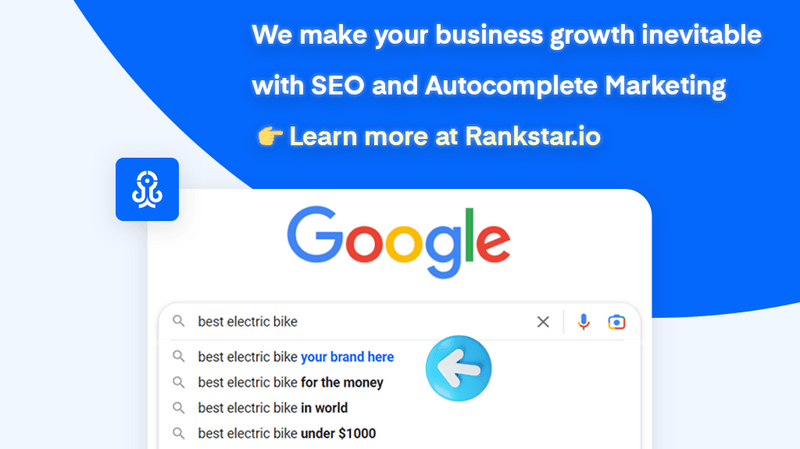 Understanding the Basics of Local SEO
You're just beginning to grasp the basics of local SEO, a process that optimizes your online presence for local traffic, increasing your brand's visibility and relevance in the community.
It's crucial to understand Google's local search algorithm, which factors in relevance, distance, and prominence.
You can enhance these by conducting local keyword research and optimizing your Google Business Profile.
Don't underestimate the power of local citations, which verify your business's name, address, and phone number online.
Additionally, encourage online reviews to build customer trust, and continually refine your on-page SEO.
Monitor your local listings regularly, correcting any inaccuracies.
Exploring the Significance of Local SEO Strategies
Now, you're delving deeper into the significance of local SEO strategies, and it's clear that it's not just about visibility, but also about tapping into the increasing growth of local searches. You're realizing the importance of aligning your business with the needs and interests of your local audience.
Here's a quick breakdown to emphasize the role of local SEO:
| Relevance | Distance | Prominence |
| --- | --- | --- |
| It aligns with the user's search intent | It considers the user's location | It factors in the popularity of the business |
Local SEO is not just about appearing in search results, but about being relevant, close, and prominent. You're not just competing for attention, you're striving for connection. By understanding and applying local SEO strategies, you'll not only increase your visibility but also your relevance and prominence in your local community.
The Mechanics of Local SEO: How It Functions
While you're diving into the mechanics of Local SEO, it's important to understand how Google's local search algorithms function, considering factors like relevance, distance, and prominence.
Relevance refers to how well your business matches the user's search query.
Distance involves how close your business is to the user's location.
And prominence is all about the notable reputation your business has online.
To optimize your Local SEO, you'll need to conduct local keyword research, optimize your Google Business Profile, and ensure your business's name, address, and phone number are mentioned online.
Encourage online reviews and refine your on-page SEO.
Developing Effective Local SEO Strategies
In developing effective Local SEO strategies, there are three key components to focus on: conducting thorough keyword research, optimizing your Google Business Profile, and building a solid online reputation through positive reviews and quality backlinks.
To start, it's critical for you to dig deep into your local keywords and understand what your local clientele is searching for. By doing so, you can tailor your content to meet these specific needs and increase your chances of appearing in relevant search results.
Next, don't underestimate the power of an optimized Google Business Profile. This is often the first impression potential customers will have of your business online. Make sure to keep it updated with detailed information about your business, including photos and videos. This will enhance your credibility and make it easier for customers to find and contact you.
Moreover, harness the power of your customers' voice by encouraging reviews. Positive reviews not only serve as social proof but also build trust with potential customers. Encourage satisfied customers to leave reviews on your Google Business Profile and other relevant platforms.
Lastly, don't forget about backlinks. High-quality and relevant backlinks can give your site the SEO boost it needs. Seek out opportunities to collaborate with other local businesses or industry influencers to earn these valuable links.
Beyond Basics: Additional Tactics for Local SEO
Surprisingly, you'll find that going beyond the basics and implementing additional tactics can significantly enhance your local SEO strategies. Don't just stick to the usual local keyword research or Google Business Profile optimization. Get creative and go further.
Encourage online customer reviews. These provide social proof and boost your credibility.
Reply to all reviews, positive or negative.
Implement a system to request reviews from satisfied customers.
Refine your on-page SEO.
Prioritize pages with high ranking potential.
Include locally targeted keywords in your content.
Actively build local backlinks.
Engage in broken link building.
Collaborate with local non-competitor businesses for mutual benefit.
The Role of Online Reviews in Local SEO
You're examining the impact of online reviews on local SEO, and it's crucial to understand that both positive and negative feedback can significantly influence your business's online visibility.
High-quality, positive reviews can boost your local search rankings, acting as social proof and building trust with potential customers. Conversely, negative reviews, if not addressed promptly, can tarnish your online reputation and deter potential clients.
Encourage satisfied customers to leave reviews, and respond to negative ones professionally and timely. It's also important to incorporate review signals, like quantity, diversity, and velocity, into your local SEO strategy.
Remember, Google values authenticity and consistency. So, ensure your reviews are genuine, varied, and spread out over time.
In essence, a well-managed online review strategy can be your secret weapon in optimizing local SEO.
Refining On-Page SEO for Local Reach
To boost your local reach, refining on-page SEO is a crucial step that shouldn't be overlooked. On-page SEO refers to the optimization of website elements to improve your website's ranking. It's all about making sure your website is user-friendly, relevant and easy to find.
Here's a quick rundown:
Start with keyword research:

Look for local keywords relevant to your business
Understand your audience's search intent
Use the keywords naturally in your content

Optimize your meta tags:

Title tags should include your local keyword
Meta descriptions should be compelling and include your local keyword

Work on your website's content:

Create content that's locally relevant
Use local keywords naturally within the content
Keep your content fresh and regularly updated
Building Backlinks: A Key Element of Local SEO
Building a substantial amount of backlinks is crucial for boosting your local SEO strategies. Why? Because backlinks signal to Google that others vouch for your content, enhancing your site's credibility and improving its ranking. But, don't just aim for quantity; the quality of your backlinks is equally significant.
Start by identifying non-competitor local businesses and see if you can collaborate. Perhaps you can write a guest blog post on their site and link back to your own. Also, consider sponsoring local events or charities. They'll likely link back to your site in their promotional materials, increasing your visibility.
Monitor your backlink profile regularly. Use SEO tools to track changes, spot broken or lost links, and fix them promptly. Backlinks aren't built overnight, but your consistent effort will pay off in improved local SEO.
Monitoring and Managing Local Listings
Keeping a close eye on your business's local listings is crucial, as it's your primary line of defense against incorrect information and helps maintain your brand's online reputation. With the surge in local searches, it's more important than ever to ensure your business information is accurate and up-to-date.
Consider these points:
Regularly check your listings: This isn't a one-time task. Consistently review your listings to catch any errors or outdated information.
Use tools: SEO tools like Semrush's Listing Management can help monitor your listings, identify issues, and streamline updates.
Respond to reviews: It's not just about the information. Engaging with customer reviews also strengthens your online presence.
Update your Google Business Profile: This is often the first impression potential customers get, so it's crucial it's accurate and engaging.
Statistics and Insights: The Impact of Local SEO
While you're striving to optimize your business for local searches, it's crucial to understand that 97% of people search online for local companies, underscoring the significant impact of local SEO strategies. It's not just about visibility, but also about credibility and conversion.
Consider these statistics:
| Statistic | Detail | Impact |
| --- | --- | --- |
| 35% of businesses | Consider local SEO important | Highlighting its role in digital strategies |
| 50% of local business listings | Contain incorrect information | Demonstrating the need for regular monitoring and updates |
| 28% of local searches | Result in a purchase | Emphasizing the conversion potential of local SEO |
You see, you're not just optimizing for search engines, you're optimizing for your potential customers. Don't underestimate the power of local SEO!
Frequently Asked Questions
What Are Some Common Mistakes to Avoid When Implementing Local SEO Strategies?"
Avoiding common mistakes in local SEO strategies is crucial. Don't ignore customer reviews, neglect local keywords, or forget consistent NAP citations. Also, never underestimate the power of backlinks or fail to monitor local listings.
How Does Voice Search Impact Local SEO and How Can Businesses Adapt to This Trend?"
Voice search greatly impacts local SEO by favoring conversational, long-tail keywords. You can adapt by optimizing your content for natural language queries and incorporating these keyword phrases into your website and local listings.
How Can Small Businesses With Limited Resources Effectively Implement Local SEO Strategies?"
As a small business, you can effectively implement local SEO strategies by optimizing your Google Business Profile, conducting local keyword research, encouraging online reviews, and regularly updating your website with locally relevant content.
How Can Businesses Measure the Success of Their Local SEO Efforts and What Metrics Are Important to Monitor?"
You can measure local SEO success by tracking metrics like local search rankings, website traffic, Google My Business insights, and conversion rates. It's essential to monitor these regularly for effective strategy adjustments.
What Role Does Social Media Play in Local SEO and How Can Businesses Leverage It to Enhance Their Local Visibility?"
Social media boosts your local SEO by driving local engagement. You can leverage it by sharing locally relevant content, engaging with local followers, and promoting user-generated content. It's all about fostering local connections.
Conclusion
Harnessing the power of local SEO strategies is crucial to stand out amid local competition. Remember, it's all about understanding the basics, developing effective strategies, refining your on-page SEO, building backlinks, and managing your local listings.
With a detail-oriented and analytical approach, you'll not only boost your visibility but also establish a solid digital presence. So, don't underestimate Local SEO's impact.
Let it work its magic and watch your local business flourish.