You're ready to boost your brand's online visibility, right? It's time to tap into On-SERP SEO – a strategy for commanding attention on Google's first page.
With over half of Google searches ending without a click, it's more vital than ever. This isn't just about driving traffic – it's about brand exposure and conquering zero-click results.
So, get set to delve into SERP elements, harness Google My Business and run strategic ads.
Let's conquer this.
Key Takeaways
On-SERP SEO aims to maximize brand exposure on Google's front page through targeting various SERP elements such as featured snippets, highly-ranking posts, knowledge graph panels, and more.
Zero-click searches are becoming more prevalent, with less than 50% of all searches resulting in a click, highlighting the importance of on-SERP SEO.
To start with on-SERP SEO, analyze your current situation, understand SERP changes, track SERP features using tools like Moz Pro and SEMrush, and act on opportunities that align with your goals.
Improve your local listing by utilizing Google My Business, curating your listing, managing reviews, and optimizing photos to boost brand awareness in the local market.
Rankstar – A Valuable SEO Partner for Your Business
→ Unleash the power of On-SERP SEO and conquer zero-click results with our latest article on Rankstar!
Explore the strategies to dominate the search engine results page and drive more traffic to your website. Don't miss this chance to outshine your competition—read the full article now and take your SEO game to the next level!
We are also here to propel your brand to the summit of search rankings, ensuring its outstanding prominence in both Autocomplete Suggestions and Autosuggest Removal when in need.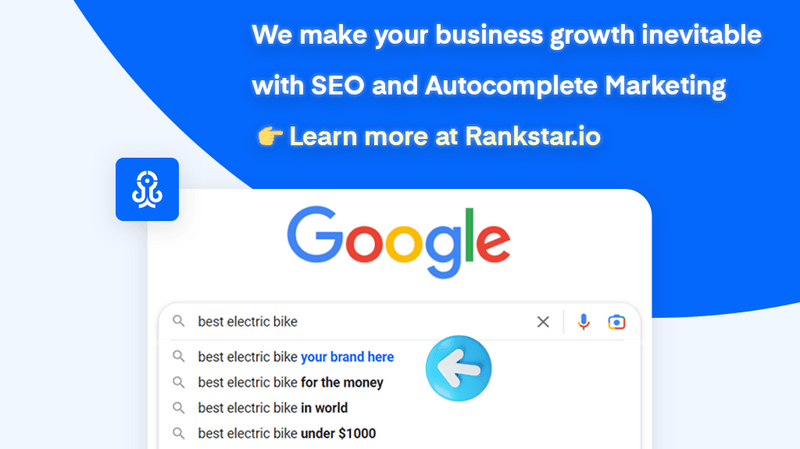 Understanding the Concept of On-SERP SEO
In light of our discussion, you've got to grasp the concept of On-SERP SEO, which is all about maximizing your brand's exposure on Google's front page by targeting various SERP elements. It's less about driving traffic and more about occupying as much real estate on the SERPs as possible. You're aiming to enhance your brand visibility, even if it doesn't always lead to clicks.
To start, analyze your current digital footprint. Understand where your traffic comes from and the click-through rates for your main keywords. Use tools like Moz Pro or SEMrush to monitor SERP changes and identify opportunities.
The Growing Trend of Zero-Click Searches
You're witnessing a surge in zero-click searches, and it's reshaping the landscape of SEO. This trend has been fueled by Google's mission to provide immediate answers to users' queries. Consequently, traditional strategies are being challenged, and you're required to adapt and innovate.
Understanding zero-click searches is crucial. Here's why:
They dominate over 50% of search results.
They're driven by featured snippets, local packs, and knowledge graphs.
They cater to mobile users who want quick answers.
They're prevalent in densely populated industries like travel or recipes.
They influence your SEO strategy, pushing for more SERP optimization.
Adapting to this trend means optimizing your content for rich results, focusing on brand exposure, and exploring opportunities beyond traditional organic clicks. It's a new SEO frontier you're navigating.
Getting Started With On-Serp SEO: a Step-By-Step Guide
Let's dive into a step-by-step guide to help you get started with On-SERP SEO, a powerful tool for boosting your brand's visibility on Google's front page.
Start by analyzing your current situation. Where's your traffic coming from? What're the click-through rates for your main keywords? Use tracking tools like Moz Pro or SEMrush to monitor SERP changes.
Grasp an understanding of your relevant SERPs. Where can your brand shine? Act on opportunities that align with your goals.
Improve your local listing using Google My Business. Manage your reviews, fine-tune your photos.
Consider running ads for your brand. This strategy secures an extra spot at the top of the SERPs, and prevents competitors from advertising in your name.
There you go, you're on your way to mastering On-SERP SEO.
Strategies to Enhance Local Listing in On-SERP SEO
Boosting your brand's visibility in local search results requires enhancing your local listing as part of your On-SERP SEO strategy. Local SEO goes beyond being visible on Google maps; it involves standing out when customers in your area are searching for your specific services.
To maximize your local exposure, consider the following strategies:
Claim your Google My Business listing to ensure accurate information.
Aggressively gather positive customer reviews to build credibility.
Use high-quality photos to showcase your products/services.
Ensure your business details are consistent across all platforms.
Optimize your listing with relevant keywords.
The Role of Ads in On-SERP SEO
In your On-SERP SEO strategy, running ads plays a crucial role in enhancing your brand's visibility and recognition, while effectively utilizing the space under the search bar. It's not just about gaining top spot; it's leveraging this prime real estate to keep competitors at bay. With well-crafted ads, you're making a bold statement right at the searcher's first glance.
But don't just run ads; optimize them. Fine-tune your ad copy to align with your brand's voice and resonate with your target audience. Incorporate your main keywords strategically without compromising natural language flow. Monitor ad performance, adjust bids, and tweak as necessary.
Upcoming Events and Webinars on On-SERP SEO
While you're working on your On-SERP SEO strategy, don't forget to sign up for the upcoming webinars and events that can provide you with more insights and strategies. These online platforms are invaluable for staying updated with the latest trends and tactics in SEO.
Here's a glimpse of what's coming up:
WordPress Accessibility Day 2023 (September 27 – 28): A chance to learn about making your WordPress site more accessible.
SEO webinar: How to start with SEO (October 3rd, 2023): Perfect for beginners, this webinar offers practical tips to jumpstart your SEO journey.
Live Q&A in each event: Get your questions answered by SEO experts.
Yoast's sponsorship of WordPress Accessibility Day 2023: Gain insights from one of the leading voices in SEO.
Practical, hands-on sessions: Learn SEO by doing, not just by listening.
Don't miss these opportunities to enhance your SEO skills and strategies.
The Impact of On-SERP SEO on Brand Visibility
You're noticing that On-SERP SEO can significantly increase your brand visibility, but it's also crucial to remember that it doesn't always guarantee higher traffic. That's because Google's ever-changing algorithms and the rise of zero-click searches can impact your click-through rates.
So, it's essential to adapt and aim for a greater presence on the SERP, not just the top spot. Start by identifying the SERP features that your audience interacts with the most. Use tools like Moz Pro or SEMrush to track SERP changes and understand the dynamics. This way, you can optimize your content to target these features effectively.
Moreover, consider running ads for your brand to secure an extra spot at the top. Remember, it's about making your brand more visible and memorable, even in a zero-click scenario.
Addressing the Challenges of On-SERP SEO
Your brand's visibility can greatly benefit from On-SERP SEO, but you'll need to tackle the increasing challenges of zero-click searches and Google's expanding dominance in the SERPs. Zero-click searches offer users instant answers, often reducing the need to click through to your website. This trend, fueled by Google's continuous expansion, significantly limits opportunities for your brand to gain exposure.
To navigate this landscape, consider these strategies:
Optimize your content to target featured snippets.
Boost your local SEO efforts.
Run ads for your brand to claim more SERP real estate.
Monitor SERP changes and adjust your strategy accordingly.
Understand your click-through rates and adapt to increase them.
Frequently Asked Questions
What Are Some Common Mistakes to Avoid When Implementing On-Serp Seo?
Avoid common on-SERP SEO mistakes like neglecting mobile optimization, targeting irrelevant SERP features, and ignoring zero-click searches. You shouldn't overlook rich results, keyword analysis, or the power of your brand's visibility.
How Do I Measure the Success of My On-Serp SEO Strategy?
To measure your on-SERP SEO strategy's success, track metrics like the visibility of your brand on the SERPs, click-through rates, and changes in organic traffic. Remember, it's about quality exposure, not just clicks.
Can On-Serp SEO Help in Improving the Conversion Rate of My Website?
Absolutely, On-SERP SEO can boost your website's conversion rate. By dominating SERP features, you're increasing brand visibility and trust, which can lead to higher click-through rates and potentially more conversions. It's worth the effort.
Are There Any Specific Industries or Businesses That Benefit More From On-Serp Seo?
Yes, businesses with high online competition, like e-commerce or content-heavy sites, benefit more from On-SERP SEO. It's also great for local businesses aiming to enhance visibility in local search results.
How Can I Keep up With the Constant Changes and Updates in Google's SERP Features for Effective On-SERP Seo?
You can stay updated with Google's SERP features by utilizing SEO tools like Moz Pro or SEMrush. These track changes and help you identify opportunities for enhanced On-SERP SEO. Keep learning and adapting.
Conclusion
So, don't let zero-click results scare you away. Instead, leverage them to your advantage with On-SERP SEO.
Boost your local listing, run strategic ads, and stay updated with latest SEO trends.
Remember, it's not just about driving clicks, it's about maximizing brand visibility.
With On-SERP SEO, you're harnessing the power to rise above the competition.
Dive in, embrace the challenges, and let your brand shine like never before.