You're in the digital race, yearning for that top spot in search engine rankings, aren't you? Welcome to the world of Parasite SEO!
Imagine using the might of high-authority websites to skyrocket your own site's visibility. In this guide, you'll master this potent SEO strategy, learn its benefits, and understand when to use it.
We'll navigate through its implementation process together.
Ready to conquer the SEO world? Let's dive in!
Key Takeaways
Parasite SEO is a strategy that utilizes high-authority websites to boost your own site's visibility in search engine rankings.
It is a cost-effective and time-saving alternative to investing heavily in your own website and SEO.
Leveraging the authority of established sites can provide quick authority and increased visibility for your content.
Quality content that adds value is crucial for the success of parasite SEO.
Rankstar – A Valuable SEO Partner for Your Business
→ Ready to harness the incredible potential of Parasite SEO?
Dive into our latest article on Rankstar! Discover the strategies that can catapult your website to the top of search results. Don't miss out on this game-changing SEO approach. Read the full article now and supercharge your rankings today!
We are also here to propel your brand to the summit of search rankings, ensuring its outstanding prominence in both Autocomplete Suggestions and Autosuggest Removal when in need.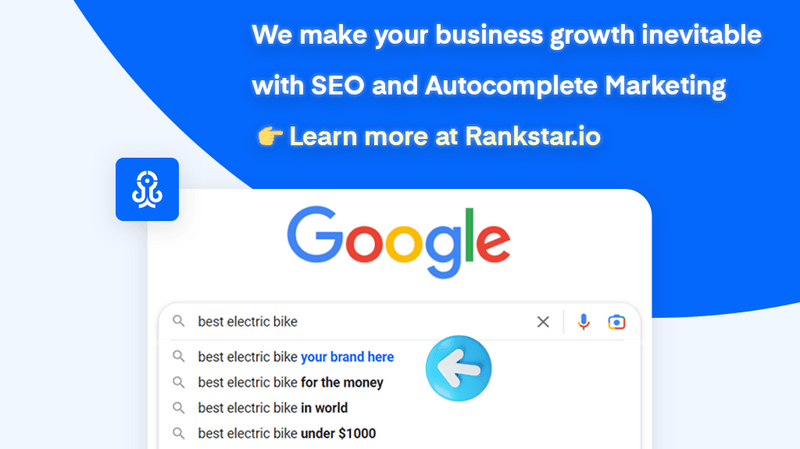 Understanding the Concept of Parasite SEO
You're about to delve into the concept of Parasite SEO, a strategy that can significantly boost your website's rankings. Picture this: you're leveraging the power of established, high-authority websites to propel your own site's visibility on search engines. Sounds fascinating, doesn't it? That's Parasite SEO for you.
Essentially, you're creating content on these 'parasite' sites, embedding your links within. The high domain authority of these websites can help your content rank well, driving traffic back to your site. Examples of potential 'hosts' include popular platforms like YouTube, Quora, or Medium.
But remember, it's not a free ride. You've got to provide valuable, engaging content to these platforms in exchange. So, are you ready to harness this symbiotic power to boost your SEO game?
The Potential Advantages of Parasite SEO
In the world of digital marketing, there's a lot to gain from understanding and leveraging the potential benefits of Parasite SEO. It's a strategy that can catapult your brand into the limelight.
Here are a few compelling advantages:
Quick Authority: Parasite SEO helps you utilize the authority of established sites to rank high in search results. You don't have to wait for your site to build up its credibility. Your content can get in front of a large audience quickly.
Cost-Effective: Rather than investing heavily in your website and SEO, Parasite SEO can be a more affordable alternative. You're saving on both time and money. This makes it a great option if you're working with a tight budget or need quick results.
Recognizing High-Authority Websites for Parasite SEO
Recognizing high-authority websites for this strategy is crucial as they'll serve as your key to reaching a wider audience. You're not just looking for any site; you're after ones with a high domain authority, a large amount of organic traffic, and a good reputation.
Sites like YouTube, Quora, and LinkedIn are prime examples. You'd want to create content on these platforms because they already have a high SEO value. They're trusted by search engines, and that trust transfers to your content.
Not only that, but they also have massive audiences, increasing the chances of your content being seen. So do your research, identify these sites, and start leveraging their authority for your benefit.
It's a game-changer for your SEO strategy.
Exploring the Effectiveness of Parasite SEO
Let's dive into how well this strategy works and whether it's a good fit for your SEO needs.
Parasite SEO can be incredibly effective for boosting your rankings. However, it's not a magic bullet. You've got to pick the right high-authority websites and craft compelling content that ranks.
Consider:
Does Parasite SEO work?
Absolutely! It exploits high-authority sites' power to quickly rank.
However, you need quality content that adds value.
When should you use it?
It's great for competitive keywords where your website struggles.
It's also useful for time-sensitive content that needs to rank quickly.
Crucial Steps in Implementing Parasite SEO
You're ready to dive deep into the critical steps needed to effectively implement this strategy, aren't you? First, you've to find high-authority websites. Then, pitch your content and include your affiliate links. Lastly, apply on-page SEO techniques. Don't worry, it's not as complicated as it sounds!
Here's a simple table to guide you:
| Steps | Description | Importance |
| --- | --- | --- |
| Finding High-Authority Websites | Look for sites with a high domain authority. | These sites have a strong reputation and can boost your SEO. |
| Pitching Content | Reach out to these sites with your unique content. | Your content has to be compelling enough to get accepted. |
| Using On-Page SEO Techniques | Optimize your content with relevant keywords and meta tags. | This makes your content more searchable and increases visibility. |
White Hat Vs. Black Hat Parasite SEO: A Comparison
In this section, we'll compare white hat and black hat strategies, helping you understand the key differences and implications of each.
White hat Parasite SEO is all about ethical optimization. You're creating valuable content and leveraging high-authority sites to increase visibility. On the other hand, black hat Parasite SEO employs questionable strategies, which may boost your rankings quickly but can lead to penalties from search engines.
White Hat Parasite SEO
Creating quality content
Ensuring user-focused SEO
Black Hat Parasite SEO
Using deceptive tactics
Manipulating search engine algorithms
Risking penalties
Choose your strategy wisely. White hat methods may take time but they're sustainable, while black hat tactics may offer quick gains but can cause long-term damage.
Strategies and Considerations for Effective Parasite SEO
Now that you're familiar with the concept of Parasite SEO and the difference between its white and black hat versions, let's delve into some effective strategies and considerations.
Effective Parasite SEO isn't just about piggybacking on high authority sites. It's about creating valuable content that truly benefits the audience. Always remember, while you're leveraging their authority, you're also contributing to their content pool. Therefore, your content needs to be top-notch.
Select your target keywords carefully, ensuring they're highly relevant to your content and have good search volume. Also, don't forget to negotiate exclusive contracts for targeting specific keywords when possible.
Lastly, keep an eye on maintenance and cost considerations. Remember, Parasite SEO is a powerful tool when used correctly, so proceed with strategy and caution.
Maintenance and Cost Considerations in Parasite SEO
Keeping a close eye on the costs and upkeep of your Parasite SEO efforts can be crucial to your overall digital marketing success. You'll need to consider both the initial investment and the ongoing maintenance.
Remember:
Initial Investment:

Research and select high-authority websites for your Parasite SEO.
Create quality content that's relevant, engaging, and optimized.

Ongoing Maintenance:

Monitor your Parasite SEO posts regularly.
Update content as needed to maintain relevance and rankings.
Ultimately, the cost-effectiveness of Parasite SEO will depend on your strategic planning, efficient execution, and regular monitoring. So, don't overlook this critical aspect of your Parasite SEO strategy. Make sure you're getting the maximum return on your investment.
Frequently Asked Questions
How Long Does It Typically Take to See Results From Implementing Parasite Seo?
You're asking about the timeline for Parasite SEO results. Typically, it can take anywhere from a few weeks to several months. It's not instant, but with consistent effort, you'll see your rankings improve.
Can Parasite SEO Be Effectively Used in Combination With Other SEO Techniques?
Absolutely, you can effectively use Parasite SEO alongside other SEO techniques. It's a great strategy to supplement your existing SEO efforts, providing additional reach and authority to your main site's content.
How Has the Approach to Parasite SEO Changed in Recent Years Due to Changes in Search Engine Algorithms?
You've seen changes in Parasite SEO due to evolving search engine algorithms. It's more focused on quality content and legit backlinks now, not just exploiting high-authority sites. It's smarter, subtler, and more effective.
Are There Specific Industries or Markets Where Parasite SEO Is More Effective?
Yes, Parasite SEO tends to be more effective in competitive industries or markets where high-authority websites dominate search results. It's particularly potent for niches like travel, finance, and health.
What Are Some Common Mistakes to Avoid When Implementing Parasite SEO Strategies?
Avoid common mistakes in implementing parasite SEO strategies, like choosing low-authority host sites, neglecting quality content, over-stuffing with keywords, and ignoring backlink opportunities. Don't overlook site rules or risk damaging relationships with host sites.
Conclusion
You've made it! Now you're ready to harness the power of Parasite SEO.
With the right strategies and ethical approach, you can leverage high-authority sites to skyrocket your rankings.
Remember, finding the right publications and pitching your content effectively is key.
Don't forget to avoid black hat practices.
With time and effort, your website will be basking in the limelight.
So, go ahead, implement Parasite SEO, and boost your site's visibility now!