In an increasingly digitized world, mastering personal branding on Google is crucial for professionals.
This comprehensive guide provides strategic insights, touching on key areas from Google+ optimization to LinkedIn resumes, website profiles, and Google Authorship.
It delves into digital marketing strategies, the role of paid media, and the importance of data analytics.
This article serves as the ultimate checklist for those aiming to enhance their digital visibility and credibility on Google.
Key Takeaways
Design your Google+ profile and snippet with relevant keywords and information to optimize your personal brand on Google.
Make your resume search-friendly on LinkedIn by completing all necessary fields, customizing your profile URL, and including links to your website, blog, and Google+ profile.
Optimize your profile on your own website by creating a separate page for your profile, using your name in the URL and title, and linking all your other profiles to this page.
Utilize Google Authorship by signing your content with Google Authorship Markup, monitoring search performance and referring sites for your profile page, and taking advantage of the clickthrough rates and traffic benefits of Google Authorship.
Rankstar – A Valuable SEO Partner for Your Business
→ Unlock the full potential of your personal brand with our comprehensive checklist.
Elevate your online presence, establish authority, and control your Google search results. Get started today on Rankstar and shape your digital identity like a pro!
We are also here to propel your brand to the summit of search rankings, ensuring its outstanding prominence in both Autocomplete Suggestions and Autosuggest Removal when in need.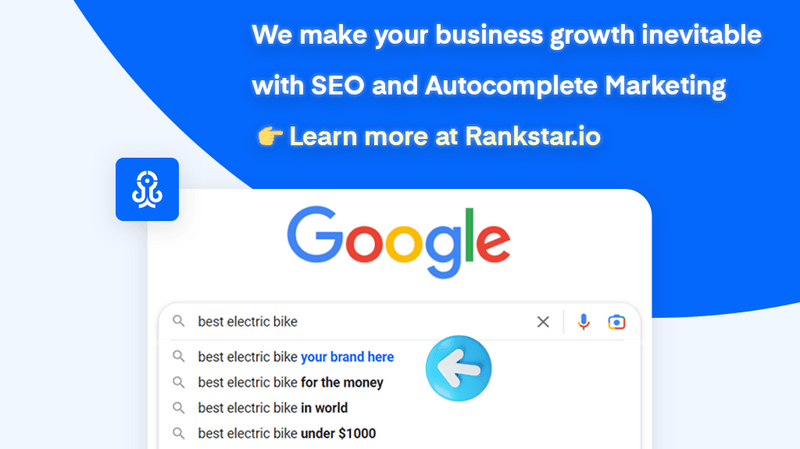 Designing Your Google Snippet
How can you effectively design your Google snippet to optimize your personal brand on Google?
The answer lies in a strategic, tech-savvy approach that leverages Google's microdata.
Begin by completing your Google+ profile, ensuring that your city or town is included in your employment field for local relevance.
Optimize your snippet text (meta description) by aligning it with the four fields which Google uses to create the snippet.
Keywords relevant to your skills and personal brand should be woven naturally into this description.
It's crucial to monitor how your Google+ fields appear in search results, and tweak them if necessary.
This deliberate, analytical approach to designing your Google snippet can significantly enhance your personal brand visibility on Google.
Making Your LinkedIn Profile Search-Friendly
In the realm of digital networking, making your LinkedIn profile search-friendly is an essential step to improving your personal brand visibility on Google. This requires a strategic and analytical approach to optimize your profile effectively.
Complete Your Profile: Ensure all areas of your profile are filled out, including your location, current position, and company information. This increases the chances of your profile appearing in relevant searches.
Customize Your URL: Instead of a generic URL, customize it to include your name. This enhances your professional image and improves the likelihood of your profile appearing in searches for your name.
Make Your Profile Public: Ensure your entire LinkedIn profile is visible to the public. This makes your profile accessible to Google, improving your personal brand's visibility.
Optimizing Your Personal Website Profile
Moving onto the optimization of personal website profiles, a strategic approach is crucial for enhancing one's visibility on Google. In this tech-driven world, your website profile is your digital business card. It should be concise, precise, and strategically designed to highlight your personal brand effectively.
The following table provides a checklist for optimizing your personal website profile:
| Action | Reason | Expected Outcome |
| --- | --- | --- |
| Use Name in URL and Title | Enhances SEO | Higher Google ranking |
| Link to Active Networks | Showcases versatility | Expands digital footprint |
| Utilize rel=me tag on Google+ | Establishes authorship | Increased credibility |
| Create Separate Page for Profile | Improves navigability | Enhanced user experience |
| Incorporate Keywords | Improves SEO | Increased visibility |
Mastering these techniques can substantially improve your online presence and bolster your personal brand.
Benefits of Google Authorship
With the advent of Google Authorship, individuals can now significantly enhance their personal brand visibility on Google's search engine. This tool provides several invaluable benefits that can drastically improve your online presence.
Author Credibility: Google Authorship connects content to its creator, thereby establishing authorship and enhancing credibility. This feature can improve the trust of your audience in your content.
Increased Visibility: Content linked to Google Authorship often appears with author's profile picture in search results, leading to higher click-through rates.
Improved Search Rankings: Google uses Authorship as a ranking factor, considering content from recognized authors as more reliable, thus potentially improving your content's search ranking.
Creating Profiles on Other Platforms
The process of creating optimized profiles on various platforms plays a crucial role in strengthening your personal brand on Google. It's not just about having a presence; it's about making that presence work for you.
Twitter, Facebook, LinkedIn, Vimeo, and Quora are among platforms that can enhance your Google search rank. A strategic approach involves using a professional profile picture, a concise biography, and including website links.
Customizing your public profile URL to include your name on LinkedIn, for instance, makes you more searchable. Similarly, claiming your vanity URL on Facebook increases your professional appeal.
Embrace these tech-savvy methods to broaden your online reach, and in turn, improve your personal brand visibility on Google.
Harnessing Power of Earned Media
In the digital landscape, a considerable part of mastering your personal brand on Google involves leveraging the power of earned media. This form of media refers to the publicity gained through promotional efforts other than paid advertising, such as word-of-mouth, customer reviews, or mentions in the press.
Customer Reviews: Encourage satisfied customers to leave positive reviews on platforms like Google My Business. This not only boosts your brand's credibility but also impacts its Google ranking.
Press Mentions: Establish relationships with influencers and journalists in your field. Their mentions of your brand can significantly improve your online visibility.
Social Media Shares: Create shareable content that resonates with your audience. The more it gets shared, the greater your brand's presence on Google.
Implementing these strategies can effectively harness the power of earned media to enhance your personal brand.
Exploring Focus Areas in Digital Marketing
Building upon the power of earned media, diving into the core focus areas of digital marketing is crucial for enhancing your personal brand visibility on Google. This involves strategic efforts in SEO, Digital PR, Email Marketing, App Store Optimization (ASO), and Influencer Marketing.
| Focus Area | Description | Benefits |
| --- | --- | --- |
| SEO | Elevating rankings through keyword optimization and high-quality content | Increased organic traffic |
| Digital PR | Amplifying brand voice through strategic media outreach | Enhanced credibility |
| Email Marketing | Engaging customers with personalized emails | Higher click-through rates and sales |
| ASO | Maximizing app visibility and downloads | Increased user base |
| Influencer Marketing | Collaborating with personalities for wider reach | Greater brand awareness |
Each area demands distinct strategies, but their collective execution optimizes your Google presence, thereby strengthening your personal brand.
Understanding Data Analytics and Insights
Why is data analytics and insights indispensable in mastering your personal brand on Google?
Data analytics provides quantifiable metrics that offer an in-depth understanding of your online presence. Insights drawn from this data play a pivotal role in forming strategic decisions to enhance your personal brand visibility.
Performance Tracking: Data analytics allows tracking of your online activities. From website visits to interaction rates, this data aids in evaluating the effectiveness of your branding efforts.
Strategic Decision Making: Insights derived help shape future strategies. For instance, if a particular keyword is driving more traffic, you could use it more strategically in your content.
Competitor Analysis: Data analytics provides valuable insights into your competitors' strategies, paving the way for you to strategically position your personal brand.
Frequently Asked Questions
What Are Some Common Mistakes to Avoid When Optimizing Your Personal Brand on Google?
Common mistakes when optimizing personal branding on Google include neglecting SEO strategies, not utilizing Google Authorship, failing to monitor search performance, and not fully optimizing profiles across all digital platforms like LinkedIn, Twitter, and Vimeo.
How Does Social Media Presence Impact Your Personal Brand on Google?
A robust social media presence significantly impacts your personal brand on Google. It enhances online visibility, contributes to SEO rankings, establishes credibility, and enables audience engagement, thereby strengthening your brand's overall digital footprint.
Is There a Specific Amount of Activity Required on Your Profiles to Maintain a Strong Personal Brand on Google?
There isn't a set activity level required for maintaining a strong personal brand on Google. However, regular updates, engagement, and consistent utilization of SEO strategies can enhance visibility and strengthen your online brand.
Can You Still Optimize Your Personal Brand on Google if You Don't Have a Personal Website?
Yes, optimizing your personal brand on Google without a personal website is achievable. Leveraging platforms like LinkedIn, Google+, Twitter, and others, and employing SEO strategies can enhance your visibility and personal branding effectively.
How Does Personal Brand Optimization on Google Tie in With a Wider Digital Marketing Strategy?
Personal brand optimization on Google strengthens digital marketing strategies by enhancing online visibility, credibility, and audience engagement. It integrates with SEO, social media, and content marketing for a comprehensive online presence, driving organic traffic and conversions.
Conclusion
In conclusion, mastering personal branding on Google necessitates a comprehensive strategy that encompasses profile optimization across various platforms and alignment with Google's best practices.
The integration of earned and paid media, full-funnel focus, and optimization, coupled with digital marketing strategies, is pivotal.
Furthermore, data analytics and insights should underpin decision-making processes, assisting in conversion rate optimization, user-centric interface design, and centralized data tracking.
This ultimate checklist provides a strategic blueprint for optimizing one's digital visibility and credibility.