We're a savvy SEO team specializing in Webflow optimization. Harnessing our deep understanding of Webflow, we're ready to boost your website's ranking and visibility.
From in-depth keyword research to crafting tailored content plans, we've got it covered. We'll ensure your site is crawlable, recognized, and highly visible.
Ready to tap into new markets and make your Webflow website shine? Let's unlock its full potential together.
Key Takeaways
Specialized team with experience in growing and ranking Webflow websites
Utilize best SEO practices to optimize your Webflow website for easier crawling
Offer a range of SEO services including off-page, local, e-commerce, and international SEO
Provide customized strategies tailored to your Webflow website's specific needs
Rankstar – A Valuable SEO Partner for Your Business
→ Ready to supercharge your Webflow website's success? Dive into our latest article on Rankstar!
Discover how expert SEO services can take your Webflow site to new heights. Don't miss this opportunity—read the full article now and unleash the full potential of your Webflow website with top-tier SEO expertise!
We are also here to propel your brand to the summit of search rankings, ensuring its outstanding prominence in both Autocomplete Suggestions and Autosuggest Removal when in need.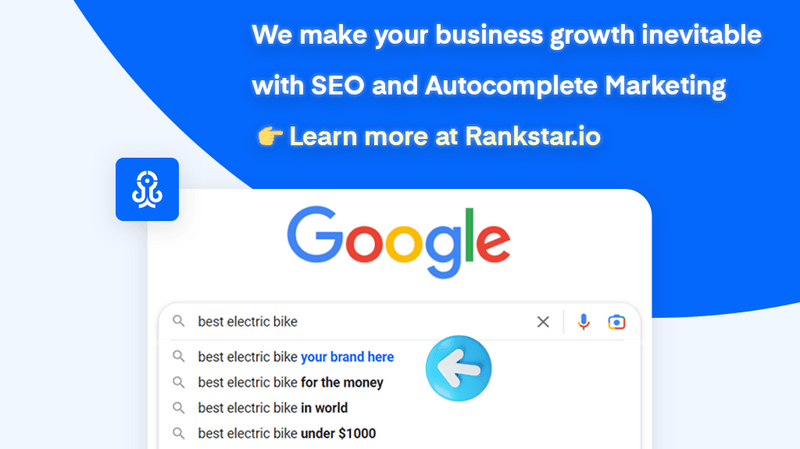 Understanding Webflow's SEO Capabilities
We've identified at least six key areas where we can leverage Webflow's SEO capabilities to significantly boost your website's visibility and ranking. We're talking about meta tags optimization, URL structuring, internal linking, site map creation, image optimization, and content optimization – all crucial for a high-performing website.
We've got the tools and the know-how to conduct comprehensive keyword research. It's not just about finding the right words; it's about understanding how they fit into your content and where they'll have the most impact. But we don't stop there.
We analyze your website's performance, identify areas for improvement, and then put our SEO strategies into action. We're detail-oriented, we're relentless, and we're ready to help your website reach its full potential.
The Role of Technical SEO in Webflow Website Optimization
In optimizing a Webflow website, we're focusing on the role of technical SEO to ensure smooth crawling and indexing by search engines. We're making sure your site's structure is easily accessible to search engine bots. We're diving deep into keyword research, carefully selecting words and phrases that your target audience is most likely to use.
Site Structure Optimization: We're enhancing site navigation, URL structure, and internal linking to boost your SEO.
Keywords Research & Optimization: We're identifying and implementing the most relevant keywords for your content.
Performance Analysis: We're tracking your site's performance, identifying areas for improvement to enhance user experience and boost rankings.
SEO Strategy Implementation: We're executing effective SEO strategies tailored to your website's needs, ensuring your Webflow site achieves its maximum potential.
Off-Page SEO Strategies for Webflow Websites
We're diving into the best off-page SEO strategies to enhance the visibility and ranking of your Webflow website. Off-page SEO is crucial for building your site's trustworthiness and authority, which search engines consider when ranking pages.
Backlinking is one of the most effective off-page SEO strategies. It's about obtaining links from other reputable websites to yours. These backlinks signal to search engines that your content is valuable and credible.
Social media engagement is another strategy. It's not direct SEO, but it can significantly boost your site's visibility and traffic, which can indirectly improve your SEO.
Here's a table summarizing the off-page SEO strategies:
| Off-page SEO Strategy | Description |
| --- | --- |
| Backlinking | Obtaining links from other reputable websites. |
| Social Media Engagement | Increasing visibility and traffic through social media platforms. |
| Guest Blogging | Writing articles for other websites to gain backlinks. |
| Influencer Outreach | Collaborating with influencers in your niche to boost visibility. |
The Importance of Local SEO for Webflow Sites
Undeniably, we can't overlook the importance of local SEO for enhancing the visibility and reach of our Webflow sites in specific geographic areas. It's a crucial tool that we use to ensure our sites aren't just visible, but also appealing to our targeted locale.
Keyword Optimization: We carefully select and integrate location-specific keywords, to help our site rank higher in local searches.
Google My Business: We ensure our Webflow sites are accurately listed on Google My Business, improving our online presence.
Local Link Building: We focus on acquiring quality backlinks from local businesses and directories, boosting our local SEO.
Localized Content: We create content that resonates with the local audience, making our site more relevant and attractive.
Through these strategies, we're competent in cementing our local online presence.
E-commerce SEO Tactics for Webflow Online Shops
Let's dive into the tactics we use to enhance e-commerce SEO for Webflow online shops.
We begin with detailed keyword research, identifying those terms with high-volume and low-competition that are relevant to your niche.
Then, we optimize your product descriptions and meta tags, ensuring they're rich with these keywords. We're mindful of user intent, aiming to match your content with the queries your customers are using.
We also focus on site structure, ensuring easy navigation and a smooth user experience.
Internal linking is another key strategy, helping to spread 'link juice' around your site and boost rankings.
We also implement schema markup, improving your site's visibility in SERPs.
Lastly, we carefully monitor performance, making necessary tweaks and updates to keep your e-commerce SEO strategy successful.
Implementing Keyword Research and Content Planning in Webflow
In our journey to optimize Webflow websites, we can't overlook the importance of implementing keyword research and content planning, as they're foundational to achieving a successful SEO strategy.
To navigate the complexities of this task, we've developed a systematic approach:
Keyword Research: We meticulously identify potential keywords that align with your website's goals.
Keyword Optimization: We ensure every piece of content on your site is optimized with the right keywords.
Content Planning: We craft a strategic plan to produce engaging, keyword-rich content consistently.
Performance Analysis: We monitor your site's performance to continuously refine our strategies.
Advantages of On-Page SEO Optimization for Webflow Sites
We're about to delve into the myriad of benefits that on-page SEO optimization can provide for anyone's Webflow site. By implementing on-page SEO, we're targeting keyword relevance, improving website load times, and optimizing meta descriptions. It's about making our site's content comprehensible to search engines, thereby improving our ranking.
Now, let's not ignore the importance of keyword research. It's not just about finding the most searched terms, but also understanding their relevance and competition. We're on it, ensuring we pick the most effective keywords.
Moreover, we're constantly analyzing our site's performance, recognizing areas of improvement and implementing necessary changes. It's a continuous process, not a one-time thing.
With on-page SEO, we're not only improving our website's visibility but also enhancing user experience, which in turn, increases our chances of conversions.
Frequently Asked Questions
What Is the Process of Setting up Schema Markup on a Webflow Website?
We'll first audit your Webflow site's current schema markup. Then, we'll identify opportunities for schema implementation, create the necessary markup, and apply it to your site, enhancing its visibility to search engines.
How Does the Custom Link Building Strategy Improve My Webflow Website's Authority?
We'll build a custom link strategy to improve your Webflow site's authority. By acquiring high-quality links from reputable sources, we'll boost your site's trustworthiness, visibility, and ranking, thus enhancing its overall SEO performance.
What Are the Benefits of Having a Full Management Service for My Webflow Website?
We're offering full management services for total ease. We'll cover content, SEO, link building, and technical audits. We'll also track your traffic and regularly publish on your blog, fully unlocking your Webflow website's potential.
How Does the Webflow SEO Expert Agency Help in Increasing Organic Search Traffic for My Website?
We leverage our expertise in SEO to improve your Webflow site's visibility. We conduct keyword research, optimize content, and implement effective link building strategies to boost your organic search traffic significantly.
Can the SEO Services Provided Be Customized According to My Webflow Website's Specific Needs?
Absolutely, we'll tailor our SEO services to your Webflow site's unique needs. We're experts in customizing keyword research, content strategies, and technical SEO to elevate your site's performance and unlock its full potential.
Conclusion
Together, we've explored the vast potential of SEO for your Webflow website.
From technical SEO to local optimization, we've outlined the strategies that can propel your site to new heights.
With meticulous keyword research, content planning, and e-commerce tactics, we can unlock your website's full potential.
Trust us to manage and optimize your Webflow site, helping you stand apart in the digital crowd and reap the rewards of increased visibility and organic traffic.