You're not getting the results you want from your website, are you? Bounce rates are high, conversions low. It's time for a change.
A website redesign isn't just about looks, it's about boosting SEO and performance. Ready to elevate your online presence? Let's start planning your website revamp to enhance user experience, increase rankings and kick those poor metrics to the curb.
Key Takeaways
Website redesign can improve SEO, site performance, and user experience.
Redesigning the website can simplify navigation and refocus content strategy.
A visually appealing website attracts visitors and reflects the modernity of the business.
User experience is crucial and can impact conversion rates and overall success.
Rankstar – A Valuable SEO Partner for Your Business
→ Ready to supercharge your website's SEO and rankings?
Explore our latest article on Rankstar! Uncover the strategies and insights to transform your website into an SEO powerhouse. Don't miss out on the opportunity to revitalize your online presence. Read the full article now and take the first step toward higher rankings and increased visibility!"
We are also here to propel your brand to the summit of search rankings, ensuring its outstanding prominence in both Autocomplete Suggestions and Autosuggest Removal when in need.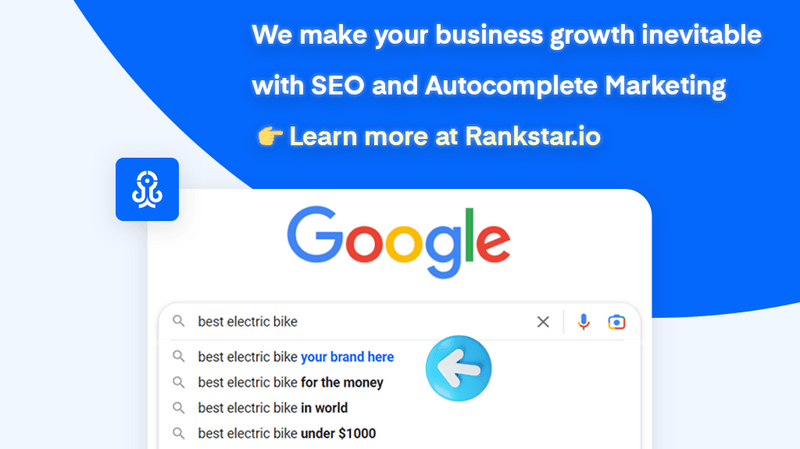 Understanding the Need for Website Redesign
You've got to understand the need for website redesign; it's not just about giving your site a facelift, but also about enhancing user experience and boosting SEO. If your site looks outdated, visitors might question your professionalism.
It's also crucial to ensure your site works seamlessly on all devices, as a non-responsive site can deter visitors and hurt your rankings. You should also pay attention to your site's speed. Slow loading can cause impatient visitors to leave, negatively impacting your SEO.
A redesign can help you simplify navigation, making it easier for visitors to find what they need. It can also allow you to refocus your content strategy, ensuring you're providing valuable, SEO-friendly content.
A well-executed redesign can significantly improve your site's performance and your users' experience.
Advantages of Redesigning Your Website
In the digital world, a fresh and updated online presence can significantly enhance user experience, attract more visitors, and ultimately increase your business's success. The advantages of redesigning your website are vast.
Improved SEO: A well-optimized site can climb the ranks of search engines, enhancing your visibility and bringing in more organic traffic.
Modernized Look: A sleek, modern design not only attracts visitors but also keeps them on your site longer, which can lead to increased conversions.
Enhanced User Experience: A user-friendly design with easy navigation can significantly improve the overall user experience.
Increased Security: Updated platforms and plugins can provide better security, protecting your site and your visitors.
Laying the Groundwork: Initial Steps Before Redesign
Before diving into a redesign, it's crucial that you lay the groundwork by setting clear objectives, understanding your audience's needs, and assessing your current site's strengths and weaknesses. You must ask yourself: What's working? What's not? Which features do your visitors engage with the most?
Your redesign should enhance your site's strong points while addressing its weaknesses. Here's a simple table to help you map it out:
| Current Strengths | Current Weaknesses | Audience Needs |
| --- | --- | --- |
| Easy navigation | Slow load times | Quick access to information |
| High-quality content | Outdated design | A modern, visually appealing interface |
| Strong SEO | Not mobile-friendly | A seamless cross-platform experience |
SEO Checkpoints During Website Redesign
During the redesign process, it's critical to keep an eye on various SEO checkpoints to ensure you're not losing any valuable organic traffic. Here's a simple guide:
Audit your content: Use tools like Screaming Frog or Google Analytics to understand what's currently working for you. Keep what's effective and revamp what's not.
Check your URL structure: Make sure your URLs are SEO-friendly. Remember, any changes to URLs need appropriate 301 redirects to avoid losing traffic.
Optimize your page speed: Slow pages can have a negative impact on your rankings. Compress your images and reduce HTTP requests where possible.
Test thoroughly: Before you go live, test your site extensively to iron out any kinks, ensuring a smooth user experience and protecting your SEO.
Implementing SEO Strategies in Your Website Redesign
You'll find that implementing strategic SEO practices into the redesign process can significantly enhance the user experience and organic traffic flow to your site.
Start by conducting a thorough audit of your existing content. Use tools like Screaming Frog and analytics to evaluate the relevance and necessity of each page. You might decide to redirect some pages or combine a few.
Don't forget to assess your site's technical SEO aspects, including page speed, mobile optimization, and crawlability. It's also crucial to plan your URL structure carefully to maintain SEO equity.
Optimize all content that you're keeping during the redesign and ensure your XML sitemap is updated.
Test your redesigned site thoroughly before launching to fix any potential issues.
Frequently Asked Questions
What Are Some Common Mistakes to Avoid During a Website Redesign?
Avoiding common mistakes in website redesign is crucial. Don't neglect SEO, user experience, or site speed. Don't forget to redirect old URLs, and never launch without testing thoroughly for performance and functionality issues.
How Can I Ensure a Smooth Transition During the Redesign Process to Avoid Disrupting My Audience's Experience?
To ensure a smooth transition during a redesign, you'll need to maintain clear communication with your users. Keep them informed about changes, provide guidance, and address concerns promptly to minimize disruption to their experience.
What Tools or Resources Can I Utilize to Monitor the Impact of My Website Redesign on SEO and Rankings?
You can utilize tools like Google Analytics and SEMrush to monitor your website's traffic and rankings. They'll show if changes are impacting SEO. Also, consider user feedback for insight on your site's user experience.
How Often Should I Consider Redesigning My Website to Stay Relevant and Competitive?
You should consider redesigning your website every 2-3 years to stay relevant and competitive. It's critical to keep up with design trends, user expectations, and tech advancements to ensure a positive user experience and strong SEO.
What Are Some Specific Ways to Optimize My Website Redesign for Mobile Users?
To optimize your website redesign for mobile users, ensure it's responsive, with fast load times. Streamline navigation and prioritize key info. Use mobile-friendly pop-ups if necessary, and make sure all content is easily accessible.
Conclusion
So, you're ready to take your website to the next level. Remember, a successful redesign isn't just about looks—it's a chance to boost SEO, improve performance, and enhance user experience.
By setting SMART goals, planning carefully, and integrating SEO strategies, you'll not only revamp your site, but also increase rankings.
It's time to make your website work harder for you. Let's get started on your website redesign today!