We're your go-to SEO gurus for BigCommerce stores. We know the ins and outs of driving traffic, improving rankings, and increasing sales.
We're not just experts in SEO, but also in harnessing the full potential of BigCommerce.
Ready to boost your visibility and profitability? Let's take your BigCommerce store to the next level with powerful SEO.
Key Takeaways
BigCommerce SEO services can improve the search engine optimization of your store and increase visibility and rankings on SERPs.
Hiring a BigCommerce SEO agency can help you navigate the complexities of SEO and create a tailored campaign based on your store's needs.
Understanding the benefits of SEO for BigCommerce stores, such as long-term organic visibility, increased website traffic, improved search engine rankings, enhanced user experience, and higher conversion rates.
Monitoring SEO performance for your BigCommerce store is essential, including tracking keyword rankings, analyzing website analytics, monitoring backlink profile, and identifying areas for improvement.
Rankstar – A Valuable Partner for Your BigCommerce Store
→ Ready to supercharge your BigCommerce store?
Elevate your online presence with Rankstar's expert SEO strategies. Unlock the full potential of your e-commerce business and thrive in the digital landscape. Explore how our tailored solutions can boost your rankings and drive more sales. Your journey to online success begins now.
We are also here to propel your brand to the summit of search rankings, ensuring its outstanding prominence in both  Autocomplete Suggestions and Autosuggest Removal when in need.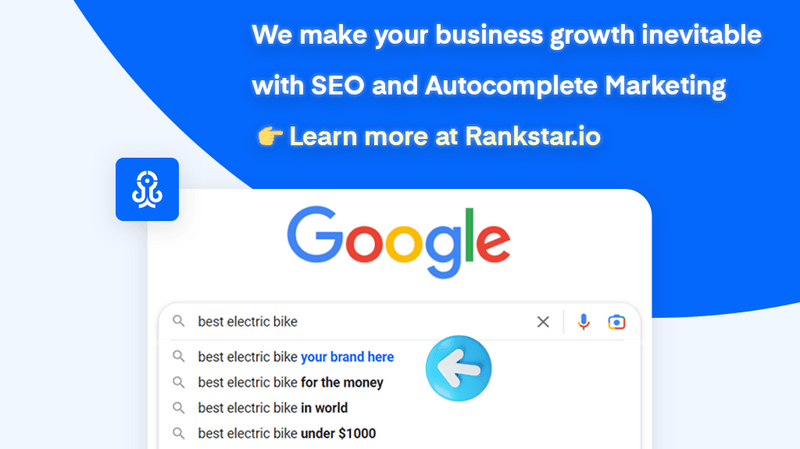 Exploring the Benefits of SEO for BigCommerce Stores
We're about to dive into the numerous benefits of SEO for BigCommerce stores. These benefits include increased visibility, better rankings on SERPs, and ultimately, a boost in traffic and sales.
We can't stress enough how vital it's to have a solid SEO strategy in place. It's not just about keywords; it's about creating quality, relevant content that resonates with your audience and adheres to Google's algorithms.
By optimizing your site's structure and content, we're able to enhance its visibility in search engine results. This visibility translates into more potential customers finding your products and services.
Moreover, with better rankings, you'll see an increase in organic traffic, which often leads to higher conversion rates.
It's a win-win situation for BigCommerce store owners looking to maximize their online success.
Discussing Factors That Affect SEO Results for BigCommerce Stores
In our experience, several key factors can significantly impact the SEO results for BigCommerce stores. These factors include the site's existing organic visibility, the competitiveness of target keywords, and the quality of website content.
We've also found that on-page optimization and technical SEO factors are crucial. The structure of your site, the speed at which pages load, and the mobile responsiveness of your store all play a role in your SEO success.
Additionally, your backlink profile and domain authority are aspects we can't ignore. It's essential to cultivate high-quality backlinks and maintain a strong domain authority to boost your store's SEO performance.
Lastly, we'd like to stress that SEO isn't a one-time task, but an ongoing process that needs constant attention and refinement.
Overcoming SEO Challenges for BigCommerce Store Owners
Navigating through SEO challenges for BigCommerce store owners is no small feat, but we're ready to tackle it head-on, ensuring that each hurdle is turned into an opportunity for growth.
We're acutely aware of specific SEO issues linked to the BigCommerce platform, like the need for optimized product descriptions and metadata. We're skilled at managing duplicate content and canonicalization, and we're experts in optimizing site speed and mobile responsiveness.
Implementing structured data and rich snippets is another area we excel in. We don't just overcome these challenges; we use them to enhance your store's SEO.
With our in-depth knowledge of SEO strategies and expertise in BigCommerce, we're up for the task, committed to boosting your store's online presence and performance.
Effective Ways to Monitor SEO Performance for BigCommerce Stores
Keeping a close eye on SEO performance for your online shop is crucial, and we can provide detailed reporting from reputable SEO agencies. We'll track your keyword rankings and scrutinize your organic traffic, giving you a comprehensive picture of how your BigCommerce store is faring in the SEO landscape.
We're experts in analyzing website analytics and user behavior, and we'll use this data to identify areas where you can improve and optimize. Monitoring your backlink profile and domain authority is another key service we offer.
With us, you'll always be in the loop about your store's SEO performance. Remember, SEO isn't a one-time thing; it requires constant vigilance. But don't worry, we've got your back.
The Significance of Selecting a Specialized Ecommerce SEO Agency
We can't stress enough the importance of choosing an eCommerce SEO agency that specializes in platforms like BigCommerce. They understand the unique SEO challenges and opportunities that BigCommerce presents.
| Why Choose Us? | What We Offer | Results to Expect |
| --- | --- | --- |
| We're SEO experts | Customized strategies | Increased online visibility |
| We specialize in BigCommerce | On-page and off-page SEO | Higher SERP rankings |
| We're committed to your success | In-depth SEO audits | More website traffic |
| We have a proven track record | Quality content creation | Improved conversion rates |
| We value transparency | Detailed SEO reporting | Sustainable business growth |
Trust us, it's worth investing in a specialist agency. We'll implement strategies that boost your online presence, attract more customers, and increase your sales.
Frequently Asked Questions
What Are Some Common Mistakes to Avoid in Bigcommerce Seo?
We've noticed common errors in BigCommerce SEO, like neglecting keyword research, duplicate content, poor site structure, and slow loading times. It's essential to avoid these mistakes for better ranking and increased visibility.
How Long Does It Typically Take to See SEO Results for a Bigcommerce Store?
We've observed that SEO results for a Bigcommerce store typically take 4 to 6 months. It's not an overnight process and depends on factors like site health, competition and how well we apply SEO strategies.
How Can a Business Maintain and Improve Its SEO Standing Once It Has Achieved High Rankings?
We'd maintain and improve our SEO standing by consistently updating our content, conducting regular SEO audits, engaging in strategic link building, and monitoring our performance metrics. It's about constant evolution and improvement in our strategies.
Besides SEO, What Other Digital Marketing Strategies Can Complement a Bigcommerce Store's Growth?
Besides SEO, we'd recommend digital marketing strategies like social media marketing, email campaigns, and pay-per-click advertising. They can increase brand awareness, drive traffic, and complement your BigCommerce store's growth effectively. Let's tailor these to your needs.
What Are the Most Essential Features That a Bigcommerce SEO Agency Should Offer?
We believe a BigCommerce SEO agency should offer comprehensive keyword research, on-site optimization, link building, regular audits, and detailed SEO reporting. They should understand BigCommerce intricacies and tailor strategies to your store's unique needs.
Conclusion
Together, we've explored the power of SEO for BigCommerce stores. We've discussed key factors affecting results and tackled common challenges.
We've also shared effective monitoring strategies and emphasized the importance of choosing a specialized ecommerce SEO agency.
Remember, SEO isn't a one-time task, but a continuous effort. Partner with a team that understands BigCommerce inside out, like us, and together, we'll make your store more visible and profitable.
Let's conquer BigCommerce SEO, one step at a time.