Understanding and leveraging Drupal SEO is crucial for optimizing your website's potential. This article serves as a comprehensive guide, highlighting the importance of module configuration, performance optimization, and web accessibility in Drupal SEO.
It delves deeper into specialized SEO services like keyword research and link building, while emphasizing the significance of SEO-friendly content.
Unleash your website's full potential and boost its visibility by maximizing Drupal's robust SEO capabilities.
Key Takeaways
Drupal is well-suited for search engine optimization due to its inherent features.
Proper configuration of modules is necessary to maximize Drupal's SEO advantage.
Ongoing attention and focus are required to fully utilize Drupal's SEO capabilities.
SEO content services can help establish industry leadership and improve competitive edge.
What you need to know about Rankstar
→ Unlock the full potential of your Drupal website with Rankstar's powerful SEO solutions.
Take charge of your online presence and elevate your rankings. Discover how our expert strategies can drive more traffic and conversions. Your path to digital success starts here.
We are also here to propel your brand to the summit of search rankings, ensuring its outstanding prominence in both  Autocomplete Suggestions and Autosuggest Removal when in need.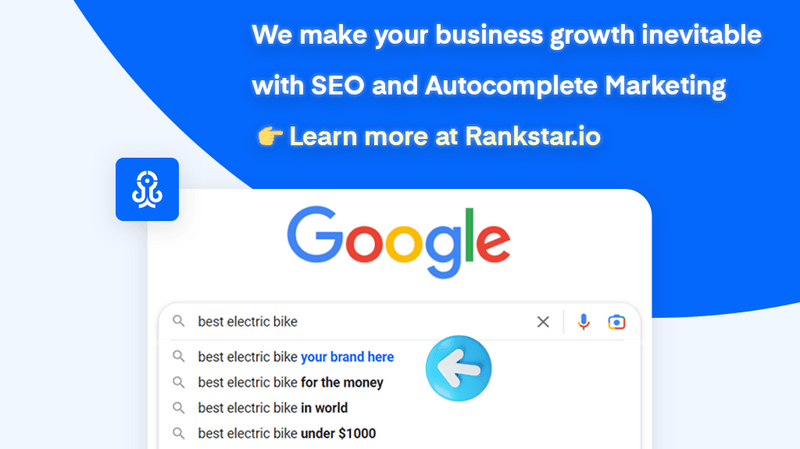 Understanding Drupal SEO: Its Advantages and Services
Understanding Drupal SEO, its advantages, and the services we offer can significantly unlock your website's potential, providing a notable edge in the digital marketplace.
Drupal is inherently structured to be SEO-friendly, but achieving optimal results requires a comprehensive understanding of its architecture and the correct configuration of its modules.
Our agency is well-versed in leveraging Drupal's SEO capabilities, offering a range of services from in-depth SEO audits to performance optimization.
We conduct competitive analysis and keyword research, and undertake both on-page and off-page SEO optimization.
Additionally, our SEO content services ensure the production of high-quality, SEO-friendly content to enhance your visibility.
Through our expertise in Drupal SEO, we empower your website to reach its maximum potential.
Maximizing Drupal's SEO Capabilities: The Role of Module Configuration
Module configuration plays a pivotal role in maximizing search engine optimization capabilities, necessitating a thorough understanding of the various modules and their functions.
Drupal's architecture allows for a high degree of customization, with modules that can be tailored to enhance visibility on search engines. The selection and configuration of these modules should be guided by a comprehensive SEO strategy.
For instance, modules such as Pathauto and Metatag can be configured to generate URL aliases and metadata respectively, improving a site's SEO.
Furthermore, the XML sitemap module helps search engines to better understand and index the site's content.
Thus, leveraging Drupal's flexible module configuration can significantly enhance a website's SEO performance, propelling it towards its maximum potential.
Performance Optimization: Boosting Your Website's Search Engine Rankings
Performance optimization, particularly in regards to website speed and responsiveness, plays a crucial role in enhancing search engine rankings, thereby attracting more traffic and improving usability. This is an area where Drupal's architecture shines, with built-in caching and other features that can be optimized for maximum performance.
In the context of Drupal SEO, performance optimization can be split into two main components: server-side optimization and front-end optimization.
| Server-side Optimization | Front-end Optimization |
| --- | --- |
| Involves improving the server's response time and optimizing database queries | Involves optimizing CSS, JavaScript, and images to reduce page load time |
| Can be achieved by using advanced caching methods provided by Drupal | Can be achieved by using Drupal's built-in aggregation features and using efficient themes |
Understanding and implementing these optimizations is a key part of a robust Drupal SEO strategy.
Importance of Mobile and Web Accessibility in Drupal SEO
In the realm of search engine optimization, the significance of mobile and web accessibility cannot be understated, especially when considering the increasing number of mobile users and the emphasis search engines place on user experience.
Mobile-friendly design: Drupal's responsive design capabilities ensure optimal viewing and interaction across a range of devices. This is vital as search engines favour mobile-friendly sites.
Speed and performance: Improved site speed and performance on mobile and web platforms enhances user experience, a key SEO ranking factor.
Accessible Content: Drupal's content management system allows for the creation of content that is accessible to all users, boosting SEO.
Navigation: Drupal's menu system supports accessible navigation patterns, improving usability and contributing to SEO.
Understanding Drupal's architecture and implementing these strategies can significantly boost your website's SEO.
The Necessity of Ongoing Maintenance for Effective Drupal SEO
Ongoing maintenance is a critical factor in optimizing search engine performance, as it ensures the website remains updated and relevant. In the context of Drupal's architecture, this involves regular updates to modules, themes, and core files to maintain compatibility and security.
A crucial part of this process is the optimization of the website's performance, which directly influences SEO rankings. This includes techniques such as caching, database optimization, and image optimization.
Furthermore, continuous monitoring of SEO metrics and KPIs is needed to assess the effectiveness of SEO strategies and make necessary adjustments. This includes tracking changes in search engine rankings, website traffic, and user engagement metrics.
Services Offered: Beyond Technical SEO
Having a robust technical SEO foundation is crucial. However, our services extend beyond the technical aspects of SEO. We offer an array of specialized services that help you gain a competitive edge, increase your website visibility, and ensure sustainable growth in organic traffic.
Competitive Analysis: We evaluate your competitors' strategies and identify opportunities to outrank them.
Keyword Research: We identify the keywords your target audience uses, helping you create content that resonates with them.
SEO Audit and Reporting: We conduct comprehensive audits and provide detailed reports to help you understand your site's current SEO performance.
Link Building: We implement white-hat link building strategies to enhance your website's authority and credibility.
Our services go beyond technical SEO, providing a holistic approach to improve your website's visibility and rankings.
Enhancing Visibility: The Impact of SEO-Friendly Content
SEO-friendly content plays a pivotal role in enhancing visibility, effectively reaching target audiences, and improving your site's overall ranking on search engine results pages. Leveraging Drupal's SEO capabilities can result in a significant increase in organic traffic, driving business growth.
| Drupal SEO Advantages | Impact |
| --- | --- |
| High-quality content | Establishes industry leadership |
| Addressing content gaps | Enhances competitive edge |
| Optimized on-page SEO | Improves search engine rankings |
| Regular updates and SEO audits | Ensures sustainable growth |
Frequently Asked Questions
How Does the Drupal Platform Compare to Other CMS in Terms of SEO Advantages?
Drupal's architecture excels in SEO compared to other CMS platforms due to its ability for advanced customization, structured content capabilities, and strong performance optimization, which collectively enhance search engine visibility and ranking significantly.
How Does Our Agency's Drupal SEO Services Differ From Other SEO Service Providers?
Our agency's Drupal SEO services stand out due to our in-depth understanding of Drupal's architecture, specialized SEO strategies, and a comprehensive approach that includes technical SEO, content services, performance optimization, and ongoing SEO maintenance.
Can You Explain the Process of SEO Audit in the Drupal SEO Package?
The SEO audit process in our Drupal SEO package involves a thorough analysis of your website's current performance. It includes evaluating on-page and off-page SEO factors, site's architecture, keyword usage, content quality, and backlink profile.
How Does the Premium Supporting Partnership With Drupal Benefit Your Clients?
Our Premium Supporting Partnership with Drupal enables us to contribute towards its development and enhancement. This ensures our clients benefit from the latest features, security updates and performance improvements, optimizing their SEO and overall website performance.
What Is the Impact of Drupal's Contribution to Innovation on Its SEO Capabilities?
Drupal's contributions to innovation enhance its SEO capabilities by continual updates for improved search performance, better module configurations, and enhanced compatibility with evolving search algorithms, thus maximizing a website's visibility and search engine rankings.
Conclusion
In conclusion, harnessing Drupal's SEO capabilities can significantly unlock a website's potential.
Through proper module configuration, performance optimization, and web accessibility tuning, it is possible to enhance site visibility and user interaction.
Moreover, employing services such as competitive analysis, keyword research, and SEO audits can further drive growth.
Ultimately, the creation of SEO-friendly content establishes industry leadership and enhances overall online presence.