You're here to unlock the secret to SEO success, right? Well, meet Google Trends, your new best friend.
This nifty tool uncovers hot search terms and fading keywords, guiding you to SEO gold. It's time to align your content with what your audience is really seeking.
And with local trends at your fingertips, you can tailor your strategy like never before.
Ready to dive in? Let's explore Google Trends together and supercharge your online visibility.
Key Takeaways
Google Trends is a useful tool for monitoring shifts in customers' interests and gaining insights into competitors' minds.
When using Google Trends for SEO, it is important to find your niche by narrowing down keywords with stable and substantial search volume.
Google Trends can help identify relevant keywords by using the related keywords feature and provide ideas for product categories based on related searches.
It is crucial to avoid fading keywords by monitoring their search volume and focusing on those that are not losing popularity.
Rankstar – A Valuable SEO Partner for Your Business
→ Ready to take your SEO strategy to the next level?
Discover the untapped power of Google Trends and watch your website's visibility soar. Explore the insights, techniques, and opportunities in our latest article on Rankstar. Don't miss the chance to stay ahead of the competition – click here to uncover the secrets to SEO success with Google Trends.
We are also here to propel your brand to the summit of search rankings, ensuring its outstanding prominence in both Autocomplete Suggestions and Autosuggest Removal when in need.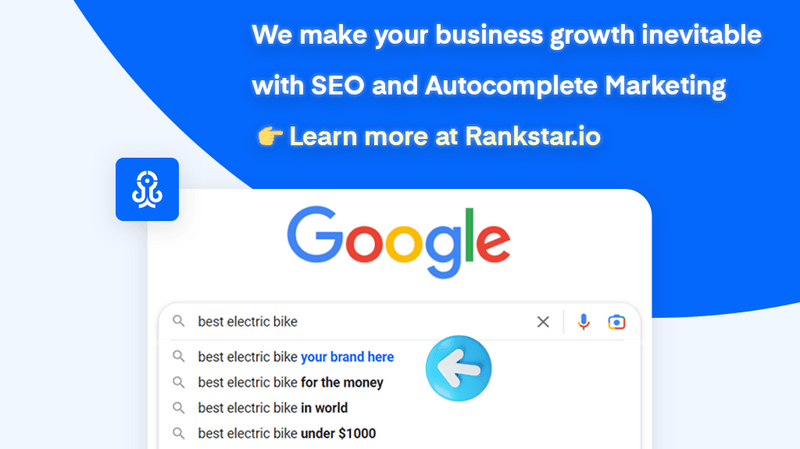 Understanding Google Trends for SEO
With Google Trends, you're not just peering into a crystal ball of search data; you're unlocking a powerful tool to enhance your SEO strategy. You can identify your niche by analyzing keywords with stable search volume.
Dive into related keywords to uncover trending phrases, and keep an eye out for breakout words, which could provide a competitive edge.
Ensure you're not investing in fading keywords by monitoring search volume over time. Using this tool, you're also able to explore potential new product categories and map out engaging content for your blog or YouTube channel.
Make sure your marketing efforts align with what's trending, and you'll find yourself riding the wave of popularity, instead of being left behind.
Niche Identification With Google Trends
In your journey to SEO success, using Google Trends can help you identify a profitable niche by analyzing the performance of various search terms. You can gauge the popularity of a keyword over time, understand regional preferences, and discover related queries that could lead to a niche market.
Keyword Popularity: Google Trends presents a graph depicting the popularity of a keyword over time. You're looking for keywords with a stable or increasing popularity trend.
Regional Analysis: Google Trends shows where your keyword is popular. This can help you target specific markets and understand regional demand for your niche.
Related Queries: These can spark ideas for niche markets. If a related query is trending, it might be a niche waiting to be explored. Keep an analytical eye, be detail-oriented, and strategize based on these insights.
Uncovering Relevant Keywords
You can uncover a goldmine of relevant keywords using Google Trends, a tool that's crucial for your SEO strategy. By analyzing the 'Related Queries' section, you'll identify trending keywords linked to your primary search term. These can be breakout words, offering potential for high traffic.
| Keyword | Search Trend | Potential Use |
| --- | --- | --- |
| Keyword A | Constantly rising | Main SEO focus |
| Keyword B | Seasonal spike | Seasonal promotions or blogs |
| Keyword C | Sudden surge, then drop | Short-term content strategy |
Discovering New Product Categories
Diving deeper into Google Trends, let's explore how it can help identify new product categories for your business.
The 'related queries' feature can spark ideas for new offerings.
Spot emerging trends: Look at 'rising' queries related to your primary product. These could hint at nascent categories gaining traction.
Track seasonal variations: Seasonal fluctuations in search volume can reveal product categories that perform well during specific periods.
Analyze regional data: Google Trends shows where your product's searches are highest, offering insight into region-specific product categories.
This tool doesn't just track popularity; it provides a window into consumers' minds. Use it strategically, and you'll uncover product categories you hadn't even considered. It's about understanding and adapting to market dynamics.
Steering Clear of Fading Keywords
Avoiding fading keywords is crucial in your quest to optimize your website for search engines. These are terms that initially surge in popularity but quickly lose steam, leading to a significant drop in search volume. Google Trends can help you identify these keywords, ensuring you don't waste time and resources.
To keep your strategy sharp, monitor keywords regularly. If you see a consistent decline, it's time to pivot. Remember, SEO isn't a set-it-and-forget-it process. It requires constant adjustment and fine-tuning.
Also, stay aware of sudden spikes in keyword popularity. They might indicate a fleeting trend, not a sustainable one. By vigilantly tracking keyword performance, you'll stay ahead of the curve and maintain your website's relevancy and visibility.
Content Creation Using Google Trends
Leveraging Google Trends for content creation can significantly enhance your SEO strategy by providing insights into popular topics and related keywords that your target audience is interested in. The tool offers a wealth of information, helping you create content that's timely, relevant, and optimized.
Identify Trending Topics: Look for topics that are gaining traction. Create content around these topics to attract timely traffic.
Analyze Related Queries: Google Trends shows related queries that people are searching for. Use these for content ideas, ensuring you're addressing user interests.
Study Regional Interest: Understanding geographic popularity can help tailor content for specific audiences, increasing its relevance.
Exploring Local Trends With Google Trends
In your journey to harness the power of Google Trends, understanding local trends can be a game-changer for your SEO strategy.
Google Trends offers a geographical breakdown of search terms, allowing you to pinpoint specific regions where your chosen keywords are most popular. You can tailor your SEO efforts to these local trends, boosting your visibility in areas where interest is highest.
It's not just about increasing traffic; it's about targeting the right traffic. Moreover, recognizing regional differences in search behavior can help you customize your marketing campaigns and offers to appeal to specific local preferences.
Exploring local trends with Google Trends is strategic, insightful, and can provide you an edge in a competitive digital landscape.
Frequently Asked Questions
How Can Google Trends Be Used to Track Competitors' Performance?
You can use Google Trends to track competitors' performance by analyzing their keyword popularity. It'll show trends, giving you insights into what's working for them. Use this data strategically to enhance your SEO efforts.
How Can Google Trends Help in Understanding the Effectiveness of My Marketing Campaigns?
You can use Google Trends to gauge your campaign's effectiveness by tracking changes in search volume for your targeted keywords during the campaign period. It'll show if your efforts are driving interest or not.
Can Google Trends Forecast Future Search Trends for a Specific Keyword?
Yes, Google Trends can forecast future search trends for specific keywords. It shows patterns, allowing you to predict increases or decreases in search volume. You'll exploit this to plan your SEO and content strategies effectively.
How Can Google Trends Be Used to Identify Potential Collaborations or Partnerships in My Industry?
You can use Google Trends to identify trending topics within your industry. This data can suggest companies or influencers resonating with your audience, hinting at potential collaborations or partnerships beneficial to your business.
How Does Google Trends Classify a Keyword as a 'Breakout' Word?
Google Trends labels a keyword as 'breakout' when it experiences a massive surge in searches over a short period. You're seeing a trend that's spiking, suggesting it's a hot topic, but it might not last.
Conclusion
So, you've explored the depths of Google Trends, discovered its potential, and are ready to integrate it into your SEO strategy.
Remember, it's not just about finding popular keywords, but understanding their relevance, identifying your niche, and predicting future trends.
Keep tabs on local trends too, for a tailored strategy. Don't let fading keywords hold you back.
With Google Trends, you're equipped to navigate the twisting paths of SEO, and unlock unprecedented success online.