You're doing great with your website's content, but what about your images? In today's digital landscape, image SEO can set you apart. As search engines evolve, they're recognizing images better. Your images aren't just decorations – they're vital for visibility and traffic.
Let's dive into image SEO and see how optimizing your visual content can transform your website's performance. Ready for a game-changing journey? Let's get started!
Key Takeaways
Images play a crucial role in SEO and user experience.
Choosing original and relevant images is preferred over stock photos.
Optimizing images by using descriptive file names, resizing, compressing, and using responsive images improves SEO.
Adding alt text, captions, and structured data enhances image accessibility and search engine visibility.
Rankstar – A Valuable SEO Partner for Your Business
→ Ready to gain a competitive edge?
Dive into our latest article on Rankstar and unlock the secrets of Image SEO Optimization! Don't miss out on this game-changing insight – explore the article now and elevate your online presence with stunning visuals!
We are also here to propel your brand to the summit of search rankings, ensuring its outstanding prominence in both Autocomplete Suggestions and Autosuggest Removal when in need.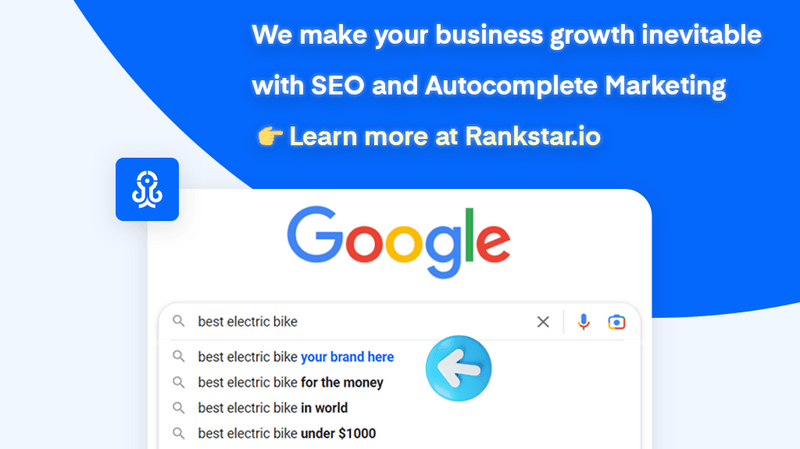 Understanding the Role of Images in SEO
You'll find that a significant part of optimizing your website for SEO involves understanding the crucial role images play in boosting traffic and enhancing user experience.
Images aren't mere adornments. They're strategic tools that, when used properly, can result in higher search engine rankings. Google is smart enough to understand the content of images and their context. Hence, it's essential to choose original, relevant images, and place them near the related text.
Remember, the file name and format matter too. JPEGs are great for larger photos, while PNGs excel for images with transparent backgrounds.
Don't overlook the power of alt text. It not only enhances accessibility but also provides Google with more context about the image's content.
Strategies for Selecting the Right Images
In your pursuit of excellence in SEO, it's crucial to develop strategic approaches for selecting the right images for your content. Opt for original images over stock photos, they're preferred.
Ensure your chosen visuals are relevant to your article's subject, and place them near related text for better optimization.
Consider the position of your images. Those you'd like to rank should be near the top. Don't limit yourself to photos, think about using illustrations, graphs, or GIFs. But remember, use animated GIFs sparingly to avoid distraction and slow page loading.
When using Creative Commons images, always check restrictions and attribute original photographers.
Lastly, veer away from obvious stock photos, select more genuine ones. Your image selection strategy can significantly impact SEO performance.
Techniques for Image SEO Optimization and Preparation
When it comes to image optimization and preparation, you're going to need a solid game plan to ensure you're maximizing SEO benefits. You've got to select the right format, scale for optimal display and compress to achieve the smallest file size. You should also be mindful of alt text and captions, enhancing both SEO and accessibility.
For a deeper understanding, here's a handy table:
| Aspect | Action | SEO Benefit |
| --- | --- | --- |
| Format | Select JPEG/PNG/WebP based on need | Supports browser compatibility |
| Scaling | Resize images to display size | Improves loading speed |
| Compression | Reduce file size without losing quality | Enhances user experience |
| Alt text & Captions | Include relevant keywords and descriptions | Boosts SEO and accessibility |
Enhancing Image Elements for Accessibility
Someone might think it's unnecessary, but enhancing image elements for better accessibility can significantly improve user experience and SEO.
You see, when you optimize your image elements, you're not just making your site more accessible for users with visual impairments. You're also signaling to search engines that your content is relevant, comprehensive, and user-friendly.
Here are some ways you can enhance your image elements for better accessibility:
Use descriptive alt tags: They tell screen readers what the image is about, improving user experience and SEO.
Add captions: They provide context and can boost your keyword strategy.
Include structured data: It doesn't directly impact ranking but enhances image search listings.
Try OpenGraph tags: They ensure your images are included in social shares, extending your reach.
The Impact of Structured Data on Image SEO
You're tackling the impact of structured data on image SEO, but remember, it's not just about boosting your rankings; it's also about enhancing your image search listings.
Embrace the power of structured data; it's a tool that helps search engines understand your content better. It's not a direct ranking factor, but it absolutely influences your image SEO.
Consider adding structured data for different types of images like products, videos, or recipes. Google loves this, and it can lead to rich results, which are more eye-catching than standard listings.
Implement OpenGraph image tags to ensure your images are included when your content is shared on social media. Don't forget about XML image sitemaps; they help Google discover and properly index your images.
Boosting SEO With Image Delivery and Optimization
Boosting your website's SEO can be significantly impacted by how you deliver and optimize images. In today's fast-paced digital world, your audience won't wait around for slow loading visuals. Optimizing your images and using a Content Delivery Network (CDN) can significantly enhance your site's speed, user experience, and consequently, your SEO ranking.
Here's what you need to do:
Optimize your images: Use tools to reduce file size without compromising quality.
Use a CDN: This improves load times by serving images from the server closest to your user.
Implement responsive images: Ensure your images look good on all devices.
Add descriptive alt text: This is crucial for both SEO and accessibility.
Leveraging CDN for Efficient Image Optimization
By integrating a CDN into your website's infrastructure, you're able to optimize and deliver images 50% faster than conventional methods. This not only improves your site's loading speed but also enhances the user experience, a critical factor in SEO rankings.
Consider this comparison table:
| Traditional Method | CDN | Benefits |
| --- | --- | --- |
| Slower Load Times | Faster Load Times | Improved User Experience |
| Limited Global Reach | Widespread Global Reach | Better Accessibility |
| Conventional Formats | Auto Format Conversion | Optimal Performance |
With CDN, you're essentially bringing your content closer to your users, no matter where they are. Plus, it's not all about speed. CDNs can automatically convert images into the format that's most efficient for each user. So, you're not just improving your SEO, you're also providing a tailored experience for each visitor.
Frequently Asked Questions
How Can I Measure the Impact of Image SEO on My Website's Overall Performance?
You can measure the impact of image SEO on your site's performance by tracking organic traffic, bounce rates, and user engagement. Use Google Analytics and Search Console for detailed insights. Don't overlook image search results too.
Can I Use Automated Tools for Image SEO or Should It Be Done Manually?
Yes, you can use automated tools for image SEO. They'll save time, improve efficiency, and help you stay current with SEO trends. However, manual checks are crucial to ensure quality and relevance of images.
Are There Any Penalties for Not Using Alt Text or Captions on Images?
Yes, there can be penalties for not using alt text or captions on images. They're crucial for SEO and accessibility. Skipping them could lower your site's ranking and hinder its accessibility for visually impaired users.
How Often Should I Update or Change the Images on My Website for Better Seo?
You should update your website images regularly, but there's no set frequency. It's crucial to ensure they're relevant, high-quality, and well-optimized for SEO. Fresh visuals can boost engagement and improve your site's ranking.
Are There Specific Industries or Types of Websites That Benefit More From Image Seo?
Every industry can benefit from image SEO, but visual-heavy sectors like fashion, design, food, travel, and e-commerce might see more significant gains. It's about enhancing user experience and boosting your site's visibility.
Conclusion
In conclusion, optimizing your images isn't just about aesthetics; it's a strategic move to boost your website's visibility.
By selecting the right images, mastering SEO techniques, enhancing accessibility, and leveraging CDN, you can significantly improve your site's performance.
Stay abreast of SEO trends and fine-tune your approach to win the SEO game.
Start today and watch your website transform as it climbs the SERPs, attracting more traffic than ever before.