You're in a race against time to seize your customer's attention. Welcome to the era of micro-moments, where every second counts.
This guide will equip you with the tools to anticipate and engage your customer's I-want-to-know, I-want-to-go, I-want-to-do, and I-want-to-buy moments.
You'll learn to optimize your digital presence and create content that resonates.
Ready to master the art of capturing attention in a blink? Let's dive in.
Key Takeaways
Understanding the consumer's intent is crucial to earning micro-moment traffic.
Anticipating frequent questions about the industry can capture I-want-to-know traffic.
Having a Google My Business account linked to an optimized website is crucial for earning web traffic for I-want-to-go searches.
Providing high-quality content and a frictionless checkout can capitalize on I-want-to-buy moments.
Rankstar – A Valuable SEO Partner for Your Business
→ Ready to seize every micro-moment for unparalleled customer engagement?
Dive into our latest article on Rankstar and master the art of capturing your audience's attention when it matters most! Don't miss out on this game-changing insight – explore the article now and elevate your customer engagement strategies!
We are also here to propel your brand to the summit of search rankings, ensuring its outstanding prominence in both Autocomplete Suggestions and Autosuggest Removal when in need.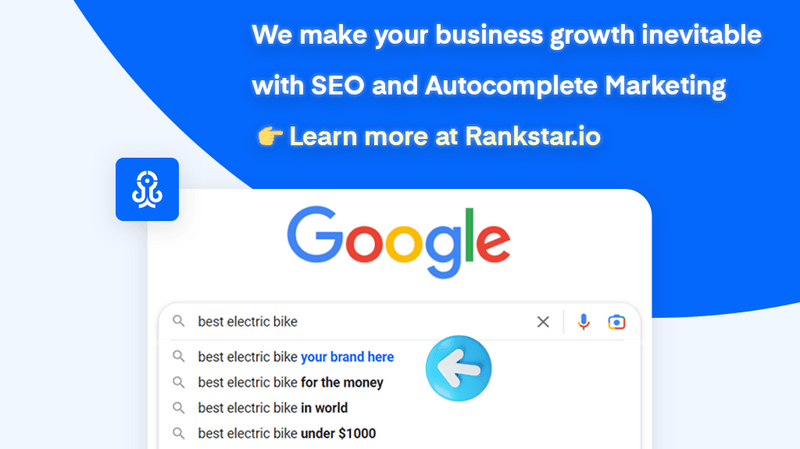 Understanding the Micro-Moment: The Key to Customer Engagement
You're learning how crucial understanding the micro-moment is, as it's the key to engaging your customers effectively. These moments of decision-making and preference-shaping happen swiftly, and you must be ready to offer the right information at the right time.
Through careful data analysis, you can anticipate your customers' needs and provide targeted solutions.
By focusing on 'I-want-to-know', 'I-want-to-go', 'I-want-to-do', and 'I-want-to-buy' moments, you can tailor your content to address these specific instances. By doing so, you're not just selling a product or service; you're becoming a trusted advisor at every step of your customer's journey.
I-Want-To-Know Moments: Unlocking Consumer Curiosity
In your journey to unlock consumer curiosity, you'll find that 'I-Want-To-Know' moments are crucial, and they often involve users seeking general knowledge, shopping suggestions, or food and grocery queries. These are the moments when consumers are open to suggestions, and your content can have a profound impact.
Here's a three-point strategy:
Understand your audience: Dive into your analytics to identify the common queries and topics of interest. This will help you craft relevant content.
Be present: Ensure your content is seen when these moments occur. Use SEO strategies to increase your visibility on search engines.
Provide value: Answer their questions effectively, offer advice and recommendations, and provide actionable insights.
I-Want-To-Go Moments: Navigating Local Searches
When you're dealing with 'I-Want-To-Go' moments, it's critical that you optimize your online presence for local searches, but don't forget to keep your Google My Business account updated too. This allows potential customers in your vicinity to find you easily.
Consider using location-specific keywords and ensure your business hours, contact details, and services are accurate. Remember, your potential customers are likely in a hurry, so offer them the information they need swiftly and efficiently.
Here's a quick overview:
| Strategy | Benefit | Impact |
| --- | --- | --- |
| Local SEO Optimization | Increases visibility | More foot traffic |
| Updated Google My Business | Accurate information | Improved customer experience |
| Location-Specific Keywords | Better search results | Increased business inquiries |
Stay focused, strategic, and customer-centric. Your 'I-Want-To-Go' moments are opportunities waiting to be seized.
I-Want-To-Do Moments: Empowering Consumers With Information
Almost all smartphone users, about 91%, lean on their mobile devices during 'I-want-to-do' moments, so you've got to provide helpful content such as how-to guides and video tutorials to meet this demand. These moments are crucial for your business, and harnessing them effectively can significantly boost your customer engagement.
Let's break it down:
Understand Your Audience: Know what they're trying to accomplish and offer practical solutions.
Create Engaging Content: Step-by-step guides, video tutorials, and infographics can be incredibly effective.
Make It Easily Accessible: Your content should be easy to find and navigate on all devices.
I-Want-To-Buy Moments: Capitalizing on Purchase Intent
You've got to recognize that each of these 'I-want-to-buy' moments presents a unique opportunity for your business, and with nearly 80% of consumers taking action on their smartphones before making a purchase, it's crucial that you provide high-quality content and a seamless checkout process.
This isn't just about making a sale; it's about establishing trust and nurturing a relationship with your customer. Analyze their purchasing patterns and adapt your strategies accordingly.
Harness the power of customer reviews and testimonials to bolster your credibility. Streamline your website's navigation to make it as user-friendly as possible.
And remember, speed matters. A slow-loading site can drive away potential buyers. So optimize your site's performance to seize these 'I-want-to-buy' moments and maximize your conversion rates.
Addressing the Impatient Customer: Speed and Efficiency in Engagement
In today's fast-paced world, every second counts; a two-second delay in your website's load time can bump up your bounce rates by a staggering 103%. As a savvy business owner, you can't afford to lose customers due to slow load times.
Here's a three-point plan to enhance your website's speed and user experience:
Optimize Images and Videos: Compress and scale your media files. Large files cause lag.
Minimize HTTP Requests: Simplify your site's design and reduce scripts to boost load speed.
Leverage Browser Caching: Store data on visitors' browsers to speed up return visits.
But remember, the best way to keep 'impatient customers' satisfied is by understanding their needs and delivering swift, efficient solutions. Analyze, anticipate, and adapt to win the race against time.
Strategies to Seize the Micro-Moment: Winning at Customer Engagement
While you're working on speeding up your site, don't forget to brush up on your strategies for seizing those crucial micro-moments and, in doing so, win at customer engagement.
Understand that your customers are constantly in 'I-want-to-know', 'I-want-to-go', 'I-want-to-do', and 'I-want-to-buy' moments. These are your opportunities to engage them.
Anticipate their needs, provide relevant content, and make your site mobile-friendly. Use Google's Tools to identify traffic and search terms, and use this information to tailor your content.
Diversify your content to meet different customer preferences and remember to keep it keyword-rich.
Lastly, offer a frictionless shopping experience. So, in the race to win customers, remember, it's all about seizing the micro-moment.
Frequently Asked Questions
How Can Businesses Effectively Measure the Success of Their Micro-Moment Strategies?
To effectively measure your micro-moment strategies, you'll need to track key metrics. Look at engagement rates, conversions, and bounce rates. Analyze customer behavior data and adjust your strategies based on what's working and what's not.
What Specific Strategies Can Businesses Use to Ensure Their Content Is Seen First During I-Want-To-Know Moments?
To ensure your content surfaces first during 'I-want-to-know' moments, anticipate common queries within your industry. Craft useful, easily digestible content answering these questions. Optimize it with relevant keywords and ensure it's mobile-friendly.
How Can Businesses Ensure Their Website Remains Optimized for I-Want-To-Go Moments, Particularly for Users in Different Geographical Locations?
You can optimize your site for I-want-to-go moments by ensuring your Google My Business account links to an optimized website. Tailor content to specific locations, and use location-specific keywords to enhance visibility.
What Are Some Common Challenges Businesses Face When Trying to Capture I-Want-To-Do Moments and How Can They Overcome Them?
You might struggle to provide timely, relevant content for "I-want-to-do" moments. Overcome this by anticipating customers' needs, creating step-by-step guides, and maintaining a mobile-friendly site with easily accessible information.
How Can Businesses Create a Seamless Online Shopping Experience to Make the Most of I-Want-To-Buy Moments?
To enhance your I-want-to-buy moments, streamline your online shopping experience. Ensure your site's mobile-friendly, provide clear product info, and simplify the checkout process. Remember, a seamless experience encourages customers to complete their purchases.
Conclusion
In a world buzzing with information, seizing the micro-moment is key to winning your customer's attention. Anticipate their I-want-to-know, I-want-to-go, I-want-to-do, and I-want-to-buy moments and respond with speed and efficiency.
Optimize your digital platforms and craft engaging content. Harness tools like Google's Web Master Tools and strategic keywords.
Remember, every second counts in this rapid-paced digital landscape. Master the art of the micro-moment, and you'll master customer engagement.