You're eager to boost your website's SEO, right?
Well, you can't overlook the power of internal linking.
It's not just about connecting pages; it's about crafting a strategic web structure that's easy to navigate.
In this guide, we'll deep dive into types of links, effective strategies, and how to leverage tools like Yoast SEO.
Ready to make your content more discoverable and rank higher on search engines?
Let's start linking!
Key Takeaways
Rankstar – A Valuable SEO Partner for Your Business
→ Ready to elevate your SEO game?
Explore the art of internal linking and supercharge your website's visibility. Dive into our guide on Rankstar and discover the strategies to enhance your online presence. Unleash the potential of your content, drive organic traffic, and secure top search engine rankings. Start your journey to SEO excellence today!
We are also here to propel your brand to the summit of search rankings, ensuring its outstanding prominence in both Autocomplete Suggestions and Autosuggest Removal when in need.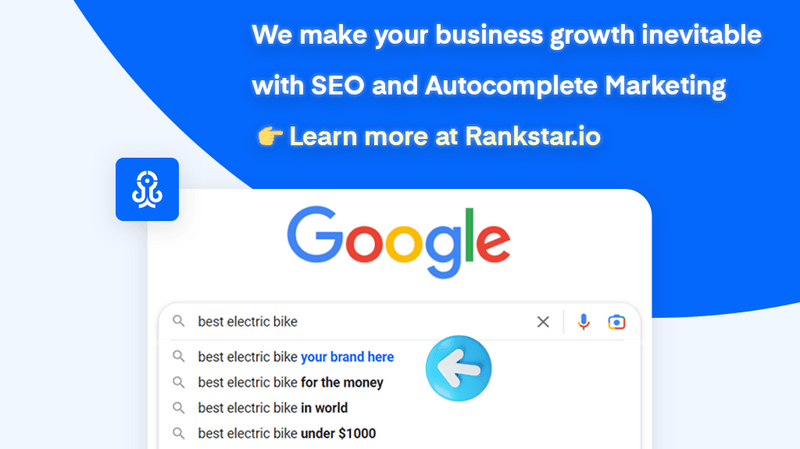 Understanding Internal Links
In the realm of SEO, you'll find that internal links play a pivotal role in enhancing your site's visibility and ranking. They essentially act as bridges, connecting different pages within your site.
This connection not only improves the user experience by guiding your audience to related content, but it also allows search engines to better understand the structure and content of your website. Each internal link you add increases the chances of your pages being discovered and indexed.
Additionally, these links help establish a content hierarchy, indicating to search engines the importance and relationship of your pages. But remember, it's not about quantity but quality. Strategic placement of your internal links can significantly boost your SEO.
Types of Internal Links
Now, let's delve into the different types of internal links you can leverage on your website to further amplify your SEO efforts. Primarily, there are three types: navigational, contextual, and footer links.
| Type of Link | Description |
| --- | --- |
| Navigational Links | These are the links in your menu bar, guiding users and search engines through your site's hierarchy. |
| Contextual Links | These are links within your content, connecting to related pages or posts. They improve user experience and SEO. |
| Footer Links | Typically found at the bottom of the page, these include links to important pages like 'Contact Us' or 'About Us'. |
Each type plays a strategic role in your site's architecture, helping search engines understand and index your content, while enhancing user navigation.
Importance of Internal Linking
Understanding the importance of internal linking, you'll see how it acts as a roadmap, guiding both search engines and website visitors to your most valuable content. This strategic positioning can significantly boost your SEO, providing a clear pathway for Google to find, index, and rank your content.
Let's delve into why internal linking is crucial:
SEO Boost: Well-placed internal links guide search engines to your content, improving your site's visibility and ranking.
Navigation: They help visitors navigate your website, enhancing user experience and increasing dwell time.
Content Hierarchy: Internal links establish a content hierarchy, signaling to search engines which pages hold more importance.
Crafting a thoughtful internal linking strategy isn't just beneficial, it's necessary in today's competitive digital landscape.
Strategies for Effective Linking
To boost your website's SEO through internal linking, you'll need to implement strategies that effectively guide both visitors and search engines across your site.
Start by visualizing your website's structure as a pyramid, with cornerstone content at the top. These are your most important pages, so link them from your homepage or top navigation menu.
Add contextual links within your articles to related content. Also, don't forget to link back from cornerstone content to relevant posts.
Regularly evaluate and update your strategy, ensuring that all posts, even newly published ones, are properly linked.
Using Yoast SEO for Internal Linking
Building on effective linking strategies, you can take advantage of the Yoast SEO plugin to streamline your internal linking process. This tool not only simplifies the process but also ensures that your links are strategically placed and relevant.
Internal Linking Suggestions: Yoast SEO offers a feature that suggests which posts or pages could benefit from internal links. It analyzes your content and recommends potential links, improving your site's structure and SEO.
Orphaned Content Filter: This feature identifies content on your site without internal links, also known as orphaned content.
Cornerstone Content Recognition: Yoast SEO highlights your most important articles, or cornerstone content, to prioritize linking.
Internal Linking Workouts With Yoast SEO Premium
Now, let's dive deeper into how you can utilize Yoast SEO Premium's internal linking workouts to optimize your site's structure and boost its SEO ranking. This feature offers you excellent tools to strategically place internal links.
Consider this table for a clearer picture:
| Workout | Function | Impact |
| --- | --- | --- |
| Orphaned Content | Identifies pages without internal links | Boosts discoverability |
| Cornerstone Approach | Suggests links for important content | Increases visibility |
| Reciprocal Links | Checks for mutual links between pages | Enhances site structure |
| SEO Courses Access | Provides valuable SEO knowledge | Improves overall SEO strategy |
Using these workouts, you're not only organizing your site but also making it more accessible to search engines. So, start harnessing the power of Yoast SEO Premium's internal linking workouts to boost your SEO.
Features of Yoast SEO Premium
With Yoast SEO Premium, you'll discover a range of features designed to enhance your internal linking strategy and boost your SEO performance.
Internal Linking Suggestions: This feature provides automatic link suggestions as you write your content. It identifies related pages you can link to, making it easier to create a rich network of internal links and improve your site's SEO.
Redirect Manager: Broken links can harm your SEO. Yoast SEO Premium's Redirect Manager automatically fixes broken URLs and helps manage your site's redirects.
Orphaned Content Filter: This handy tool identifies pages on your website that aren't linked to by any other page. By identifying these pages, you can ensure they get the attention they deserve.
Each feature is designed to streamline your SEO tasks and provide strategic insights.
Boosting SEO With Internal Links
So, how can you harness the power of internal links to boost your website's SEO?
Start by visualizing your website's structure as a pyramid. Your most important content, or cornerstone content, should be at the top. From there, add contextual links to related articles and link back from your cornerstone content to individual posts.
Consider the relationships between your content. Link parent pages to their child pages and vice versa. Similarly, link sibling pages to each other. This strategy helps search engines understand your site's structure and content relationships, improving your SEO.
Remember, more links to a post increase its value and chances of ranking. So, ensure your most important content is well-linked throughout your site.
Don't forget to regularly review and enhance your internal linking strategy.
Frequently Asked Questions
What Is the Difference Between Internal and External Links in Terms of SEO Benefits?
In terms of SEO benefits, internal links boost your site's structure, helping search engines rank your content. External links, however, show your site's credibility, potentially boosting your authority and site's trustworthiness. Both're essential for SEO.
How Does the Structure of a Website Impact Its Internal Linking Strategy?
Your website's structure significantly influences its internal linking strategy. A clear, hierarchical structure helps you determine important content, guide visitors effectively, and allows search engines to understand relationships between your pages, ultimately enhancing your SEO.
Can Internal Linking Strategies Be Detrimental When Overused or Improperly Implemented?
Yes, overusing or misusing internal linking can harm your site's SEO. Too many links can dilute link value, confuse site structure, and lead to poor user experience. Use them strategically to avoid these pitfalls.
Is the Yoast SEO Premium the Only Plugin That Provides an Internal Linking Suggestion Feature?
No, Yoast SEO Premium isn't the only plugin offering internal linking suggestions. There're others like Rank Math and SEOPress, but each has unique features. It's crucial to choose what best suits your needs.
Are There Any Specific Guidelines to Follow When Choosing Anchor Text for Internal Links?
Yes, when choosing anchor text for internal links, you should ensure it's relevant to the linked content. Don't overuse exact match keywords; instead, use natural, descriptive phrases that provide context for the linked page.
Conclusion
To wrap up, mastering internal linking is crucial for boosting your SEO.
By understanding the types and importance of internal links, you can strategically interconnect your website pages.
Tools like Yoast SEO Premium can further optimize this process, offering features to streamline your internal linking workouts.
Remember, it's all about creating a clear, navigable structure that places your cornerstone content on top.
So, start linking and watch your website climb the search engine ranks!