You're about to unlock the secret behind SEO success – keyword grouping. As a marketer or content creator, you'll learn to strategically group related keywords to boost content relevance and SEO.
Imagine content that not only resonates with your audience but also impresses search engines.
Ready to revolutionize your SEO strategy?
Let's delve into the power of keyword grouping and elevate your content game.
Key Takeaways
Rankstar – A Valuable SEO Partner for Your Business
→ Ready to elevate your SEO game?
Discover the untapped potential of SEO success with Keyword Grouping. Unlock higher rankings, drive more organic traffic, and dominate your niche. Don't miss out—explore the power of strategic keyword grouping today on Rankstar.
We are also here to propel your brand to the summit of search rankings, ensuring its outstanding prominence in both Autocomplete Suggestions and Autosuggest Removal when in need.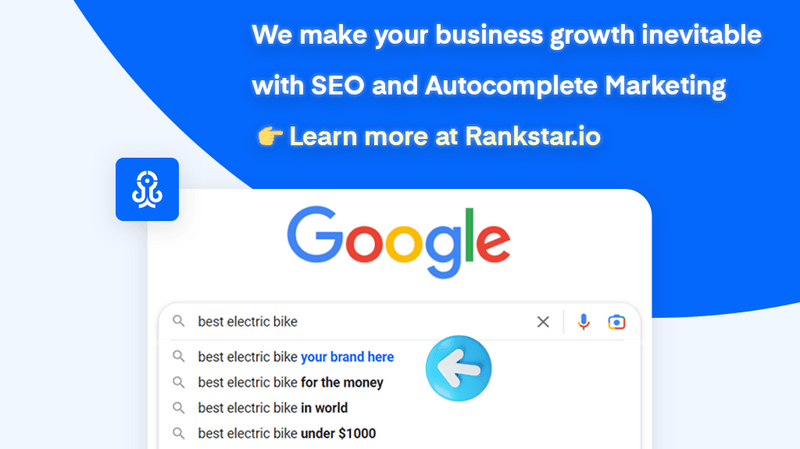 Understanding Keyword Grouping
To truly harness the power of SEO, you'll need to understand keyword grouping and its significant role in improving your content's visibility and relevance.
It's a strategic process of organizing semantically-related keywords. By grouping keywords, you're able to create content that's not only relevant but also authoritative for specific topics.
It allows for precise targeting of sub-topics, attracting a more engaged audience. This approach improves your SEO, optimizes keyword usage, and prevents keyword cannibalization.
Plus, it's a boon for users, providing them with organized, pertinent content, enhancing their overall experience.
Steps in Keyword Grouping
Now, let's dive into the actual steps you'll need to take to effectively group your keywords.
Brainstorm and List: Start by brainstorming related keywords for your topic. Use keyword tools to build a comprehensive list.
Grouping: Utilize a keyword grouping tool to analyze and sort these keywords into semantically related groups.
Refine: Review the groups formulated by the tool. Use your judgment to refine these groups if necessary.
Role of High Topical Relevance
In the realm of SEO, you'll find high topical relevance plays a crucial role in boosting your content's search engine rankings. It's about precisely targeting your topic and ensuring your content stays focused. It's not just about scattering keywords across your content. Instead, it's about creating content that comprehensively covers a topic, using keywords contextually.
| Benefits of High Topical Relevance | How to Achieve It |
| --- | --- |
| Enhances your content's search visibility | Use keyword grouping to ensure related keywords are present |
| Builds your site's topical authority | Create comprehensive content that fully covers a topic |
| Attracts targeted organic traffic | Regularly review and update your content to maintain relevance |
Exploring Keyword Grouping Techniques
When you dive into the world of keyword grouping, you'll come across two main techniques: soft clustering and hard clustering. Soft clustering involves grouping keywords that are semantically related, even if they don't always appear together in search results. This technique is excellent for less competitive keywords.
On the other hand, hard clustering groups only keywords that consistently appear together in search results. This method is ideal for highly competitive keywords.
Choosing the right approach depends on your specific needs and the competitiveness of your keywords.
Review your keyword list and determine the competitiveness of each keyword.
Choose the technique (soft or hard clustering) that best aligns with your goal.
Regularly review and adjust your keyword groups to keep up with changes in search behavior and trends.
Master these techniques and you'll unlock the full potential of your SEO strategy.
Top Keyword Grouping Tools
You're likely wondering which keyword grouping tools can best help you streamline your SEO efforts. Well, there are several top players in the market you should consider.
| Tool | Key Feature |
| --- | --- |
| Contadu | Uses text processing algorithms and text distance analysis |
| Keyword Insights | Groups keywords based on search intent |
| SEO Scout | Uses Natural Language Processing to analyze top 30 Google results |
| SE Ranking | Uncovers keyword variations, synonyms, and closely-related terms |
Each of these tools brings something unique to the table. Therefore, choosing the right one depends upon your specific needs and goals. Remember, a well-organized keyword strategy not only improves your SEO but also enhances the user experience by providing organized and relevant content.
Advantages of Keyword Grouping
Let's dive into the numerous advantages of keyword grouping, a strategic approach that can supercharge your SEO efforts and significantly enhance the user experience on your website.
Increased Topical Relevance: Grouping semantically related keywords ensures your content maintains high topical relevance. This not only boosts your SEO but also makes your content more valuable to readers.
Strategic Content Creation: Keyword grouping allows you to plan your content more strategically. You'll be able to target specific sub-topics, attracting a more focused audience.
Avoid Keyword Cannibalization: By grouping keywords, you optimize their usage. This prevents keyword cannibalization, where multiple pages from your site compete for the same keyword.
Application of Keyword Grouping in SEO
In light of the advantages of keyword grouping, it's essential to understand its practical application in your SEO strategy. You begin by creating a list of semantically related keywords. Utilize a keyword grouping tool to analyze and organize these keywords into related groups. Remember to exercise your judgment to further fine-tune these groups.
When crafting content, focus on these groups to enhance topical authority and search visibility. Regularly review and adjust your keyword groups to keep them relevant and effective.
High topical relevance not only improves your search rankings but also attracts more organic traffic. Through strategic keyword grouping, you'll optimize keyword utilization, avoid cannibalization, and ultimately unlock SEO success.
Enhancing User Experience With Keyword Grouping
Through proper keyword grouping, you can significantly enhance your website's user experience by providing organized and relevant content. This approach not only boosts your SEO strategy but also helps users find the information they need swiftly, reducing bounce rates and fostering engagement.
User Navigation: By clustering related keywords, you streamline content, making it easier for users to navigate and find related topics.
Content Relevance: Grouping keywords ensures that your content stays relevant and targeted, increasing the chances of satisfying user queries and needs.
Personalized Experience: By understanding and implementing keyword groups, you can deliver more personalized content, resonating with your audience's search intent.
Frequently Asked Questions
What Are Some Common Mistakes to Avoid When Grouping Keywords for SEO Purposes?
Avoid common pitfalls in keyword grouping for SEO, such as ignoring search intent, using too broad or irrelevant groups, not updating groups regularly, and overlooking long-tail keywords. These mistakes can hinder your SEO success.
How Can Keyword Grouping Be Effectively Combined With Other SEO Strategies for Maximum Impact?
You can combine keyword grouping with SEO strategies like on-page optimization and content marketing. Group keywords strategically to enhance your content's relevance, then optimize your webpage to align with these groups for maximum SEO impact.
How Does Keyword Grouping Play a Role in Local SEO and Geo-Targeted Marketing Strategies?
Keyword grouping boosts local SEO and geo-targeted strategies by honing in on location-specific keywords. You're grouping locally relevant terms together, enhancing content relevance for local searches, and improving your visibility in specific geographical areas.
What Are the Metrics or Indicators to Consider When Assessing the Effectiveness of a Keyword Grouping Strategy?
You'd assess your keyword grouping's effectiveness by tracking metrics like organic traffic, keyword ranking improvements, click-through rates, bounce rates, and conversion rates. Analyzing these indicators will give you insights into your strategy's success.
Can Keyword Grouping Be Applied in Other Digital Marketing Areas Apart From SEO, Such as Pay-Per-Click (Ppc) Campaigns or Social Media Marketing?
Absolutely! You can apply keyword grouping in PPC campaigns to enhance ad relevance. Similarly, in social media marketing, it helps in hashtag strategy and targeting relevant audience, improving engagement and conversion rates.
Conclusion
In essence, keyword grouping is a game-changer for your SEO strategy. It's not just about ranking higher but creating value-filled, relevant content that resonates with your audience.
By mastering keyword grouping, you're not only optimizing your content but also enhancing the user experience.
So, why wait? Dive into keyword grouping, explore top-notch tools, apply it to your SEO, and witness your content strategy transform.
Remember, it's all about being strategic, detailed, and focused on relevance.