In a digital era teeming with mobile apps, standing out is crucial. The key lies in Mobile App SEO, a strategy that enhances app visibility through optimization techniques.
Beyond improving metadata and headings, it involves leveraging paid media and social channels.
This article provides an in-depth guide to boosting app visibility, exploring the significance of App Store Optimization (ASO), and demonstrating how to maximize ROI with effective optimization strategies.
Let's delve into the world of Mobile App SEO.
Key Takeaways
Mobile app SEO involves optimizing app store listings to rank higher in search results, increasing visibility and driving organic app installs.
On-page SEO techniques can be applied to mobile app content, improving metadata, headings, and keywords to ensure indexing by search engines.
App Store Optimization (ASO) is a crucial aspect of mobile app SEO, focusing on optimizing app titles, keywords, subtitles, and descriptions to increase app visibility and reach the target audience.
Mobile app SEO is important due to the millions of apps available for download, making it necessary to rank higher on search engines and increase brand visibility to attract potential users.
Rankstar – A Valuable SEO Partner for Your Business
→ Ready to take your mobile app to new heights in search rankings and user engagement?
Dive into the world of Mobile App SEO at Rankstar's article and discover the untapped potential waiting to catapult your app's visibility. Let's embark on the journey to app success – click below and unlock the full potential of your mobile app now!
We are also here to propel your brand to the summit of search rankings, ensuring its outstanding prominence in both Autocomplete Suggestions and Autosuggest Removal when in need.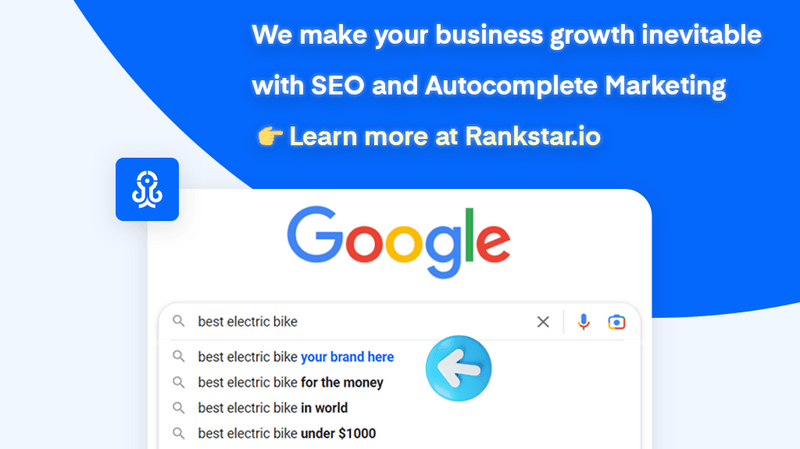 Understanding Mobile App SEO
A significant portion of successful mobile app marketing hinges on understanding Mobile App SEO, a crucial tool that optimizes your application for higher visibility in search engine results.
This process involves meticulous adjustment of your app's metadata, description, and other on-page elements to ensure its indexing by search algorithms. Google, for instance, prioritizes mobile-friendly applications, offering recommended apps based on search terms.
The effectiveness of Mobile App SEO is further demonstrated through app installs directly from the search engine results page (SERP), indicating user trust and interest.
Therefore, mastering Mobile App SEO not only escalates your app's ranking on search engines but also amplifies its visibility, leading to a wider reach and potentially higher download rates.
Types of Mobile App Search Results
Building upon our understanding of Mobile App SEO, it's essential to delve into the different types of mobile app search results that greatly influence an app's visibility and user downloads.
Predominantly, there are two types: generic search results and brand-specific search results. Understanding these search result types enhances your SEO lead generation strategies.
Generic searches present app listings complete with app install numbers, ratings, and download cost, enabling direct installation from the search engine results page (SERP).
Brand-specific search results, on the other hand, appear when a specific brand is searched for, offering detailed snippets including app description, ratings, install numbers, and cost. Users can directly install the app from the SERP.
Understanding these search result types is critical for optimizing mobile app SEO strategies to boost visibility and downloads.
Introduction to App Store Optimization
In the realm of mobile app SEO, one key strategy that merits careful attention is App Store Optimization (ASO), a method aimed at optimizing apps to rank higher in app store search results. ASO is crucial to enhancing the visibility of your app and increasing the number of organic downloads.
Let's delve into the key aspects of ASO:
| Key ASO Factors | Description |
| --- | --- |
| App Title | A concise, engaging title with relevant keywords can improve app ranking. |
| Keywords | Proper keyword research and usage can enhance visibility. |
| Subtitle | A catchy, keyword-rich subtitle can attract potential users. |
| Description | A well-written description can provide users a clear understanding of the app's functionality. |
| Ratings & Reviews | Positive ratings and reviews can boost an app's credibility, leading to more downloads. |
Mastering ASO can significantly improve your app's ranking, ultimately boosting its visibility and success.
Importance of Mobile App SEO
Understanding the importance of mobile app SEO becomes even more crucial when considering the rapid growth of the mobile app market, with millions of applications vying for visibility and downloads.
Improved Visibility: With the right SEO strategies, your app can rise above the competition in app store search results, leading to better visibility and more downloads.
User Experience: Mobile app SEO extends beyond just keywords and meta tags. It also includes optimizing the app's design and performance to ensure a seamless user experience, which can significantly boost user retention rates.
Cost-Effective: Unlike paid advertising, organic SEO is a cost-effective method to drive traffic to your app, providing a higher return on investment.
Paid Media for App Visibility
Beyond the realm of organic SEO, paid media emerges as a potent strategy to augment your app's visibility and reach a broader audience. Utilizing platforms such as Google Ads, Facebook Ads, and programmatic advertising networks, you can target specific user demographics, ensuring your app reaches the right people at the right time.
| Platform | Benefits | Best For |
| --- | --- | --- |
| Google Ads | High reach, robust targeting | Apps with a broad audience |
| Facebook Ads | Excellent demographic targeting, integrated user experience | Apps targeting specific demographics |
| Programmatic Networks | Automated, efficient, wide reach | Apps with large advertising budgets |
Investing in paid media can significantly boost your app's visibility, driving installs and user engagement. However, a successful paid media strategy requires careful planning, constant optimization, and a detailed understanding of your target audience.
Social Media Channels for Promotion
One must not overlook the potential of social media channels in promoting a mobile app, as they provide an excellent platform for reaching and engaging with the target audience. These channels offer vast opportunities to enhance your app's visibility and downloads.
Facebook and Instagram: With their advanced targeting features, these platforms allow apps to reach a more precise audience. Regular posts, stories, and ads can significantly increase app downloads.
Twitter: Using hashtags relevant to your app's features can help in reaching potential users. Twitter Ads can also boost your app's visibility.
LinkedIn: Particularly useful for B2B apps, LinkedIn can help reach professionals who might find your app useful. Sponsored content can help spread the word about your app.
Maximizing ROI With Optimization
While it is crucial to invest in mobile app SEO, it is equally important to optimize these efforts in order to maximize return on investment (ROI). Optimization plays a key role in ensuring that your resources are used effectively, driving more downloads, and increasing your app's visibility. Regularly tracking and analyzing your SEO results helps in identifying areas for improvement and implementing necessary changes.
| Optimization Strategy | ROI Impact |
| --- | --- |
| Keyword Optimization | Improves visibility, increasing downloads and user engagement |
| Regular Performance Tracking | Identifies areas for improvement, helping to allocate resources effectively |
| A/B Testing | Allows for data-driven decisions, increasing conversion rates |
Investing in these strategies will not only improve your app's SEO but also significantly enhance your ROI.
Frequently Asked Questions
What Specific Strategies Can Be Employed to Improve Mobile App Seo?
To improve mobile app SEO, strategies such as optimizing app metadata, leveraging on-page SEO techniques, enhancing mobile-friendliness, and utilizing App Store Optimization (ASO) for higher search results rankings can be employed effectively.
How Can User Reviews and Ratings Affect Mobile App SEO and Aso?
User reviews and ratings significantly influence mobile app SEO and ASO as they impact app rankings. Positive reviews and high ratings enhance credibility, improve search visibility, and can boost organic downloads, thereby optimizing overall app performance.
How Can One Measure the Success of a Mobile App SEO Strategy?
The success of a mobile app SEO strategy can be measured by tracking key metrics such as organic installs, ranking for targeted keywords, user engagement, conversion rates, and overall visibility in app store search results.
What Role Does User Experience Play in Mobile App Seo?
User experience plays a crucial role in mobile app SEO. A positive user experience, characterized by easy navigation and engaging content, can improve app rankings, increase retention rates, and drive organic traffic and installs.
How Often Should One Update or Revise Their Mobile App SEO Strategy?
Mobile app SEO strategy should be regularly updated and revised to adapt to changing algorithms and market trends. Ideally, a comprehensive review should occur quarterly, with minor adjustments made monthly based on performance metrics.
Conclusion
In conclusion, Mobile App SEO remains a pivotal tool in enhancing app visibility amidst a saturated marketplace.
With strategic utilization of App Store Optimization, paid media, and social media channels, it is possible to maximize ROI and drive organic installations.
As mobile internet usage continues to surge, the importance of Mobile App SEO in determining app success cannot be understated.
Therefore, continuous optimization and adaptation to changing SEO trends is essential for maintaining and increasing app visibility.