In the dynamic digital marketing landscape, the confluence of influencer marketing and SEO presents an untapped potential for brands. This article explores how influencer-driven backlinks and social signals can amplify SEO outcomes, boosting brand visibility and credibility.
By leveraging these strategies, businesses can harness the power of influencer collaboration to drive their SEO success, while staying updated on the latest trends and strategies through regular blog subscriptions.
Key Takeaways
Rankstar – A Valuable SEO Partner for Your Business
→ Ready to supercharge your SEO strategy through influencer collaboration?
Learn how partnering with industry leaders can boost your online presence and authority. Don't miss the chance to unlock the full potential of SEO success. Dive into the world of influencer collaboration now on Rankstar and rise above the competition.
We are also here to propel your brand to the summit of search rankings, ensuring its outstanding prominence in both Autocomplete Suggestions and Autosuggest Removal when in need.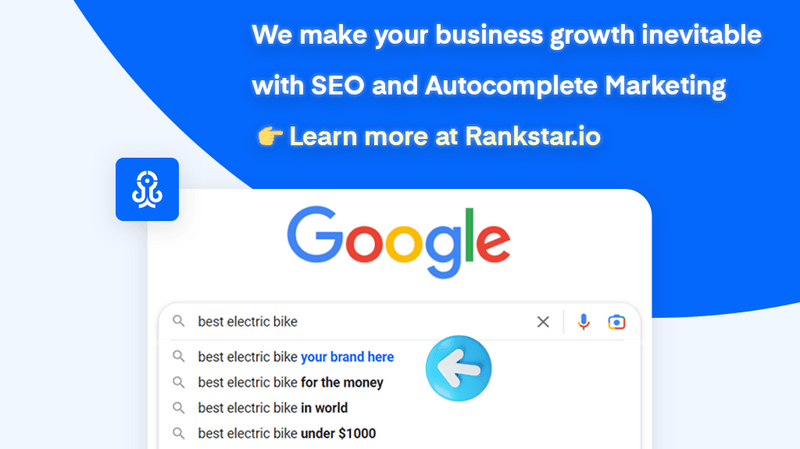 Understanding SEO and Its Significance
In the rapidly evolving landscape of digital marketing, search engine optimization (SEO) has emerged as a vital tool that plays a significant role in enhancing online visibility, driving organic traffic, and building brand credibility.
As the digital marketplace becomes increasingly competitive, businesses must understand and leverage the power of SEO to reach potential customers and maintain a strong online presence. The strategic use of keywords, on-page optimization, and backlink building can significantly improve a website's ranking in search engine results, increasing visibility and organic traffic.
Moreover, a well-executed SEO strategy can build credibility and trust, providing a competitive advantage in the digital marketplace. Therefore, understanding and implementing effective SEO techniques is crucial for any business aiming to succeed in today's digital economy.
The Impact of Influencer Backlinks
While many businesses may underestimate the value of backlinks, their importance becomes magnified when they are generated by influencers, thereby significantly enhancing a brand's visibility and credibility in the digital space. Influencer backlinks serve as a powerful tool for businesses in the following ways:
Trust and Authority: Influencer backlinks provide a seal of trust, as they come from respected sources. This increases the perceived authority of your website.
Improved SEO: Such backlinks signal to search engines that your content is valuable, thus boosting rankings.
Increased Traffic: The larger the influencer's audience, the higher the potential for increased traffic to your site.
Brand Exposure: Influencer backlinks expose your brand to a wider audience.
Relationship Building: These backlinks can help build strategic relationships with influencers, driving long-term benefits.
The Role of Social Signals
As the digital landscape continues to evolve, social signals have emerged as a significant factor in enhancing SEO success, particularly when amplified through influencer marketing. Social signals such as likes, comments, and shares, indicate user engagement and satisfaction, contributing to the credibility and visibility of a brand online.
| Social Signal | SEO Benefit | Amplification through Influencers |
| --- | --- | --- |
| Likes | Reflects user appreciation | Influencers have high engagement rates |
| Comments | Indicates user engagement | Influencers trigger meaningful conversations |
| Shares | Extends content reach | Influencers help reach wider audiences |
| Reviews | Builds trust and credibility | Influencers can provide authentic reviews |
| Follows | Increases audience base | Influencers bring their established followers |
Incorporating influencers into your SEO strategy can thus leverage these social signals, boosting your search engine rankings.
Boosting Online Visibility Through Influencer Collaboration
Leveraging the power of influencer collaboration can exponentially increase your brand's online visibility, significantly enhancing your SEO performance. This strategy involves a symbiotic relationship where both parties benefit, providing a win-win situation.
Influencers provide access to their well-established, engaged audience, expanding reach and boosting brand awareness.
Authentic endorsements from influencers improve brand credibility, and their followers are likely to trust their recommendations.
Through strategic content, influencers can generate valuable backlinks, contributing to improved SEO performance.
Social engagement on influencer posts can act as social signals, positively impacting SEO ranking.
Influencer-generated content can stimulate user-generated content, providing fresh, organic material that search engines value.
In essence, influencer collaboration can serve as powerful catalysts, driving SEO success through increased online visibility.
The Advantage of Blog Subscriptions
In the realm of influencer marketing, subscribing to relevant blogs can offer significant advantages for optimizing SEO strategies.
Blog subscriptions provide direct access to regular, valuable content that can be shared or referenced, thereby enhancing link-building efforts.
Additionally, blogs often present trending topics and keywords, keeping you abreast of industry shifts and potential SEO opportunities.
Engaging with blog content also stimulates conversation in the comments section, creating user-generated content that can further boost SEO.
Furthermore, featuring guest posts from influencers can encourage reciprocal sharing, amplifying online visibility.
Lastly, subscribing to multiple, relevant blogs can provide a broad perspective on industry trends and tactics, enhancing your strategic planning and decision-making.
Consequently, blog subscriptions can be a powerful tool in an effective influencer marketing SEO strategy.
Frequently Asked Questions
How Can I Measure the Success of an Influencer-Driven SEO Strategy?
To measure the success of an influencer-driven SEO strategy, track key metrics such as organic traffic, backlinks generated, social signals like shares and likes, ranking in search engine results, and overall online visibility.
What Should I Consider When Selecting Influencers for SEO-Related Campaigns?
When selecting influencers for SEO-related campaigns, consider their relevance to your brand, audience size, engagement rate, and the quality of their content. Also, assess their credibility and reputation for generating organic, high-quality backlinks.
How Do I Approach Influencers to Create Backlinks to My Website?
To approach influencers for backlinks, research and identify those relevant to your brand. Reach out professionally, expressing mutual benefits. Suggest collaborative content ideas and highlight how their audience would value the information your website offers.
Can Influencer Marketing Negatively Affect My SEO if Not Done Right?
Yes, influencer marketing can negatively impact your SEO if not executed properly. Missteps like irrelevant backlinks, poor quality content, or partnering with untrustworthy influencers can harm your search engine rankings and overall online credibility.
How Frequently Should I Engage With Influencers to Maintain Consistent Social Signals and Backlinks?
Engagement with influencers should be consistent and strategic, optimally on a weekly or bi-weekly basis. This frequency ensures a steady flow of social signals and backlinks, enhancing SEO performance and maintaining a strong online presence.
Conclusion
In conclusion, harnessing the power of influencer collaboration can significantly bolster SEO performance, augmenting online visibility and driving organic reach.
The strategic deployment of influencer backlinks and social signals underscores the importance of influencer marketing in SEO strategy.
Additionally, staying updated through blog subscriptions can further enhance marketing expertise.
Therefore, the integration of influencer marketing and SEO is a strategic approach to optimize digital marketing efforts, potentially leading to improved brand recognition and success.