You've snagged NetSuite, but are you using it to its fullest? Welcome to our guide, where you'll discover how to supercharge your SEO, boosting visibility and rankings.
We're diving into SuiteCommerce, ERP integration, custom creations, and more.
With our expert team's help, you'll navigate SEO like a pro.
Ready to unleash the power of NetSuite SEO? Let's get started.
Key Takeaways
Rankstar – A Valuable SEO Partner for Your Business
→ Ready to revolutionize your NetSuite experience?
Dive into our latest article on Rankstar! Discover how you can harness the immense potential of SEO to supercharge your NetSuite website's performance and visibility. Don't miss out—read the full article now and unlock the true power of NetSuite SEO for your business!
We are also here to propel your brand to the summit of search rankings, ensuring its outstanding prominence in both Autocomplete Suggestions and Autosuggest Removal when in need.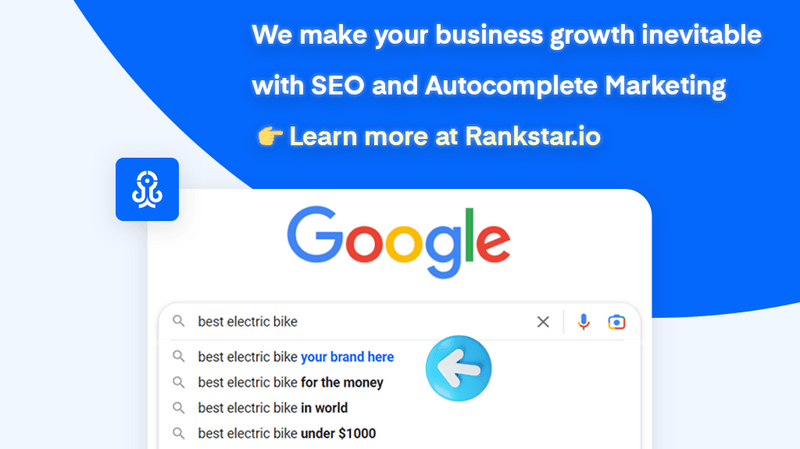 Understanding the Potential of NetSuite SEO
You're now diving into the potential of NetSuite SEO and how it can revolutionize your website's visibility and ranking. Imagine a platform that's fully integrated with your business operations, yet flexible enough to be tailored for SEO. That's NetSuite.
It understands your business, your products, and your audience. With its SEO-friendly features like customizable URLs, meta tags, and alt tags, it's a boon for your website ranking.
But here's the kicker: NetSuite's powerful SuiteCommerce platform. It's built to be SEO-friendly, with structured navigation, mobile-responsive designs, and faster page load speeds.
When you combine this with expert SEO strategies, like keyword research, on-page optimization, and link building, you're looking at a winning formula. Your website's visibility increases, driving more traffic and generating more sales.
That's the power of NetSuite SEO.
Key Elements of NetSuite SEO
Understanding the key elements of NetSuite SEO is essential for your online success. It's not only about integrating keywords, but also about optimizing your site's structure and navigation. Creating a seamless user experience that appeals to search engine algorithms is crucial.
Imagine your site soaring in search engine rankings, capturing the attention of your target audience. Picture the surge of traffic, the increase in conversions, the growth in revenue. Feel the satisfaction of knowing your website isn't just beautiful, but also a powerful tool driving your business forward.
You've got to strategically leverage NetSuite's capabilities, from its robust ERP integration to its customizable SuiteCommerce platform. This includes detailed keyword research, careful content optimization, and diligent link profile improvement. It's not an overnight process, but with consistent effort and the right strategies, you'll see results.
Importance of Platform Familiarity in NetSuite SEO
Dig deep into the NetSuite platform for your SEO needs, and you'll realize that platform familiarity isn't just important, it's critical for your success.
It's not just about knowing the tools; it's understanding how they integrate with your site's structure, navigation, and content to optimize for search engine visibility. You've got to grasp how SuiteCommerce features function and how they meld with NetSuite ERP, as well as how to incorporate custom integrations.
Mastering these aspects is key to tailoring your SEO strategy. You'll need to conduct competitor and keyword research, refine your content, analyze and improve your link profiles, and optimize your URLs.
This deep-dive into the NetSuite platform won't only bolster your SEO but ultimately drive your site's performance.
Role of Consultation in NetSuite SEO
In your journey towards NetSuite SEO mastery, two key factors are getting expert consultation services and applying their advice effectively to your strategy. You're not just hiring professionals, you're gaining partners who deeply understand the NetSuite SEO landscape. They unravel the complexities and guide you to make informed decisions. Your success becomes their success.
Imagine feeling confident in your SEO decisions, backed by expert advice.
Picture your website climbing the search rankings, powered by tailored strategies.
Visualize the growth and success that comes from effective, informed SEO moves.
You're not only gaining knowledge, but also peace of mind. You're not just improving your website's visibility, but also its profitability. Remember, in the world of NetSuite SEO, consultation services are your compass, guiding you towards success.
Advantages of an In-House SEO Team
You're enjoying the benefits of having an in-house SEO team, aren't you? They're your secret weapon, fully versed in the nuances of NetSuite and SuiteCommerce. Their deep understanding of these platforms allows them to tailor SEO strategies that optimize your site's structure and navigation for better visibility.
Your team isn't just book smart; they're experienced. They've crafted strategies for a variety of clients, learning what works and what doesn't. This knowledge is poured into your website, ensuring a custom-fit approach.
They're also your consultative partners, addressing all your SEO queries and guiding you towards informed decisions. With them, you're not just getting SEO services; you're getting a comprehensive support system for all your SEO and marketing needs.
Diving Deep Into Expert Netsuite SEO Services
Your exploration into expert NetSuite SEO services reveals a dedication to thorough keyword research, meticulous competitor analysis, and an unwavering commitment to continuously developing effective SEO strategies. As you delve deeper, you discover that these services aren't just about enhancing visibility. They're about fine-tuning your online presence to reflect your brand's unique voice and values.
You feel a surge of excitement as you realize the potential for driving more qualified traffic to your site.
A sense of relief washes over you, knowing that your SEO is in the hands of experts who understand the intricacies of the NetSuite platform.
You experience a renewed sense of optimism, envisioning the growth and success that well-executed SEO strategies can bring to your business.
This isn't just about SEO. It's about empowering your business to reach new heights.
Techniques for NetSuite SEO Optimization
Diving into techniques for NetSuite SEO optimization, you'll encounter the power of proper URL structuring. With a little patience, you'll master the art of content modification for better search rankings.
It's essential to understand that keywords play a crucial role in SEO. So, you'll need to conduct thorough research for the most relevant and high-ranking ones.
You'll find that optimizing your meta tags, headers, and image alt attributes can significantly boost your visibility.
Additionally, you'll see the value in creating a sitemap and submitting it to search engines to help them crawl and index your site better.
You'll also learn how to use NetSuite's features, such as page title and meta tag customization, to your advantage.
Measuring Success: Tracking and Reporting in NetSuite SEO
Now that you've got the hang of optimizing your NetSuite SEO, it's time to understand how to measure success through effective tracking and reporting. It's not just about rankings; it's about understanding the 'why' behind your results.
Are you reaching your target audience? Is your content resonating with them? Are your keywords driving the right kind of traffic?
These questions can evoke a sense of curiosity, urgency, and determination in you. Tracking tools, like Google Analytics, can help you dive deep into your data. Coupled with NetSuite's robust reporting capabilities, you'll have a well-rounded understanding of your SEO performance.
Frequently Asked Questions
What Are Some of the Common Challenges in Implementing SEO Strategies for Netsuite Websites?
Some challenges you'll face implementing SEO strategies for NetSuite websites include understanding its unique platform, optimizing site structure, and tailoring effective on-page techniques. But don't worry, with knowledge and experience, you'll conquer these hurdles.
How Does the Integration Between Suitecommerce and Netsuite ERP Affect SEO Performance?
The integration between SuiteCommerce and NetSuite ERP can boost your SEO performance. It streamlines your operations, ensuring consistent, up-to-date content, which search engines favor, improving your site's visibility and ranking.
What Are the Specific Benefits of Having an In-House SEO Team for a Netsuite Website?
Having an in-house SEO team for your NetSuite website offers many benefits. They'll know your business inside out, can tailor strategies for your needs, and respond quickly to changes, enhancing your site's SEO performance.
How Does Competitor Research Factor Into the Overall Netsuite SEO Strategy?
Competitor research is crucial in your NetSuite SEO strategy. It helps you identify their successful tactics, understand market trends, and spot gaps in their strategies that you can exploit to gain a competitive edge.
Can You Explain the Importance of URL Optimization in Netsuite SEO and How It Is Typically Done?
URL optimization in NetSuite SEO is crucial. It makes your site more search engine friendly. You'll typically use keywords in URLs, keep them short, and avoid unnecessary characters. It's about making links clear and concise.
Conclusion
Ready to maximize your NetSuite SEO? With our expert guidance, you'll navigate the complexities of SuiteCommerce, boost your search engine rankings, and enhance your online visibility.
Our in-house team is primed to deliver top-notch design services, eCommerce development, and strategic marketing support. From competitor and keyword research to content optimization, we've got you covered.
So let's unleash the power of your NetSuite SEO and track your success with detailed reports.
Your SEO revolution starts now.