You're not leveraging your Nopcommerce platform to its full extent. Don't worry, we've got you covered.
This article reveals how to turbo-charge your site with potent SEO strategies. You'll learn keyword optimization, backlinking tactics, and how to create engaging content that pulls in traffic.
Ready to transform your eCommerce business? Let's dive in and supercharge your Nopcommerce website with powerful SEO.
Key Takeaways
Proven SEO strategies for Nopcommerce platform
Customized optimization based on client needs
Ability to make necessary code tweaks for improved rankings
Rankstar – A Valuable SEO Partner for Your Business
→ Ready to harness the full potential of your NopCommerce website?
Dive into our latest article on Rankstar! Discover the strategies that will empower your NopCommerce site to reach new heights in search engine rankings and online success. Don't miss this opportunity—read the full article now and take control of your website's future with proven SEO tactics!
We are also here to propel your brand to the summit of search rankings, ensuring its outstanding prominence in both Autocomplete Suggestions and Autosuggest Removal when in need.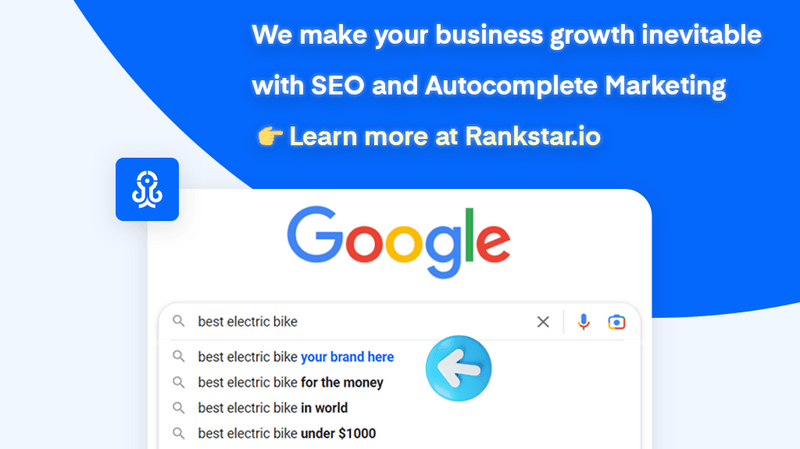 Understanding the Power of SEO in Nopcommerce
In the context of your Nopcommerce platform, you'll begin to understand the power of SEO after implementing the proven strategies we've used for over 14 years.
It's not just about stuffing keywords; you'll be integrating them strategically to boost your visibility and rankings. You'll see how clever backlinking can drive more traffic to your site, and how creating engaging content can keep them there.
You'll learn to optimize your URLs for better indexing, tweak your site's speed for improved user experience, and even get your hands on monthly customized SEO reports. We'll show you how to spot and use potential keywords to attract the right audience.
Key Elements of a Robust Nopcommerce SEO Strategy
Before the day ends, you'll discover the key elements of a robust Nopcommerce SEO strategy and how they can drastically improve your site's performance.
You're not just gaining tips; you're unlocking potential growth. Here's the game plan:
Keyword Optimization

Understanding your market's language
Transforming it into content that resonates

Strategic Backlinking

Building relationships with high-authority sites
Cultivating a network that boosts your visibility
Each element isn't just a step, it's a leap towards success. With keyword optimization, you're not just increasing traffic, you're connecting with your audience on a deeper level. And with strategic backlinking, you're not just improving rankings, you're building a reputation.
These aren't just strategies, they're stepping stones to your brand's future. You're not just surviving, you're thriving.
Making Your Nopcommerce Website Search Engine Friendly
You'll need to implement search engine optimization tactics to make your Nopcommerce website more search engine friendly. Start by identifying relevant keywords for your products and services. Include these in your content, meta tags, and URLs. But don't just stuff them in; make sure they're used naturally.
Invest time in strategic backlinking. Reach out to websites in your industry and foster relationships. Guest posting can be a great way to earn valuable backlinks.
Content is king, remember? Create engaging, useful content that provides value to your visitors. This not only keeps them on your site longer but also increases the chances of them sharing your content.
Lastly, remember to track your progress. Use tools like Google Analytics to measure the success of your efforts. Keep tweaking and refining your strategy based on the data.
Mastering Keyword Research for Your Nopcommerce Site
Both a good grasp of your industry's language and the right tools are critical elements you'll need when mastering keyword research for your Nopcommerce site. You need to understand what your customers are searching for. This means knowing the language they're using, the problems they're trying to solve, and the products or services they're interested in.
Here are a couple of key steps to consider:
Identify the keywords your audience uses:
Utilize keyword research tools
Analyze your competitors' sites
Optimize your content:
Use keywords naturally and strategically in your content
Don't forget about meta tags and title tags
Boosting Your Nopcommerce Site Speed for Better SEO
Not only should you focus on engaging content, but optimizing your Nopcommerce site's speed is also essential for better SEO results. Studies suggest that search engines favor faster websites. So, how can you speed up your Nopcommerce site?
| Steps | Importance | SEO Impact |
| --- | --- | --- |
| Optimize Images | Reduces load time | Improves user experience |
| Enable Browser Caching | Stores website data | Increases page load speed |
| Minify CSS, JS Files | Removes unnecessary characters | Reduces file size |
| Use CDN | Distributes the load | Speeds up content delivery |
| Optimize Database | Cleans up redundant data | Improves website performance |
The Role of Content in Your Nopcommerce SEO Strategy
Often, you're creating engaging content for your Nopcommerce site, yet you're still struggling to climb search engine rankings, and this indicates that your SEO strategy might need some adjustments.
Your content should be:
Informative and Relevant: If it's not, you're wasting your time. It's not enough to stuff your articles with keywords; they've got to resonate with your audience.
Well-structured: Break up your content into digestible chunks. Use headers, subheaders, and bullet points to facilitate easy reading.
Moreover, you've got to pay attention to backlinking:
Quality over quantity: Don't just get any backlinks; get good ones. Partner with sites that have a high domain authority.
Strategic placement: Your backlinks should feel natural, not forced. They should add value to the content, not distract from it.
Building Effective Link Campaigns for Your Nopcommerce Website
You've got to build a significant number of high-quality backlinks for your Nopcommerce website, and it's equally crucial to analyze their impact on your SEO performance regularly. You'll need a strategic plan to attract these links that can boost your site's visibility on search engine result pages. Here's where engaging content creation comes in handy.
Develop compelling content that naturally attracts links. It's not about stuffing your content with keywords, but seamlessly integrating them into your posts. You're doing two things here – creating content that's interesting to your audience and optimizing it for search engines.
Monitor the performance of these backlinks, tweak your strategies if necessary. Remember, it's all about attracting traffic that's likely to convert. Keep your eyes on the prize – improved rankings, higher traffic, and boosted sales.
Optimizing Conversion Rates Through Nopcommerce SEO
Let's dive into the art of optimizing conversion rates through Nopcommerce SEO, a critical component of your online business success.
You need a strategic approach, focusing on key elements like:
Keyword Optimization:
Identifying high-volume, low-competition keywords.
Incorporating these keywords into your site's content and meta tags.
Backlinking:
Cultivating partnerships for link exchanges.
Utilizing guest blogging and social media for link building.
These strategies boost your site's visibility, drawing in more traffic. But it's not just about quantity; you want quality traffic that'll convert.
This is where engaging content creation comes in. Craft compelling product descriptions, blog posts, and site copy to entice and retain visitors.
With Nopcommerce SEO, you aren't just attracting customers, you're building a community.
Monitoring Your Nopcommerce SEO Progress: The Importance of Reports
To ensure your Nopcommerce SEO strategies are working effectively, it's crucial to keep a close eye on your progress through comprehensive reports. Regular reports aren't just a check-in; they're a roadmap showing you where your optimization efforts are paying off and where they need tweaking. They tell you what keywords are driving traffic, which backlinks are most valuable and how engaging your content is to your audience.
It's not enough to set up your SEO tactics and hope for the best. You've got to continually assess performance and make necessary adjustments. That's where reports come in. They're your compass in the world of SEO, guiding you towards higher rankings and more traffic.
Frequently Asked Questions
What Is the Level of Experience of Your SEO Team in Handling Nopcommerce Platform?
You're in good hands! Our SEO team's got over 14 years of experience in Nopcommerce optimization. They're adept at technical tweaks, keyword optimization, strategic backlinking, and crafting engaging content to boost your site's performance.
How Does Your Team Address Technical Issues and Code Modifications for Nopcommerce Seo?
"You're in good hands. Our team tackles technical issues and code modifications head-on, optimizing your Nopcommerce site for SEO. We're adept at keyword optimization, strategic backlinking, and creating engaging content that drives traffic."
What Type of Assistance and Consultation Do You Offer for Nopcommerce Seo?
You'll get expert consultation on Nopcommerce SEO, addressing your doubts and concerns. We'll help determine the feasibility of your SEO plan, provide guidance on your marketing goals, and aim to build a long-term partnership.
Can You Provide Examples of Successful SEO Campaigns You've Implemented for Nopcommerce Websites?
Sure, you've successfully increased organic traffic for a variety of NopCommerce sites. Your strategic keyword optimization, engaging content creation, and backlinking have improved visibility, boosted conversions, and delivered exceptional results for your clients.
How Does Your Team Balance the Focus Between Increasing Website Traffic and Improving Online Sales Through Nopcommerce Seo?
You're in good hands. Our team expertly balances increasing traffic and boosting sales by optimizing keywords, crafting engaging content, and strategically backlinking. We ensure your Nopcommerce site is both easily found and highly effective.
Conclusion
In conclusion, supercharging your Nopcommerce website with powerful SEO isn't just smart, it's essential to your eCommerce success.
By mastering keyword research, optimizing site speed, creating engaging content, and building effective link campaigns, you'll attract the right audience and boost sales.
Don't forget to monitor your progress with detailed reports.
Now, it's time to roll up your sleeves and get started on your journey to SEO success with Nopcommerce.