You're acing Google SEO and mastering Facebook Ads, but are you unlocking Pinterest's potential? With 400 million users, it's a traffic-driving powerhouse.
In this guide, you'll dive into Pinterest SEO, learn to target keywords, optimize pins, and engage with the Pinterest community.
You'll also use other platforms for more exposure and track your success.
Ready to unlock explosive traffic? Let's get started on your Pinterest SEO journey.
Key Takeaways
Rankstar – A Valuable SEO Partner for Your Business
→ Ready to skyrocket your website's traffic?
Discover the secrets of Pinterest SEO and watch your online presence explode. Don't miss out—click here to read the article and supercharge your success on Rankstar!
We are also here to propel your brand to the summit of search rankings, ensuring its outstanding prominence in both Autocomplete Suggestions and Autosuggest Removal when in need.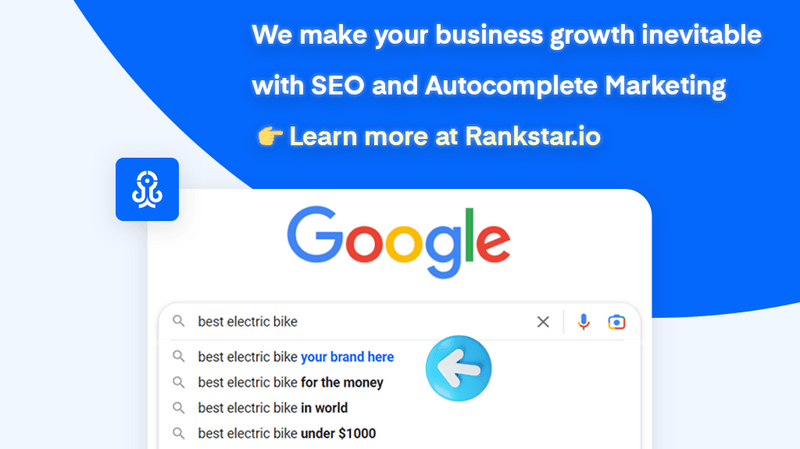 Understanding Pinterest SEO
In the realm of digital marketing, understanding Pinterest SEO is crucial for boosting your organic and paid traffic.
Unlike traditional SEO, Pinterest's algorithm doesn't just rely on keywords. It factors in your content's quality, relevance, and engagement metrics like repins and likes. So, you're not just optimizing for a search engine, you're tailoring your content to appeal to a community.
You'll need to strategically create and categorize boards, craft engaging descriptions, and utilize rich pins to provide additional information.
Remember, it's not just about getting discovered, it's about engaging users so they save and share your pins.
Dive into Pinterest's analytics to monitor performance, identify trends, and adjust your strategy accordingly.
SEO isn't static, it's dynamic, and your approach should be too.
Getting Started With Pinterest SEO
Now that you've got a grasp on the basics of Pinterest SEO, it's time to take the first steps in setting up your Pinterest for business account. This initial setup is crucial, as it lays the groundwork for your Pinterest SEO strategy.
Consider the following:
Create a business account: This gives you access to Pinterest Analytics and Ads Manager, both essential tools for monitoring your performance and optimizing your strategy.
Choose an SEO-friendly username: Your username should reflect your brand and include relevant keywords to enhance searchability.
Optimize your profile: Include a keyword-rich description and high-resolution logo to give a professional impression.
Once these steps are complete, you're primed to start pinning and driving explosive traffic to your site through Pinterest SEO.
Integrating Your Website With Pinterest
To supercharge your Pinterest SEO strategy, you'll need to integrate your website with Pinterest.
Start by adding the Pinterest Tag to your site to set up conversion events and segment your audience. This smart move helps track user interaction and tailor your Pinterest ads strategically.
Next, add the Save Button to your site's content, encouraging visitors to pin directly to their boards, expanding your reach beyond Pinterest.
Verify your site to add credibility and your profile picture to all your Pins, enhancing brand visibility.
Lastly, link your website and Pinterest account for precise reporting.
Integrating your website with Pinterest is a strategic step, not only improving your SEO but also multiplying your audience engagement.
Setting Traffic & Conversion Goals
Once you've integrated your website with Pinterest, it's time for you to set your traffic and conversion goals. These objectives will guide your Pinterest SEO strategy and help measure your success. Be strategic, consider Pinterest's unique strengths and how it fits into your overall marketing mix.
Start by establishing traffic goals. How many visitors do you want to attract to your website through Pinterest?
Next, define your conversion goals. What actions do you want these visitors to take? Purchases? Newsletter sign-ups?
Lastly, identify the key performance indicators (KPIs) that you'll use to track these goals. Impressions, click-through rates, and re-Pins are all valuable metrics.
Conducting Keyword Research
Diving into keyword research is essential for enhancing your Pinterest SEO strategy. It helps you discover the terms your potential audience uses when searching for content like yours. Start with Pinterest's Guided Search to unearth modifiers related to popular search queries. You can also leverage Promoted Pins, testing them with your best-performing keywords from Google.
Uncover untapped opportunities by exploring niche topics and categories. Remember, the goal is to optimize your pins and boards with these keywords to boost visibility. This strategic yet innovative approach will ensure your content aligns with user intent, ultimately driving more traffic to your site.
Organizing and Optimizing Boards
As you delve deeper into Pinterest SEO, you'll find that organizing and optimizing your boards can have a significant impact on your visibility and traffic. A well-structured board, rich with keyword-fueled content, can serve as a gold mine for potential followers, and ultimately, customers.
Here are some strategic tips to consider:
Use relevant keywords in your board titles and descriptions to improve their discoverability.
Arrange your boards logically and make your prime content easily accessible.
Regularly evaluate and update your boards to keep them fresh and interesting to your followers.
Creating Engaging Pin Descriptions
When you're ready to ramp up your Pinterest SEO game, crafting engaging pin descriptions should be high on your to-do list. Pin descriptions are key to driving user engagement and optimizing your pins for search. They should not only be captivating, but also strategically peppered with relevant keywords and hashtags.
To implement this, it's important to keep in mind the following principles:
| Keyword Rich | Engaging Tone | Effective Hashtags |
| --- | --- | --- |
| Incorporate your target keywords | Write in a conversational tone | Use relevant hashtags |
| Avoid stuffing; keep it natural | Invite interaction with questions or prompts | Limit to 20 or less per pin |
| Use long-tail keywords when possible | Keep it short and sweet | Use trending hashtags when relevant |
This strategy will help you create descriptions that are not only engaging but also SEO-friendly.
Utilizing Rich Pins
After setting up engaging pin descriptions, it's time for you to start utilizing Rich Pins to further optimize your Pinterest SEO strategy. Rich Pins provide additional information right on the Pin itself, giving pinners a richer experience and increasing engagement.
Product Pins: These make shopping easier. They include real-time pricing, availability, and where to buy your product.
Article Pins: Ideal for bloggers and publishers, they include the headline, author, and story description to provide more context.
Remember, you need to apply and get approval from Pinterest to use Rich Pins.
Lastly, always assess your Rich Pin performance. The insights will help you make strategic decisions to boost your Pinterest traffic.
Monitoring Analytics & Making Data-Driven Decisions
To make the most of your Pinterest SEO strategy, you'll need to keep a close eye on your analytics and use these insights to drive your decisions. Pinterest's in-built analytics tool provides you with valuable data about your pins' performance and audience demographics.
| Metrics to monitor | Why it matters |
| --- | --- |
| Impressions | Show the reach of your pins |
| Clicks | Indicate the level of interest in your content |
| Saves | Reflect your audience's intent to revisit |
| Engagement rate | Measures the effectiveness of your content |
This data helps you understand what's working and where there's room for improvement. Don't just collect this information; act on it. Make data-driven decisions and continuously fine-tune your strategy based on these insights. This innovative approach will ensure your Pinterest SEO efforts are not in vain.
Frequently Asked Questions
What Are Some Effective Ways to Increase My Pinterest Followers?"
To increase your Pinterest followers, start by optimizing your profile and boards with relevant keywords. Engage actively with the community, share compelling content, and cross-promote your pins on other social platforms. Always analyze and adjust your strategy.
What Are Some Common Mistakes to Avoid While Implementing Pinterest Seo?"
Don't overlook Pinterest's unique SEO aspects. Avoid generic keywords, focus on detailed, niche ones. Don't ignore engagement metrics. Remember, it's not just about pinning, but also about interacting and building community on the platform.
How Can I Improve the Visibility of My Older Pins?"
To boost visibility of older pins, you should repin them to relevant boards. Optimize their titles and descriptions with current, trending keywords. It's also helpful to share these pins on other social media platforms.
How Can I Leverage Pinterest SEO to Drive Sales on My E-Commerce Site?"
To leverage Pinterest SEO for your e-commerce site, optimize your pins with relevant keywords, use rich pins to provide extra info about your products, and engage consistently with the Pinterest community. Don't forget to monitor your analytics.
Are There Any Specific Tools or Software That Can Aid in Pinterest Seo?"
Yes, there are specific tools you can utilize for Pinterest SEO. Tailwind's suite offers scheduling, analytics, and keyword research. Canva helps design attractive pins. Also, Pinterest's own analytics tool provides valuable insights.
Conclusion
Now you're equipped to harness the power of Pinterest SEO.
You've learned how to identify keywords, create engaging pins, and track your success.
It's time to put these strategies into action and watch your website traffic soar.
Remember, data is your best friend – use it to refine your approach.
So go ahead, tap into this goldmine and unlock explosive traffic for your business.
The world of Pinterest SEO is at your fingertips, now it's your turn to master it.