In an increasingly digitized world, mastering SEO strategies for Web Stories is crucial to enhancing your website's visibility.
This article offers a deep dive into implementing effective SEO tactics, optimizing media, and generating high-quality content.
By leveraging AMP technology and adopting SEO best practices, you can unlock the potential of Web Stories to boost your site's rank.
Get ready to explore the secrets of SEO for Web Stories and transform your digital storytelling strategy.
Key Takeaways
Find Out How Web Stories Can Change Your Visibility with Rankstar
→ Elevate your website's rank with the power of Web Stories!
Discover SEO secrets that will captivate your audience and search engines alike. Transform your online presence with visually stunning, snackable content that rises above the noise. Don't miss out on the opportunity to engage and enchant—learn how to boost your rank with Web Stories today on Rankstar.io!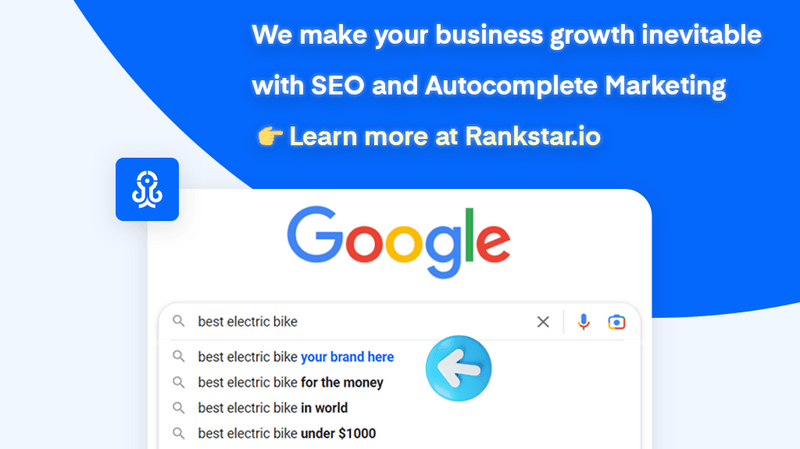 Understanding Web Stories and SEO
A significant number of website owners are not fully aware of the relationship between Web Stories and SEO, a critical aspect of modern digital marketing strategies.
Web Stories, powered by AMP, are a new format for delivering content online. They are essentially web pages, linkable and capable of appearing in search results. Consequently, SEO tactics applicable to standard web pages should also be employed for Web Stories.
These tactics include linking Stories within your website, incorporating them into your sitemap, and attaching relevant metadata for maximum compatibility with search engines.
Furthermore, content quality remains the key SEO tactic for Stories. By providing engaging, high-quality content in your Stories, you enhance their appeal to both users and search engines, thereby improving your site's visibility and ranking.
Implementing SEO Tactics for Stories
Implementing effective SEO tactics for Web Stories involves various strategies. These strategies include the use of metadata, deep integration of Stories into your website, and careful optimization of page attachments and media.
Metadata should include the title, description, and schema.org markup. This will enhance search engine compatibility and improve the chances of your Stories appearing in search results.
To ensure a deep integration and boost discoverability, Stories should be linked from relevant pages on your website. This will make it easier for users to find and engage with your Stories.
Page attachments are another important aspect of SEO for Web Stories. These attachments provide additional information that enhances the narrative and overall user experience.
Media optimization is crucial for Web Stories. This involves adding alt text for images and subtitles for videos. By doing so, you improve accessibility for users and increase the chances of your Stories being indexed by search engines.
Lastly, it is important to always provide high-quality content for your Web Stories. This is the most vital SEO tactic, as quality content will attract and engage users, leading to better search engine rankings.
Optimizing Page Attachments and Media
In the realm of SEO tactics for Web Stories, your strategy's effectiveness can significantly be bolstered by optimizing page attachments and media. This involves incorporating relevant, high-quality images, videos, and documents that enhance the narrative of your story.
Properly optimized media can contribute to your SEO efforts by providing additional indexing opportunities. Remember to add meaningful alt text to images and provide subtitles or captions for video content, enhancing accessibility and indexability. If you're using video-only stories, add precise text as a title attribute on the amp-video element.
Utilizing AMP Framework and Canonical-Pairing
Frequently, the success of your SEO efforts for Web Stories is also intricately tied to the effective utilization of the AMP Framework and correct implementation of canonical-pairing.
The AMP Framework ensures lightning-fast loading times essential for SEO. It is critical to validate your Web Stories with AMP to guarantee compliance with its standards.
In terms of canonical-pairing, Web Stories should be self-canonical, not dependent on AMP's canonical-pairing. When you have a long-form article and a Web Story on the same topic, consider making the Web Story canonical.
This approach recognizes these as distinct web experiences, and correctly implemented, it can significantly enhance your SEO ranking.
The smart use of AMP and accurate canonical-pairing are vital tools in your SEO arsenal.
The Role of High-Quality Content
High-quality content serves as the cornerstone of effective SEO for Web Stories. It should be keyword-focused, research-oriented, and analytics-driven. The goal is to create engaging narratives that captivate readers, while also catering to search engine algorithms.
To ensure your content meets these standards, consider the following:
Research and target relevant keywords, but avoid keyword stuffing.
Make content informative and unique, providing value to the reader.
Maintain a logical and coherent structure to facilitate readability.
Incorporate visuals and multimedia elements to enhance engagement.
Regularly update your content to keep it fresh and relevant.
Translating SEO Skills to Stories
Every single SEO skill developed for traditional web pages can indeed be translated and effectively applied to optimize your Web Stories. The key is understanding how these skills can be effectively adapted. To break it down, consider the table below:
| SEO Skill | Web Page Application | Web Story Application |
| --- | --- | --- |
| Keyword Optimization | Used in title tags, meta descriptions, headings and content | Incorporated into the story title, description and content |
| Link Building | Links from high-authority sites boost page rank | Internal linking within your site can increase story visibility |
| Responsive Design | Ensures site looks good on any device | Web Stories are inherently mobile-friendly and visually engaging |
| Alt Text for Images | Helps search engines understand image content | Crucial for accessibility and indexability of images in stories |
| High-Quality Content | Engages readers, reduces bounce rate | Engages viewers, encourages sharing and revisiting |
This translation of SEO skills to stories can enhance your online visibility, driving more traffic to your site.
Frequently Asked Questions
How Can I Track the Performance of My Web Stories in Terms of Seo?
You can track SEO performance of web stories using analytics tools like Google Analytics. These tools provide insights into metrics like impressions, click-through rates, and rankings, helping you measure and optimize your SEO strategies.
What Are Some Common Mistakes to Avoid When Optimizing Web Stories for Search Engines?
Common mistakes when optimizing web stories for search engines include neglecting metadata, not integrating stories into your website, failing to provide accessible and indexable media, and disregarding the importance of high-quality, engaging content.
How Can I Incorporate Keywords Effectively Into My Web Stories Without Disrupting the Narrative?
Incorporating keywords effectively into web stories involves strategic placement in titles, descriptions, and content without disrupting the narrative. Use synonyms and related terms to maintain a natural flow while improving search engine optimization (SEO).
Are There Any Specific Tools or Plugins That Can Assist With SEO for Web Stories?
Yes, specific tools like Google's AMP plugin, Yoast SEO, and Rank Math can assist with SEO for Web Stories. They offer features like metadata optimization and schema markup to improve search engine visibility and ranking.
How Often Should I Update or Refresh My Web Stories to Maintain SEO Relevance?
To maintain SEO relevance, web stories should be updated regularly, ideally weekly. Frequent updates signal to search engines that your content is fresh and relevant, which can positively impact your ranking over time.
Conclusion
In conclusion, SEO strategies for Web Stories can significantly enhance a website's rank. The process involves understanding the nature of Web Stories and SEO, deploying effective tactics, optimizing page attachments and media, using the AMP framework, and generating high-quality content.
Translating these SEO skills to stories can immensely boost visibility and discoverability. Hence, unlocking the secrets of SEO for Web Stories is pivotal for improving the search engine ranking of a website.